It started as a candle making hobby, and then you started selling a few candles on Etsy. Now you've decided to take your efforts to the next level and formalize your business, but first you must come up with a name. What are some things the names of top candle companies have in common and how can you choose yours?
Top candle companies typically incorporate the names of the regions where they were founded. Follow these five steps to choose a top candle business name.
Research top candle companies
Use a name generator
Check for conflicting trademarks
Acquire a domain
Legally form your business
Candle companies use regionally specific language in their names to evoke a sense of hominess and distinction in their candle brands. Following this system, you can choose a top name to represent your candle-making business.
Step 1: Research Top Candle Companies
Reading the names of the Top Ten candle companies, you will notice they share a commonality. They are usually named after the region where they are located, either the geographic location or the name of something representative of that region or evocative of its history.
Here are the Top Ten Candle Company Business Names according to Ranker:
White Barn Candles
Yankee Candle
Virginia Candle
Gold Canyon Candles
Colonial Candle
Circle E Candles
Better Homes and Gardens
Bridgewater Candles
Slatkin & Co
Village Candles
As you can see, eight out of ten of these companies have regionally inspired names. While you don't have to use this formula when choosing a name for your candle company, it is a good starting point.
Why are regionally inspired candle company names so popular? Because they help build a picture in the minds of customers of what the candle brand represents. Candles are part of our history, going back thousands of years. Connecting a candle brand to a regional culture helps recall that history, making us want to bring it into our homes.
Step 2: Use a Name Generator
Some people might call this a shortcut, but I used a name generator every time when naming the four businesses I have started, including my candle making business. You can also brainstorm names and get friends to help. For me, this hasn't worked so well, which is why I turn to the name generator.
Choosing the Right Keywords
I do brainstorm the keywords I plan to use in the generator. One of the words is always "candle" and for the other one I use the name of a region. Business Name Generator is my go-to generator and I recommend any would-be business owner try it as well.
I especially like Business Name Generator because I can click on each of the results to see if the domain names are available for registration. More on that later.
How to Use a Business Name Generator
As an example, I chose the keywords "Hampshire" and "Candle." A second after typing those in, I was presented with 2,052 potential names for my candle-making business. "Shine Hampshire" was one of the choices I really liked. I could see that being the start of a great candle brand.
Shopify has its own business name generator, which you can use, even if you ultimately decide not to sell on that platform. Entering my search terms into Shopify's generator, I came up with some I really liked, including Lakefront Hampshire Candles. This name also resonated with me, and I could see that becoming the name of another great candle brand.
Step 3: Check for Conflicting Trademarks
Now that you have fallen in love with a name (or two) for your candle-making business, don't start running off labels on your home printer just yet. There are a couple more steps you need to take to make sure that wonderful name you have chosen hasn't already been picked by someone else.
The Importance of Trademarks
The name you choose for your candle making enterprise needs to be trademarked. This is a separate step from setting up your business entity. If you don't trademark the name of your registered business, someone else can still take it, so it important not to overlook this step.
Once you trademark your business name, no one else can use it. Other aspects of your candle making business you should trademark are your logo and your slogan, if you have one.
Registering Your Trademark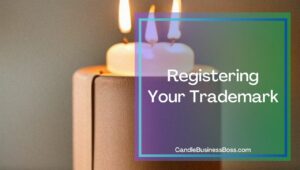 Trademarkia is an excellent online one-stop shop for your trademark workflow. You can use the site to do a free basic trademark search, which is an important step in making sure you are not inadvertently stealing someone else's brilliant candle company name.
If you decide your brand is important enough to you to merit trademarking your name, logo, or slogan, you can use Trademarkia to apply for and file the trademark. The site also has excellent resources for helping you choose your business name and other informative trademark aspects. These resources are a must-read for any business owner, large or small.
I was able to conduct an initial trademark check on both of my sample business names on Trademarkia. Fortunately, the search engine indicated that both Shine Hampshire Candles and Lakefront Hampshire Candles had passed initial checks and the trademarks were likely available!
Step 4: Acquire a Domain
Once you have conducted an initial trademark search on your chosen business name, the next step is to acquire a domain name.
Choosing a Domain Name
Choosing an appropriate domain name for your candle-making business is crucial. There are some universally accepted best practices when it comes to choosing a domain name.
First, try to choose a domain name that is relatively short. Some resources say domain names should be less then 14 characters, but as domain name registration becomes easier and easier, finding names under 14 characters becomes harder and harder.
So in lieu of the short domain name guidance, I would urge you to consider registering your domain as the name of your business that you have trademarked.
Check Domain Registration
There are a ton of free domain name check tools out there, usually linked to registration services. Bluehost, Squarespace, and GoDaddy are examples of these. If you already have a web hosting service, you will easily be able to conduct your domain name search there.
Purchase Your Domain
Unless you are using a virtual storefront hosted by another service, such as Shopify, you will have to find a hosting plan for your website. With advances in web design, no matter what hosting service you choose, you will likely be able to build your own site without knowing anything significant about programming.
Your hosting service is the best place to purchase your domain but switching domains from one hosting site to another is relatively easy. So, your hosting service might not be forever, but your domain name should be. It is important, therefore, to make sure you choose a good one. One that preferably ends in .com.
Just how profitable is candle making?
Step Five: Legally Form Your Business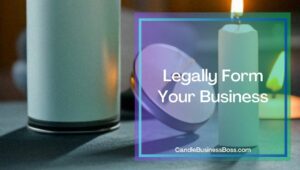 The last step in choosing a name for your business is to legally form it. As part of the formation process there will be another check to ensure that someone else has not already started a business of the same name. This is a separate check from the Trademark filing.
Choose Your Entity Type
Legally forming your business as an LLC or other entity has enormous advantages. First, it helps you protect your personal assets in the event you are found liable for harm. Second, it helps professionalize your efforts, driving more customer sales. Third, and maybe most importantly, it can help you save on taxes.
LegalZoom has excellent business resources including information that will help you form an LLC. You can also see the relative advantages and disadvantages of other business entity types, in case one of them is more suitable for your enterprise.
Business Licensing
As you form your business, you will also need to obtain business licenses. Candle-making businesses do not require federal level licenses as some businesses do, but since you are formalizing your business efforts, you will likely need a state and possibly a local business license.
The U.S. Small Business Administration is a federally-funded organization that has a host of resources for small business owners, including tools that can help you figure out what licenses you need. They even have free counseling on this and other aspects of setting up your own business. Whatever business entity type you determine is best for you, every business owner should be familiar with and use the resources offered by the SBA.
Related Questions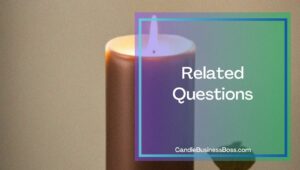 1. What is the best business entity type for my candle-making business?
There is no one-size-fits-all answer to this question. You can operate your small candle-making business as an LLC or a sole proprietorship. You need to weigh the pros and cons of each and make this choice based on your unique situation.
2. If I operate my candle business as a sole proprietorship, can I still use my trademarked name?
Technically, sole proprietorships usually must be operated as the name of the sole proprietor. But you can register a "nickname" for your business by using a DBA. More information about this can be found here.
Considering starting your own candle making business. Click this link to checkout my startup documents here.
Please note that the contents of this blog are for informational and entertainment purposes only and should not be construed as legal advice. Any action taken based on the information provided in this blog is solely at your own risk. Additionally, all images used in this blog are generated under the CC0 license of Creative Commons, which means they are free to use for any purpose without attribution.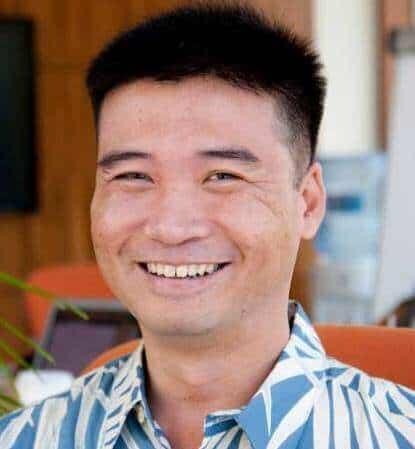 Meet Shawn Chun: Entrepreneur and Candle Business Fan.
I'm a happy individual who happens to be an entrepreneur. I have owned several types of businesses in my life from a coffee shop to an import and export business to an online review business plus a few more and now I create online candle business resources for those interested in starting new ventures. It's demanding work but I love it. I do it for those passionate about their business and their goals. That's why when I meet a candle business owner at a craft fair, farmers market, retail location or anywhere else I see myself. I know how hard the struggle is to obtain and retain clients, finding good employees all while trying to stay competitive. That's why I created Candle Business Boss: I want to help candle business owners like you build a thriving business that brings you endless joy and supports your ideal lifestyle.