Do you have a strong passion for candles and aspirations of building a prosperous business? It's not necessary to spend a lot of money to start a candle business. You can start a low-cost candle-making business and build your road to accomplishment with careful preparation and resourcefulness.
The best way to start a low-budget candle-making business is to learn candle-making techniques online, utilize readily available household items as initial supplies, promote products through social media and local craft markets, and reinvest profits for gradual expansion.
In this article, we'll examine the ideal strategy for launching your candle-making company on a budget. By understanding the fundamentals of candle making, you can transform your hobby into a thriving commercial enterprise. Let's look at the step-by-step procedure for starting your low-cost candle manufacturing firm.
Learn Candle-Making Techniques Online
It is imperative to arm oneself with the required information and expertise in the art before plunging into the thrilling world of candlemaking. Fortunately, there is a ton of information on the internet that can help you get started manufacturing candles. Online resources like forums, tutorials, and instructional videos provide a wealth of knowledge on various candlemaking methods.
You can get knowledge about the various facets of candlemaking by using these resources. Learn about the many candle kinds, including pillar and container candles, and the methods used in their manufacture.
Learn about the various varieties of wax that are available, along with their melting points and wax melting techniques. Learn the nuances of wick choosing because the quality of the candle's burn depends greatly on the choice of the wick. Explore the art of fragrance combining as well to produce alluring aromas that will draw in customers.
While learning about the technical side of candlemaking is crucial, safety should always come first. Learn about safety measures to create a safe working environment. Recognize the dangers that can arise when handling scents and dyes and melting wax. Learn risk-reduction techniques, such as using the necessary safety equipment and practicing good ventilation.
You can build a strong foundation in candle making by immersing yourself in the variety of materials available online. You'll be able to produce high-quality candles thanks to this knowledge, which will also provide you with a market advantage. You can experiment with numerous styles, designs, and smells to create one-of-a-kind goods that will fascinate your clients if you have a solid understanding of the various candle manufacturing procedures.
Keep in mind that learning to make candles is a continuous process. Continue researching online resources, joining candle-making communities, and participating in forum discussions as you acquire experience and face new obstacles. These resources will not only increase your knowledge but also offer insightful advice from skilled candle manufacturers.
Learning the art of candlemaking will ultimately pay off in the superiority and originality of your output. Customers value carefully made candles that showcase the maker's passion and skill. So, as you start your entrepreneurial adventure, make use of the wealth of online tools that are accessible, immerse yourself in the world of candlemaking, and let your creativity flourish.
Utilize Readily Available Household Items as Initial Supplies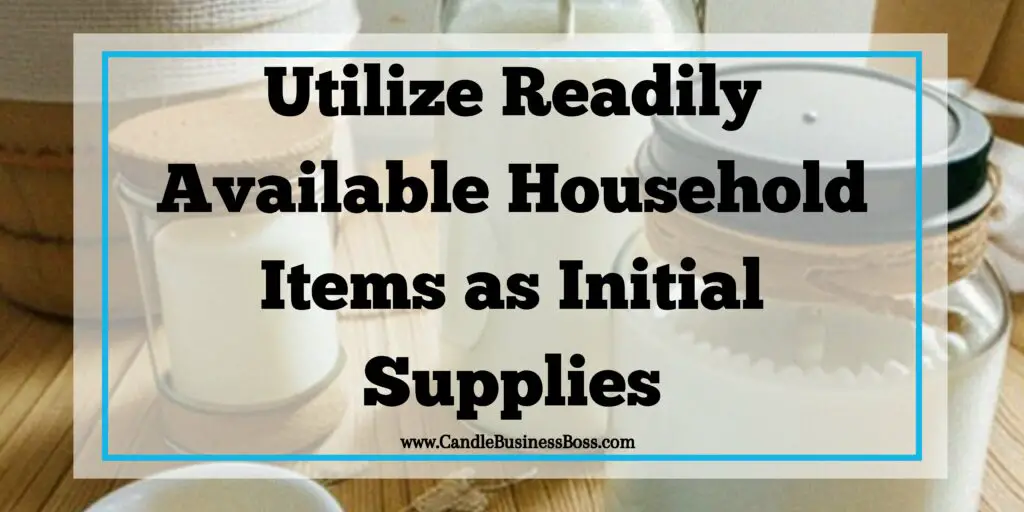 It's crucial to acquire a resourceful approach when it comes to your resources while launching a low-budget candle-making business. Basic supplies are easy to get by; your home may contain a wealth of items ready to be put to new uses.
Spend a moment looking around you to find prospective materials that can be converted into necessary components for candlemaking. For instance, glass jars make lovely holders for your candles. Find any old or unused candle stubs in your kitchen cabinets that can be melted down and utilized for anything else. To make fresh and distinctive candle mixtures, these recycled waxes can be combined.
Spoons and measuring cups from the kitchen can be used as specific instruments for your candle-making procedure. Repurposing products you already own is a great way to save money and make the most of what you have. Don't undervalue its importance.
Consider using essential oils to add scent to your candles as well. A variety of essential oils are already in use in many homes for various purposes. Without having to buy more fragrance oils, you may utilize these oils to give your candles beautiful aromas.
There are reasonably priced waxing choices accessible. Affordable wax choices appropriate for candlemaking are frequently available at nearby craft stores. You can also look at online vendors that sell wax at affordable prices, allowing you to buy the items you need without breaking the bank.
Recycling used candles is a great method to save money. Gather all of your unlit or half-burned candles, then melt them to release the wax. You may reduce waste and save money by recycling and reusing the wax. This helps with environmental initiatives.
When launching a low-budget candle-making business, you can drastically cut your early costs by being smart and inventive with your supplies. With this strategy, you may maximize what you already have by finding cost-effective alternatives and repurposing household products.
You can progressively increase your investment in higher-quality supplies and broaden your selection of materials as your company expands and becomes more gainful. A thriving candle-making business can be built while keeping costs to a minimum by starting small and using your creativity.
Check out this article to help you learn more about scented candle business.
Promote Products through Social Media and Local Craft Markets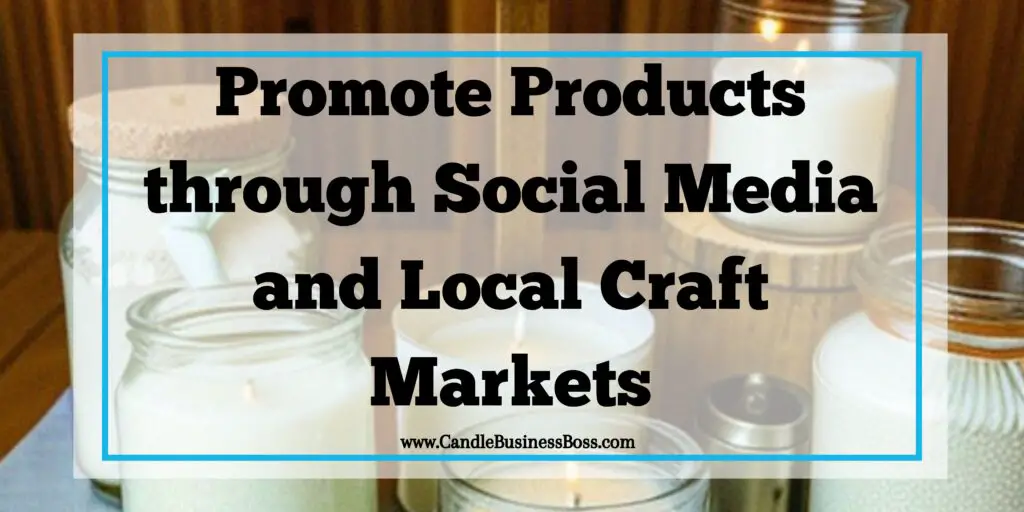 Effective marketing techniques are critical for increasing exposure and luring clients into the cutthroat candle manufacturing industry. A fantastic arena for showcasing your handmade candles to a large audience is social media. Making profiles on well-known websites like Instagram, Facebook, and Pinterest enables you to establish a compelling online presence.
Make use of social media's visual nature by posting eye-catching pictures of your candles. High-quality images may capture potential clients and spark interest in your products by showcasing their beauty and craftsmanship. Consider posting videos that show the steps involved in producing your candles in addition to pictures. This behind-the-scenes content gives your audience an inside look and strengthens your relationship with them.
Respond to comments, address inquiries, and actively participate in conversations to interact with your fans. Engaging with potential customers fosters a sense of community while also fostering loyalty and trust. By generating branded hashtags and holding contests or giveaways, you may promote user-generated content. This not only increases engagement but also aids in promoting your candle-making company.
To sustain an online presence, consistency is essential. Regularly post new content to your social media sites, whether it's promoting fresh candle designs, sharing client endorsements, or giving candle care advice. You can develop a devoted following of customers by regularly putting out worthwhile and interesting material. These customers will anxiously look forward to your updates and suggestions.
Participating in regional craft fairs or community events can be an effective and affordable strategy to reach clients in addition to digital marketing. To display your candles and speak with potential customers face-to-face, set up a modest booth or table.
These occasions provide you a chance to present your goods face-to-face and give buyers a chance to see and smell the candles, which may influence their purchasing choice. Customers can also provide you with insightful feedback, allowing you to improve your services and cater to their preferences.
Check out this article to learn more about candle business at home.
Reinvest Profits for Gradual Expansion
When your low-cost candle manufacturing company begins to turn a profit, it's critical to take a strategic approach to reinvest these gains to facilitate slow, steady growth. You may improve many areas of your company and set yourself up for long-term growth by strategically allocating a portion of your earnings.
Equipment upgrades are one area to think about for investments. As your company expands, investing in better equipment can boost production and efficiency. Think about investing in a dependable wax melting pot, an accurate thermometer, and premium molds or containers. By streamlining your production process and upgrading your equipment, you can satisfy rising demand without sacrificing the quality of your candles.
Investing in top-notch materials is another smart reinvestment. While starting on a tight budget might have required you to employ inexpensive domestic items, reinvesting revenues enables you to investigate superior resources that will elevate your candles.
Think about investing in better waxes, like soy or beeswax, which can produce candles of a higher caliber and better burn characteristics. A greater variety of aroma oils and colors should also be investigated to diversify your product offers and satisfy the tastes of varied customers.
Another smart strategy to reinvest your money is to broaden your product offering. Consider expanding your candle selection by adding new smells, sizes, or styles as your consumer base expands. Conduct market research to discover consumer trends and preferences, then use this data to create novel and distinctive candle products. You may draw in new clients and keep your current ones interested by continuously improving and broadening your product offering.
Another wise investment would be to set up a special area for making candles. Think of altering a room in your house or constructing a separate area only for your candle-making needs. This enhances workflow and organization while also enabling you to scale up your production capacity. A dedicated workplace gives you the ability to keep resources organized and tidy while promoting a more professional and effective production process.
Another clever strategy to improve your company's overall presentation is to spend money on excellent packaging and branding. To draw in clients and provide a good first impression, the packaging is essential. Consider spending money on branded boxes, personalized labels, or decorative accents that express the distinct individuality of your candle-making company. Professional packaging helps distinguish your brand in a crowded market while also increasing the perceived worth of your products.
Frequently Asked Questions
Can someone who has never made candles start a business?
Absolutely! Beginning a business in the candle-making industry does not require any prerequisites. Due to the abundance of resources that are available on the internet, you can learn how to make candles at your own pace while acquiring the essential information and skills. With the assistance of online courses, videos, and discussion forums, you will be able to get off to an efficient start on your adventure of candle-making.
How much will it cost to launch a low-cost candle manufacturing company?
When starting a candle manufacturing company on a shoestring budget, the initial startup costs might vary widely depending on the production volume, the types of raw materials used, and the advertising strategies chosen. You can, however, reduce your expenses by a significant amount by selecting household items that are easily accessible as your initial supply and concentrating on more cost-effective alternatives.
Advertising your products on social media and at local craft fairs can be a cost-effective way to market your business. Keep in mind that as your business grows and starts making more money, you will be able to gradually reinvest that money to further improve and expand your operations.
Can I make a profit from a candle manufacturing business that has modest startup costs?
There is the potential for profit in the low-cost candle-making business. Customers can be attracted to your business and sales can be increased if you offer candles that are unique and of high quality if you market your products effectively on social media and at local craft fairs, and if you constantly reinvest any profits you make back into your company. With determination, creativity, and meticulous business planning, you can eventually earn a profit from the candle-making business you started with a shoestring budget.
To learn more on how to start your own candle-making business check out my Startup Documents here.
The information provided by CandleBusinessBoss.com ("The Site") is for general informational purposes only. All information on the Site is provided in good faith, however, we make no representation or warranty of any kind, express or implied, regarding the accuracy, adequacy, validity, reliability, availability, or completeness of any information on the Site. Under no circumstance shall we have any liability to you for any loss or damage of any kind incurred as a result of the use of the Site or Reliance on any information provided on the Site. Your use of the Site and your reliance on any information on the Site is solely at your own risk. This blog post is for educational purposes only and does not constitute legal advice. Please consult a legal expert to address your specific needs. Terms and Conditions.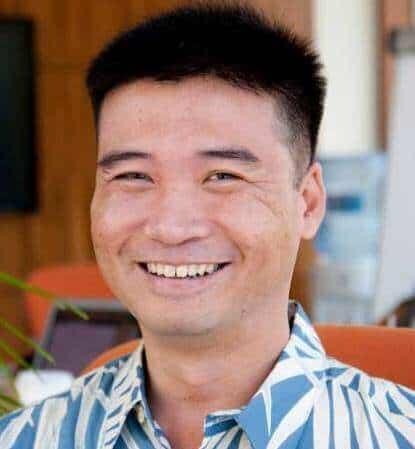 Meet Shawn Chun: Entrepreneur and Candle Business Fan.
I'm a happy individual who happens to be an entrepreneur. I have owned several types of businesses in my life from a coffee shop to an import and export business to an online review business plus a few more and now I create online candle business resources for those interested in starting new ventures. It's demanding work but I love it. I do it for those passionate about their business and their goals. That's why when I meet a candle business owner at a craft fair, farmers market, retail location or anywhere else I see myself. I know how hard the struggle is to obtain and retain clients, finding good employees all while trying to stay competitive. That's why I created Candle Business Boss: I want to help candle business owners like you build a thriving business that brings you endless joy and supports your ideal lifestyle.