The candle industry has seen tremendous change in recent years. Candles are no longer just sources of light; they have evolved into a symbol of calm, ambiance, and personal expression. With rising customer interest in environmentally friendly and individualized products, the candle industry offers interesting potential for aspiring entrepreneurs in 2023.
To best leverage the opportunities in the candle business in 2023, you should tap into the rising consumer demand for sustainable and personalized products while overcoming challenges such as intense competition, staying updated with emerging trends, and meeting evolving consumer demands for eco-friendly and unique candles.
Tapping into Rising Consumer Demand
Consumer preferences have significantly shifted towards sustainability in today's market, and the candle sector is no exception. The values of sustainable sourcing, non-toxic chemicals, and little environmental impact are actively sought-after items by today's consumers, who are becoming more and more ecologically concerned. Integrating sustainable practices along the entire value chain is essential to take full use of the prospects in the candle industry.
Purchasing supplies from eco-friendly vendors is one of the essential steps toward sustainability. Your candles will be created from renewable resources if you choose sustainable waxes like soy or beeswax.
These waxes support a cleaner and healthier environment by having a lesser carbon footprint and releasing fewer chemicals when burned. Consider employing essential oil-based natural fragrances rather than artificial ones, as this further satisfies the tastes of people who are concerned about the environment.
The development of customer credibility and trust depends heavily on transparency. Clearly and publicly express your commitment to sustainability. Details on your manufacturing procedures, sourcing procedures, and any certifications or third-party verifications you have achieved should be provided. Customers develop trust in your brand and resonate with individuals who appreciate eco-friendly products when they realize that you promote sustainable methods.
Personalization has become a crucial component driving consumer demand in addition to sustainability. Customers increasingly look for candles that represent their distinct interests, likes, and personalities. Offer choices for personalization that let buyers select smells, colors, and even container styles for your candles to meet this need.
By offering customized candles, you not only cater to individual preferences but also give your clients a feeling of intimacy and exclusivity. The satisfaction and loyalty of customers can be greatly increased by this personalized touch.
The key to maximizing the prospects in the candle industry in 2023 is to embrace sustainability and customization. You may align your company with the principles and demands of environmentally concerned customers by integrating sustainable practices into your sourcing, production, and packaging procedures. By including customization choices, you may capitalize on consumer demand for one-of-a-kind and custom goods and strengthen bonds with your audience.
Learn more about the target market of your candle business by visiting our article here.
Overcoming Intense Competition
To be efficient in today's cutthroat and extremely competitive candle market, it is essential to distinguish your candle business from those of your competitors. This can be accomplished by combining the provision of distinctive offerings, the establishment of a powerful brand, and the implementation of effective marketing strategies. You'll be able to differentiate your company from the competition and get the attention of customers if you build on these methods.
The first thing you need to do is identify a certain segment of the market. Carry out an in-depth study on the market to locate any unfilled niches or areas that aren't being adequately served. Perhaps there is a demand for candles or fragrances that have been developed specifically for certain locations or occasions. You will be able to cater to a more specialized audience and establish yourself as the go-to brand for meeting the requirements of that clientele if you choose to specialize in a certain niche.
Developing a unique brand identity for your candle business is essential to set it out from the competition. Your company's brand should be able to effectively communicate your core values, story, and USP (unique selling proposition). Develop an attention-grabbing brand narrative that touches consumers on an emotional level and resonates with them.
Make use of social media platforms such as Instagram and Pinterest to provide potential customers with a visual representation of your items and to engage with them. A brand image that is memorable and easily recognizable will be produced by branding that is consistent across all touchpoints.
The differentiation of your brand through the use of collaborations can be an excellent method for increasing interest among consumers. You can generate limited-edition candles or create unusual packaging by working together with local designers, influencers, or craftspeople to produce the candles or create the packaging.
These relationships will not only help broaden your company's customer base, but they will also lend an aura of exclusivity and creativity to the products and services you provide. When you collaborate with other businesses, you have the opportunity to develop buzz and word-of-mouth promotion, which can bring in extra customers for your firm.
Implementing efficient marketing strategies is necessary to get your message over to the audience you want to reach. You may build awareness of your brand and drive visitors to your website and physical store by employing content marketing, cultivating relationships with influential people, and advertising on social media.
Create a captivating narrative and make use of graphics that will grab your audience's attention to draw attention to the unique characteristics and benefits of the candles you sell to engage your audience. Include information that was made by users to demonstrate how customers are employing and implementing your candles into their everyday lives.
You will be able to separate your candle business from the competition if you combine the ideas and techniques outlined here. Keep in mind that staying ahead in the industry requires ongoing adaptation and innovation. You may achieve long-term productivity in the cutthroat candle industry by drawing in devoted clients through the use of innovative marketing strategies, building a reputable brand name for your company, and providing exceptional items that set you apart from your competitors.
Staying Updated with Emerging Trends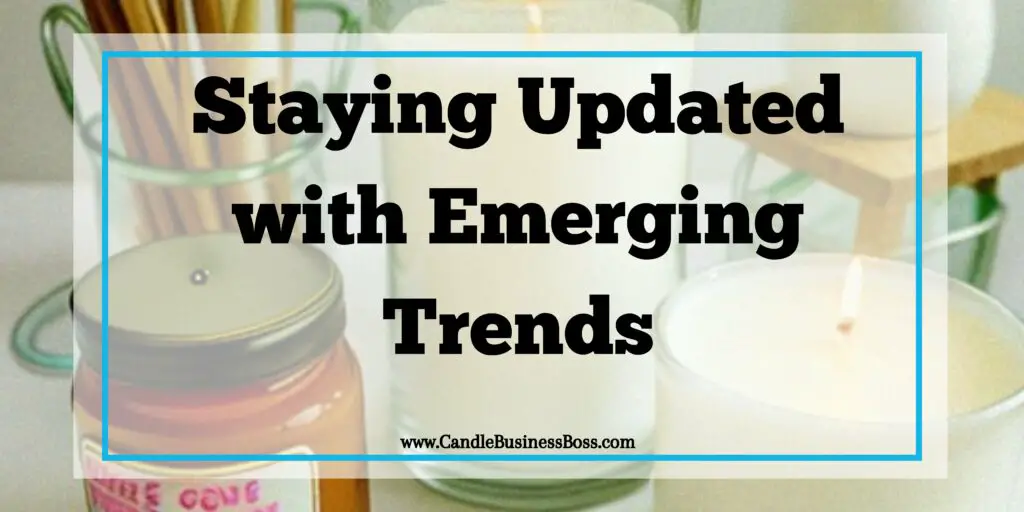 To be competitive and relevant in 2023 in the rapidly changing candle market, it is essential to keep up with new trends. You may attract customers and position your company as innovative and conscious of their preferences by adjusting your offers to fit current trends.
The incorporation of aspects related to wellness and self-care is a prominent trend in the candle industry. More and more buyers are looking for candles that offer more than just a pleasing aroma. They're seeking candles that encourage calmness, stress reduction, and mindfulness. Think about adding essential oils with relaxing effects to your candles, such as lavender or chamomile.
These organic scents have the power to ease the senses and improve the environment. Investigate cutting-edge styles and features as well, such as candles with aromatherapy blends or ones that melt to become massage oils. You can position your candles as necessary instruments for self-care rituals and draw customers who value holistic well-being by including wellness-focused elements in them.
Consumer interest in experiential candles has grown significantly. Candles with traditional scents are no longer sufficient; nowadays, people want novel sensory adventures. Use candles that change color as they burn or ones with wooden wicks that crackle to replicate the sound of a toasty fireplace to capitalize on this trend.
These interactive elements improve the atmosphere overall and provide visitors with a great experience. Experience-based candles not only attract attention but also inspire people to interact with your business and share their stories, which boosts customer loyalty and brand recognition.
Consumer tastes are significantly shaped by social and cultural trends. To make sure that your candle designs and scents are in line with the current zeitgeist, pay close attention to popular culture, fashion, and interior design trends.
Create limited-edition collections that capture the newest aesthetics and styles by collaborating with designers or artists who have their fingers on the pulse of trends. You may position your business as forward-thinking and attract trend-conscious customers by drawing on the larger cultural environment.
Can't decide what to name your candle business? Check out our article to help you come up with the best name for your candle business.
Meeting Evolving Consumer Demands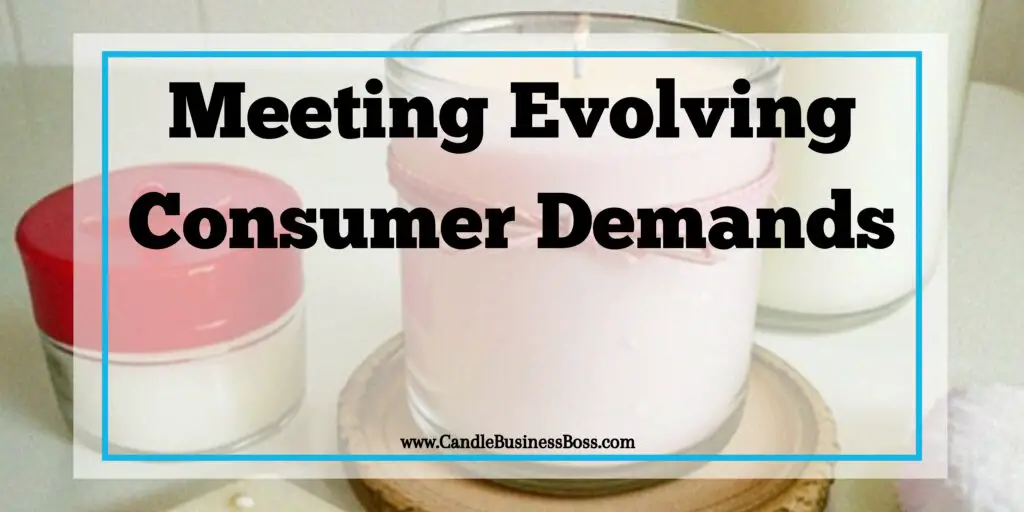 In 2023, satisfying customer demands will become increasingly important for businesses as consumer expectations continue to grow. Although individualized and sustainable products are crucial, customers will want more from candle companies. To draw in and keep customers, transparency, quality, and a frictionless purchasing experience will be key factors.
Building trust with customers requires a lot of transparency. Your sourcing methods, production procedures, and any certifications or third-party verifications you have must all be made explicit. Be open and honest about the components of your candles, putting a focus on green and sustainable products.
By doing thorough testing and abiding by industry standards, you can demonstrate your dedication to quality and safety. By making this information available, you can reassure clients that they are selecting your candles in an informed and responsible manner.
By making quality product investments, you may differentiate your brand from cheaper competitors. Make sure that the materials and substances used to make your candles are of the highest caliber. As a result, candles will burn more evenly, release pleasant scents, and last longer. Delivering good products results in a positive client experience that promotes repeat business and positive word-of-mouth recommendations.
Customers should have a seamless and convenient purchasing experience. If you have an online store, make sure it is user-friendly and responsive on a variety of devices by optimizing its functionality. To assist clients in making educated decisions, provide safe payment alternatives and thorough product descriptions along with high-resolution photos.
To reduce waiting periods and increase customer satisfaction, think about providing quick and dependable shipping options. Furthermore, a simple return procedure can give clients peace of mind and enhance their whole shopping experience.
Another element of the buying experience that might distinguish your candle business is personalization. Give customers the choice of choosing fragrances, colors, or container styles. This not only accommodates individual preferences but also fosters an air of exclusivity and ties people to your brand.
Satisfying consumer expectations in 2023 requires more than just individualized and sustainable products. Customer happiness and loyalty are largely influenced by transparency, product quality, and a flawless purchasing experience.
You can set your company apart and forge a significant presence in the cutthroat candle industry of 2023 by being open and honest about your business methods, supplying high-quality candles, and offering a convenient purchasing experience.
Frequently Asked Questions
Is it true that soy-based candles are better for the environment than other types of candles?
Some people believe that candles made from soy are better for the environment than candles made from paraffin. This is true. While paraffin wax is produced from petroleum, which is a resource that cannot be replenished, soy wax is produced from soybean oil, which is a resource that can be replenished. Candles made from soy are a better choice for the environment than other types of candles since they produce less pollution when they burn and exhale less carbon dioxide.
In such a competitive business, what sets my candle firm apart from the others?
To make your candle business stand out from the competition, give creativity and branding your primary focus. Choose a separate sub-field or specialty to pursue within the candle industry, and then focus on satisfying the needs of a certain consumer base. Develop a compelling brand story that resonates with customers and highlights the characteristics that set your candles apart from the competition.
Through partnerships with craftspeople or other influential people, you can produce limited edition collections or unusual packaging. Promotion on social media platforms and the use of intriguing narratives are two examples of effective marketing strategies that can assist your firm in standing out from the competition.
What are some of the most current trends in the candle business?
The candle industry is now experiencing several developments, some of which include experience candles, personalized candles, and sustainability. Consumers are showing a growing interest in candles that emit natural smells derived from essential oils and are made of environmentally acceptable materials such as soy or beeswax. Personalization is becoming increasingly popular, and consumers desire products that can be tailored to their preferences in terms of aroma, color, and packaging.
Candles that provide a unique experience for multiple senses, such as those with crackling wooden wicks or striking designs, are gaining in popularity. By being abreast of emerging trends and incorporating them into your product offerings, you can ensure that your candle business remains contemporary and appealing to clients.
To learn more on how to start your own candle-making business check out my Startup Documents here.
The information provided by CandleBusinessBoss.com ("The Site") is for general informational purposes only. All information on the Site is provided in good faith, however, we make no representation or warranty of any kind, express or implied, regarding the accuracy, adequacy, validity, reliability, availability, or completeness of any information on the Site. Under no circumstance shall we have any liability to you for any loss or damage of any kind incurred as a result of the use of the Site or Reliance on any information provided on the Site. Your use of the Site and your reliance on any information on the Site is solely at your own risk. This blog post is for educational purposes only and does not constitute legal advice. Please consult a legal expert to address your specific needs. Terms and Conditions.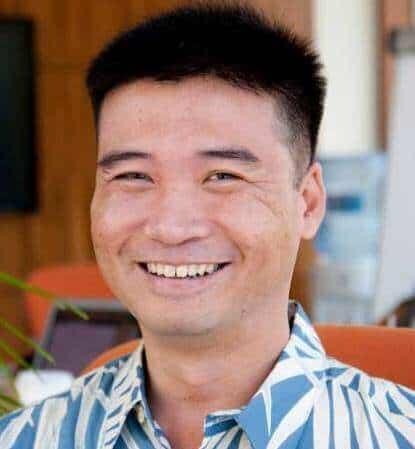 Meet Shawn Chun: Entrepreneur and Candle Business Fan.
I'm a happy individual who happens to be an entrepreneur. I have owned several types of businesses in my life from a coffee shop to an import and export business to an online review business plus a few more and now I create online candle business resources for those interested in starting new ventures. It's demanding work but I love it. I do it for those passionate about their business and their goals. That's why when I meet a candle business owner at a craft fair, farmers market, retail location or anywhere else I see myself. I know how hard the struggle is to obtain and retain clients, finding good employees all while trying to stay competitive. That's why I created Candle Business Boss: I want to help candle business owners like you build a thriving business that brings you endless joy and supports your ideal lifestyle.