Starting a candle company can be an interesting and gratifying endeavor. Candles have long been a popular item, adding atmosphere, relaxation, and delectable scents to any setting. However, understanding the basic ingredients required to develop a strong foundation is critical to ensuring a good start and long-term growth.
The most useful elements for starting a candle business include essential supplies, equipment, packaging materials, safety gear, business licenses, a well-defined marketing strategy, a strong online presence, product differentiation, an effective pricing strategy, and various sales channels.
In this article, we will examine the main elements required to launch a booming candle business. You can position yourself for accomplishment in a competitive market by paying meticulous attention to these elements.
Essential Supplies
The acquisition of the necessary supplies becomes crucial when starting a candle business. These essential supplies include a variety of elements, beginning with the superior wax that forms the basis of your candles.
Wicks, which control how well the final product burns and performs, are also crucial. Fragrance oils are essential for adding alluring aromas and enabling you to give customers a seductive olfactory experience.
If you want colorful, eye-catching candles, dyes or colorants may be used. Prioritize dependability and consistency as you start looking for suppliers to make sure the items you buy are of the highest caliber possible. Do considerable research, read client testimonials, and compare costs to find vendors who share your company's beliefs and aims.
Be sure to match your resources to the precise type of candles you plan to manufacture because some candle varieties may call for specialist ingredients. You build the foundation for a prosperous candle business by carefully choosing and acquiring these necessary supplies.
Equipment
Making the correct equipment investments is crucial for your candle business if you want to guarantee effective production and uphold a high standard of quality. To melt the wax effectively and safely, one of the essential pieces of equipment you'll need is a dependable melting pot or double boiler.
This gives you the ability to precisely manage the temperature, producing candles that are reliable and have good shape. Another essential piece of equipment for monitoring and preserving the ideal temperature when producing candles is a thermometer.
Molds are also essential for forming the candles into the desired shapes, whether those forms are jars, pillars, or votives. To achieve accurate placing and a clean burn, you must arm yourself with the necessary wick placement equipment. Based on the size of your production, take into account the size and capacity of the equipment you choose.
The process of creating candles is improved by investing in high-quality equipment, which also improves your business's professionalism and safety. Prioritizing the appropriate equipment can help you produce candles quickly and with a level of consistency that will appeal to your clients.
Here's a starter kit for your homemade candle business. Check out our article to know what are they.
Packaging Materials
Your candle business depends on the packaging, which serves two purposes: display and protection. It is important to use packaging materials that are aesthetically pleasing, robust, and consistent with your brand's aesthetic. Customers may observe the candle's brightness and color via glass jars, which create a traditional and exquisite appearance. Elegant boxes can evoke a sense of wealth and sophistication, while tin containers give off a sleek, contemporary vibe.
To create a unified and enduring identity for your items, you should also think about including labeling and branding components in your packaging design. Labels with thoughtful design can communicate significant information, including specifics about a smell and burning directions.
Adopting sustainable and eco-friendly packaging practices can also be a smart move that can differentiate your business from the competition and draw in environmentally conscious customers. By investing in beautiful and useful packaging, you raise the perceived value and general appeal of your candles and leave a lasting impression on buyers.
Safety Gear
Safety must always come first while operating a candle-making business. To reduce dangers and guarantee a secure workplace, it's essential to outfit both you and your staff with the appropriate safety gear. When handling hot wax or working with open flames, heat-resistant gloves are an essential barrier against burns. When creating candles, safety goggles shield the wearer's eyes from any potential sparks or splatters.
Having fire extinguishers close by and accessible is crucial for responding quickly to any unplanned fire accidents. It is essential to educate yourself and your team about basic safety measures in addition to providing the appropriate safety equipment.
This includes instructions on how to handle hot wax, how to prevent fires and emergency procedures. You can safeguard yourself and your workers from harm by putting in place and enforcing safety procedures. You can also foster a culture of safety within your candle-making company.
Business Licenses
Prioritizing local law compliance and obtaining the required licenses and permits is essential when entering the candle business market. It is crucial to do your research on the particular legal requirements that apply to your area.
This can entail obtaining standard business permits, which are essential for running any kind of enterprise in your region. To sell your candles and adhere to tax laws, you might also need to obtain sales tax licenses.
You could need additional permits or certifications to handle and sell your candles, such as scented ones, depending on their nature. You can build a solid foundation for your candle business and ensure that you operate within the law by carefully researching and meeting these legal requirements. In addition to assisting you in avoiding any legal problems, adhering to local legislation also enables you to conduct business with assurance and peace of mind.
Well-Defined Marketing Strategy
Developing a clear marketing plan is essential for building brand recognition and bringing in clients for your candle business. To identify your target market and learn more about their tastes and buying habits, start by performing market research.
Your marketing efforts will be guided by this information as you adjust your messages and products to match their needs. Creating a unique selling proposition (USP) is crucial for differentiating your candles from those of rival brands. Emphasize the unique qualities of your items, such as their usage of natural components, distinctive scents, or eye-catching designs.
Create a captivating brand story that speaks to your audience's aspirations and values if you want to engage them on a deeper level. Share the background of your company, your dedication to quality, or the ideas that have inspired your candle creations. Developing an emotional bond with your clients can promote advocacy and brand loyalty.
To reach a large spectrum of potential clients, use a variety of marketing methods. Use social media to communicate with your audience, promote your products, and create a sense of community around your company. To maintain ties with your customers and keep them updated on new product launches or exclusive specials, implement email marketing campaigns.
Think about working with influencers or micro-influencers who share your brand's ideals and have a loyal fan base. Their support might broaden your audience and increase interest in your products. Don't discount the power of conventional advertising techniques to reach regional audiences, such as print or radio.
Strong Online Presence
In the current digital world, having a strong online presence is essential for the growth of any business, including one that sells candles. To display your candles, give detailed information about your business, and enable online purchases, you must create an aesthetically appealing and user-friendly website. Ensure that your website is search engine optimized by using pertinent keywords and meta descriptions to raise your presence in search results.
Use social media to interact with your audience, post interesting information, and advertise your products. Establishing a unified and identifiable presence on social media requires maintaining a similar brand voice and appearance across all of your profiles. By collaborating with influencers who are relevant to your target market, influencer marketing can help you expand your reach and raise brand awareness.
Utilize the power of client feedback and endorsements. Encourage delighted clients to leave reviews and testimonials on your website, on social media, or on independent review sites. These endorsements might aid in establishing credibility and trust with future clients.
Creating a strong online presence allows you to communicate directly with your consumers as well as reach a wider audience, including those who prefer to shop online. Engage with your audience by leaving comments, sending messages, and participating in live conversations. Maintain ties with your current consumers and keep them updated on new product launches, promotions, or exclusive deals by using email marketing.
Product Differentiation
Setting your candles apart from competitors is essential if you want to succeed in a crowded market. Various tactics can be used to differentiate your items. First, concentrate on creating distinctive odors that draw clients in with their seductive and distinctive aromas.
Experimenting with novel candle varieties and investigating creative designs will help you provide a broad selection of goods that stand out on store shelves or in online marketplaces.
Consider using sustainable and natural components in your candles to appeal to customers who are environmentally concerned and to those who value eco-friendly solutions. Another strategy for making your candles memorable is personalization.
Provide individualized possibilities for customization, such as monogramming or developing personalized smells. You may draw clients who value and seek out outstanding candle experiences by offering something genuinely remarkable and of the highest caliber.
Check out this article to learn another starter kit for your candle-making business.
Effective Pricing Strategy
In the candle industry, a thoughtful pricing strategy is crucial for both profitability and attracting customers. When figuring up the basic pricing for your candles, start by taking the cost of the materials, production costs, and overhead costs into account. To maintain sustainability and expansion, it is also essential to take the desired profit margins into account.
To comprehend the pricing environment and positioning of comparable candles in the market, conduct a complete market analysis. This information will assist you in establishing reasonable prices that reflect the worth of your goods while also being appealing to consumers.
Pricing tiers or bundles can be implemented to cater to various consumer segments and promote upselling. Customers are given the choice to select what fits their preferences and budget by being presented with a variety of options at various price points. To create a sense of urgency and excitement, consider seasonal promotions, limited editions, or subscription options. This will increase sales and draw in new clients.
Various Sales Channels
A tactical move to increase your consumer base and sales chances for your candle business is to diversify your sales channels. In addition to selling directly on your website, you might want to think about forming alliances with neighborhood boutiques, gift stores, and retailers.
By partnering with these businesses, you may display your products in actual locations and appeal to people who prefer in-person purchasing. Taking part in craft fairs, markets, and trade events gives you the chance to interact directly with potential customers, build brand recognition, and highlight the superiority and originality of your items.
Your online reach can be greatly increased and your candles can be seen by a larger audience by investigating online markets like Etsy, Amazon, or eBay. These online marketplaces provide a sizable client base and practical purchasing experiences that can boost revenue and raise brand awareness.
Think about going after wholesale distribution, and selling your candles to other merchants or companies that cater to your target clientele. You may expand your business and reach more clients with this strategy.
Frequently Asked Questions
What tools do I need to start a candle company?
You will require several necessary goods to launch a candle business. First and foremost, you'll need wax. Depending on your preferences, you can find wax in a variety of forms, including soy, beeswax, and paraffin. For scented candles, you'll also need wicks, which can be cotton or wooden, and fragrance or essential oils.
A thermometer to check the wax's temperature, containers or molds to pour the wax into, a heat source like a double boiler or melting pot, and equipment like a stirring fork and a scale for weighing components are other necessities. The finished products also need labels, packaging components, and safety gear including aprons and gloves.
Are there any licenses or legal requirements to launch a candle business?
Yes, starting a candle business may require obtaining various licenses and regulatory criteria. It is critical to investigate and adhere to local legislation because the particular requirements can change depending on your area and the size of your organization.
Generally speaking, to legally conduct business, you might need to obtain a license or permit. You might need to establish your business and obtain the necessary sales tax permits if you intend to sell your candles in brick-and-mortar stores or online. To make sure you are adhering to all relevant legal requirements, it is advised to seek advice from local authorities or a business attorney.
How much capital is needed to launch a candle company?
The amount of money needed to launch a candle business might vary depending on several variables, including the size of your operation, your capacity for manufacturing, and your marketing plan. Typically, the cost of supplies, machinery, and packaging materials is included in the original investment.
To accurately estimate the costs, a thorough business plan must be written. Starting a small-scale candle business typically costs between a few hundred and a few thousand dollars, although larger enterprises that have vast production facilities and marketing budgets may incur much higher expenditures. To create a sustainable company venture, it is advised to properly budget and take into account aspects such as product pricing, marketing costs, and overhead costs.
To learn more on how to start your own candle-making business check out my Startup Documents here.
The information provided by CandleBusinessBoss.com ("The Site") is for general informational purposes only. All information on the Site is provided in good faith, however, we make no representation or warranty of any kind, express or implied, regarding the accuracy, adequacy, validity, reliability, availability, or completeness of any information on the Site. Under no circumstance shall we have any liability to you for any loss or damage of any kind incurred as a result of the use of the Site or Reliance on any information provided on the Site. Your use of the Site and your reliance on any information on the Site is solely at your own risk. This blog post is for educational purposes only and does not constitute legal advice. Please consult a legal expert to address your specific needs. Terms and Conditions.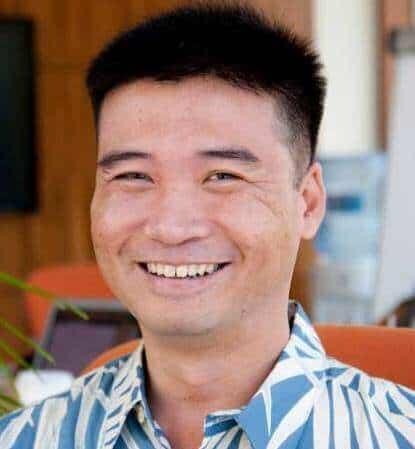 Meet Shawn Chun: Entrepreneur and Candle Business Fan.
I'm a happy individual who happens to be an entrepreneur. I have owned several types of businesses in my life from a coffee shop to an import and export business to an online review business plus a few more and now I create online candle business resources for those interested in starting new ventures. It's demanding work but I love it. I do it for those passionate about their business and their goals. That's why when I meet a candle business owner at a craft fair, farmers market, retail location or anywhere else I see myself. I know how hard the struggle is to obtain and retain clients, finding good employees all while trying to stay competitive. That's why I created Candle Business Boss: I want to help candle business owners like you build a thriving business that brings you endless joy and supports your ideal lifestyle.