For budding entrepreneurs looking to break into the opulent and elegant market, luxury candles provide a flourishing potential. However, establishing a solid foundation is essential to guaranteeing a productive beginning.
To effectively start with a luxury candle business, you should begin by conducting market research, creating candles with superior ingredients and elegant packaging, establishing an online presence, and collaborating with influencers for marketing.
In this article, we will examine the measures necessary to launch a luxury candle business. In this competitive market, you can position your brand for achievement.
Conducting Market Research
A thorough market analysis is necessary before starting a thriving venture in the luxury candle industry. This important phase enables you to gather insightful knowledge that can influence the course of your company. You may discover consumer preferences, spot market gaps, and create a USP that distinguishes your company by conducting thorough market research.
Analyzing current luxury candle companies will help you launch your market study. Examine their pricing policies, product lineup, and target market. You will gain a greater grasp of the competitive landscape and be able to pinpoint areas where you can set your company apart thanks to our investigation.
The next crucial step is to specify your target market. Understanding your target customer's demographics, tastes, and purchase patterns will help you develop products, choose marketing strategies, and make branding decisions that will best serve their needs. Your chances of acquiring and keeping devoted clients grow when you match your offers with their needs.
It's important to stay current with fashion in the luxury candle market. Investigate and examine novel ideas, such as original candle designs, eco-friendly materials, or unusual fragrance combinations. You can make sure that your luxury candles meet the changing needs of the market by incorporating these trends into your product offerings.
Strategic positioning for your luxury candle company comes from thorough market research. You can use it to locate market "whitespace" and build a distinctive brand from rivals. You may tailor your marketing efforts to reach and engage with your target audience by being aware of their preferences and understanding who they are. This focused strategy boosts the likelihood of grabbing their attention and generating revenue.
Thorough market research is necessary before starting a thriving venture in the luxury candle industry. You may strategically position your firm and set it apart from rivals by researching similar brands, identifying your target market, and following market trends.
Decisions about product development, marketing tactics, and branding are made with the help of market research, which offers essential information. It lays the groundwork for growth, allowing you to attract the interest of your target market and establish a booming luxury candle business.
Planning to start a beeswax candle business? Check out this article to know how.
Creating Candles with Superior Ingredients and Elegant Packaging
The acquirement of a luxury candle business is greatly influenced by the caliber of the candles you sell. Investing in high-quality ingredients is essential for producing magnificent perfumes that inspire a feeling of pleasure and luxury.
To create distinctive aroma profiles that set your candles apart from the competition, think about cooperating with renowned perfumers or experts in fragrance production. Through this partnership, you will have access to their knowledge and be able to develop enticing perfumes that appeal to your target market.
Paying close attention to the packaging and design of your candles is just as crucial as the aroma. Your products will look more desirable and improve the overall client experience if they are packaged in an opulent fashion that radiates refinement and elegance.
Customers feel delighted and the perceived value of the goods increases when they receive a beautifully packed candle. Therefore, while creating the package, it is crucial to employ premium materials, deliberate branding aspects, and attention to detail. To design a package that communicates the quality your candles offer, think about using exquisite finishes, embossed logos, or distinctive designs.
It's critical to realize that customers in the luxury market are investing in an experience rather than just buying a product. You may create candles that satisfy the senses of discriminating customers by using premium ingredients and tasteful packaging. Your candles are brought to a higher level by the fusion of premium fragrances and visually appealing packaging, which produces an immersive experience.
Your dedication to excellence is shown by the care you took in selecting premium ingredients and designing elegant packaging. Customers looking for luxury and sophistication are won over, and the business can create trust and grow its reputation. Delivering consistently high quality will help you build customer loyalty and encourage repeat business.
The growth of your luxury candle business is greatly influenced by the caliber of your candles. To produce amazing aromas that enthrall your target audience, invest in acquiring premium components and work with fragrance experts.
Pay close attention to the packaging and design to make sure it communicates class and sophistication. You can distinguish your luxury candle business from the competition by fusing premium ingredients with opulent packaging to give discerning customers an immersive and enjoyable experience.
Establishing a Strong Online Presence
Building a strong online presence is essential for any business, especially luxury candle businesses, in the current digital era. Utilizing the power of the internet and other online channels is crucial for launching your luxury candle business.
Create a quality website to act as the online showroom for your brand to start. Your website should be visually appealing and user-friendly while showcasing your brand's history, product line, and ordering information. To ensure that your website appears high in pertinent searches and draws organic visitors, optimize it for search engines. This will raise your online profile and attract more visitors to your website.
Social media platforms have a wealth of possibilities for communicating with new clients and increasing brand recognition. Use social media sites like Instagram, Facebook, and Pinterest to your advantage to produce interesting material that shows the distinctive qualities of your high-end candles.
To pique the interest of your target audience, share behind-the-scenes films, arresting photographs, and client testimonials. Create interactive material, organize freebies, and communicate with your fans to build a feeling of community and adherence.
Working together with influencers or lifestyle bloggers can greatly increase your audience and reach. Find influencers whose followers fit your target market and whose followers share your brand's beliefs. Work together to develop sponsored content, product reviews, or freebies that highlight the distinctiveness of your high-end candles. These people's credibility and influence can considerably increase the visibility of your brand and create talk about your goods.
Think about collaborating with reputable online retailers or selling your high-end candles through online marketplaces. This makes it simple for buyers to access and buy your products from many locations.
You may grow your consumer base and sales potential by widening your distribution networks. To maintain consistency across all touchpoints, make sure that your e-commerce platform or partnership maintains the same level of luxury and consumer experience as your brand.
Having a strong web presence is crucial when launching a business selling luxury candles. To interact with potential customers and increase brand awareness, create a visually appealing and user-friendly website, optimize it for search engines, and leverage social media channels.
Consider partnering with online retailers or using e-commerce platforms to broaden your distribution channels as you work with influencers. You may reach a larger audience, improve brand recognition, and boost sales for your luxury candle company by utilizing internet platforms.
Collaborating with Influencers for Marketing
The use of influential people as spokespeople for brands has become an increasingly popular and effective method of product promotion, particularly in the luxury goods sector. Increasing the visibility of your business and building its credibility can both be significantly aided by engaging in collaborative efforts with influencers who are popular among the consumers you wish to reach.
To get started, you will first need to locate influential people who have a sizable fan base in the lifestyle, home décor, or luxury products areas. Look for people whose core beliefs are congruent with those of your company and who have an audience that is both engaged and genuine. These influencers should not only have a real interest in luxury goods but also a strong online presence that is congruent with your target audience.
To develop sponsored content that draws attention to the distinctive qualities and advantages of your luxury candles, you should work together with influential people. This could be accomplished through the use of exquisitely produced photographs or movies that present your candles in opulent settings. Influencers should be encouraged to share their actual experiences and thoughts on your items with their followers to develop trust and authenticity among their audience.
Reviewing a company's products is yet another productive approach to using the power of influencer partnerships. Send samples of your premium candles to influential people and ask them to provide an honest and in-depth assessment of the product. This helps their followers, who rely on them for their ideas and recommendations, establish credibility and confidence in them as a result.
Giving out free stuff in conjunction with influential people is another effective strategy for grabbing people's attention and raising their awareness of a brand's existence. Make it possible for participants to only obtain one-of-a-kind bundles or special edition candles by entering the giveaway. Participants feel like they are a part of something special and exclusive as a result, and influencers have the opportunity to assist in promoting and organizing the contest on their platforms.
You may profit from the credibility and impact that influencers have built up over time as well as tap into their dedicated fan network when you collaborate with them. Their endorsements and recommendations can help boost sales by increasing brand recognition, attracting new customers whose lifestyles are aligned with the luxury lifestyle that your candles symbolize, and eventually attracting potential customers.
Always keep in mind that when selecting influencers, it is necessary to select people whose beliefs are congruent with those of your business and whose followers are comparable to those of your target market.
The genuineness and sincerity of the relationship that exists between the influencer and their audience are essential components of a productive collaboration. You may increase the visibility of your luxury candle business and develop a strong presence in the market by making proper use of influencer marketing.
Is the candle business the right business for you? Visit this article to get some ideas.
Frequently Asked Questions
How crucial is market research when beginning a business selling luxury candles?
When launching a business selling luxury candles, market research is essential. It aids in the development of a distinctive selling proposal, the understanding of your target market, and the discovery of market gaps. The likelihood of growth is increased by carefully researching your potential customer's preferences and needs before developing your products, branding, and marketing techniques.
What elements should I take into account when making expensive candles?
Superior ingredients and attractive packaging are two important elements to take into account when producing luxury candles. Develop distinctive and alluring aromas that convey a sense of luxury by working with professionals in fragrance creation and investing in high-quality ingredients. Create superb packaging that captures the sophistication and beauty of your business. This will improve the overall customer experience and visually allure them.
How can I promote my line of premium candles?
Having a solid web presence is crucial for marketing your luxury candle company. Make a decent website and make it search engine-friendly. Connect with potential customers on social media sites, post interesting material, and work with influencers who share your brand's values.
To further increase your exposure, think about collaborating with online retailers and using e-commerce platforms to offer your products. To draw in and keep discerning clients in the luxury market, it is essential to communicate the distinctive features and experiences your candles offer.
To learn more on how to start your own candle-making business check out my Startup Documents here.
The information provided by CandleBusinessBoss.com ("The Site") is for general informational purposes only. All information on the Site is provided in good faith, however, we make no representation or warranty of any kind, express or implied, regarding the accuracy, adequacy, validity, reliability, availability, or completeness of any information on the Site. Under no circumstance shall we have any liability to you for any loss or damage of any kind incurred as a result of the use of the Site or Reliance on any information provided on the Site. Your use of the Site and your reliance on any information on the Site is solely at your own risk. This blog post is for educational purposes only and does not constitute legal advice. Please consult a legal expert to address your specific needs. Terms and Conditions.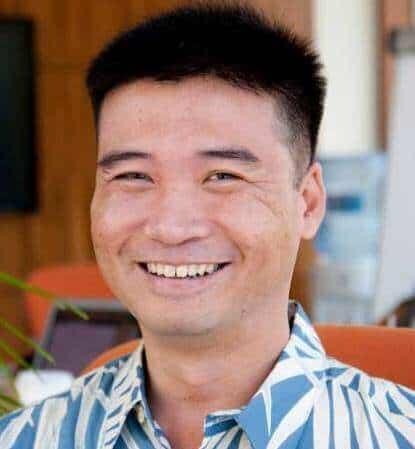 Meet Shawn Chun: Entrepreneur and Candle Business Fan.
I'm a happy individual who happens to be an entrepreneur. I have owned several types of businesses in my life from a coffee shop to an import and export business to an online review business plus a few more and now I create online candle business resources for those interested in starting new ventures. It's demanding work but I love it. I do it for those passionate about their business and their goals. That's why when I meet a candle business owner at a craft fair, farmers market, retail location or anywhere else I see myself. I know how hard the struggle is to obtain and retain clients, finding good employees all while trying to stay competitive. That's why I created Candle Business Boss: I want to help candle business owners like you build a thriving business that brings you endless joy and supports your ideal lifestyle.