The online marketplace offers countless opportunities for the growth of enterprises, including candle marketing. To effectively promote your candle business and maximize its online presence, it is essential to employ a comprehensive marketing strategy.
The best way to market candles online is for you to create an attractive website, engage on social media, collaborate with influencers, provide quality product visuals and descriptions, encourage customer reviews, and implement email marketing campaigns.
Create an Attractive Website
Your website serves as the initial point of contact for potential clients and serves as the virtual entrance to your candle business. It is essential for drawing in customers and giving them a smooth and pleasurable browsing experience. There are various important factors to take into account while building efficient online retail.
First, your website's layout should complement your brand's image and capture the soul of your products. Select a design that appeals to your target audience visually and aurally. It should reflect the atmosphere, fashion, and mood that your candles create. Use typefaces, colors, and images that go well with your brand identity.
High-quality product photos must be used in addition to an engaging design. Display your candles in all their beauty, capturing their originality, skill, and minute nuances. High-resolution photographs will help potential customers see how beautiful and high-quality your products are, increasing their desire to buy.
For a satisfying online surfing experience, a website must be user-friendly. Improve your website by adding a simple layout and easy navigation. Make sure that visitors can easily locate the information they need. Sort your candles into the appropriate sections, and offer simple menu options for quick navigation. Create a search function to enable efficient and targeted product searches.
Thorough product descriptions are essential for educating and luring clients. Emphasize the advantages, characteristics, and distinctive selling qualities of each candle. Describe the smell profiles, the caliber of the ingredients, and any other features, like eco-friendly packaging or long burn periods. Potential customers should feel connected to the descriptions and be able to picture how the candles would improve their living areas.
Integrating client reviews on your website can greatly increase credibility and trust. To demonstrate the wonderful experiences pleased customers have had with your candles, include reviews and feedback from them. Testimonials serve as social proof, convincing potential buyers that choosing your brand is a sensible decision.
It is essential to provide safe payment choices and a simple checkout procedure to promote purchases. Implement dependable payment processors that safeguard consumer data and guarantee a smooth transaction experience.
Reduce the number of steps in the checkout process to make it simpler for customers to complete their purchases. By providing a variety of payment methods, including credit cards, PayPal, and digital wallets, businesses may better serve their customers' needs and boost conversion rates.
Learn what are the measures you need to consider if you want to have a retail candle business by checking this article here.
Engage on Social Media
Social media platforms have become essential tools for businesses in the modern digital landscape to connect with their target audience and market their goods. Knowing your target market and which social media sites they use the most will help you use social media to grow your candle business.
Once you have determined which social media channels are most suited, make engaging profiles that reflect your business identity. To draw potential followers, optimize your profiles with eye-catching graphics, interesting descriptions, and pertinent keywords.
To engage your audience on social media, you must create a solid content plan. Make a content schedule that combines visually stunning postings, captivating videos, and educational articles on candles. Display your candles in various contexts, draw attention to their qualities, and tell stories that will appeal to your target market. To draw attention and pique interest, use excellent photos and videos.
Building a devoted following on social media depends on engagement. Engage with your followers frequently by swiftly answering their questions, comments, and messages. genuinely care about their opinions, inquiries, and feedback. This interaction helps create a sense of community among your audience while also fostering trust and adherence.
Engaging users by holding contests, prizes, or exclusive promos can be exciting. It encourages supporters to get involved, share their content, and promote their candles. This can greatly improve the recognition of your brand and draw in new clients.
To increase your reach and take advantage of your existing audience, collaborating with influencers or micro-influencers in the candle or lifestyle niche can be a potent technique. Find influencers whose followers are members of your target market and whose audiences share your beliefs. Join forces with them for freebies, sponsored content, or product reviews. Their support can increase credibility and trust, which can increase traffic to your website and social media accounts.
Collaborate with Influencers
Influencer marketing has become a potent tool for candle companies looking to expand their customer base and boost brand recognition. When using influencer marketing, it's crucial to choose influencers wisely who share your brand's values and whose audience corresponds to your target market.
Begin by looking for influencers in the candle or lifestyle niche who truly love candles or who have a strong affinity for the principles your brand upholds. Think about their engagement rates, which show how much their followers engage with their content. Seek out influencers with a high engagement rate, as this indicates a responsive and engaged audience.
Another important aspect to take into account is authenticity. Look for influencers who approach the creation of their content sincerely and openly. They must have a track record of writing frank and impartial critiques and suggestions. Genuine influencers are more credible and trustworthy because they connect with their audience on a deeper level.
It is crucial to consider how relevant an influencer's audience is. Make sure that your target market and their following are compatible. Find influencers whose audience closely resembles the characteristics of your potential customers in terms of age, gender, and lifestyle. With the correct audience receiving your message, there is a higher chance of engagement and conversion.
Influencer collaboration can take many different shapes. Influencers can offer their first-hand knowledge of your candles in product reviews, giving their audience insightful information and advice. Unboxing films arouse interest and demonstrate the opening procedure while showcasing the candle's quality and packaging. Authentic and interesting blogs, stories, or movies that are specifically focused on marketing your candles can be used as sponsored content.
By giving influencers high-quality candles that showcase your brand's craftsmanship and distinctiveness, you may motivate them to effectively promote your candles. Offer them a special discount code as well, which they may distribute to their followers to increase exclusivity and sales.
It's crucial to keep track of how each influencer's cooperation is performing. Keep track of indicators like website traffic, conversion rates, reach, and engagement to determine the impact of each collaboration. Utilize this information to hone your influencer marketing approach, determining what will perform best for your company and making any necessary improvements.
Optimize Product Visuals and Descriptions
The visual beauty of your products is quite important when promoting candles online since it helps draw in potential clients. Investing in expert product photography can significantly alter how people view your goods. Engage the services of an accomplished photographer who can capture the spirit of your candles and present them in the best possible way.
To bring out the distinctive qualities, textures, and minute details of your candles, experiment with various lighting setups, angles, and settings. Close-up photographs may highlight the craftsmanship and minute details, while lifestyle photographs can show your candles in a variety of settings, assisting clients in envisioning how they can improve their homes.
It is important to recognize the importance of well-written product descriptions in addition to aesthetically appealing photographs. The scents, components, and artistry that set your candles apart should be made very clear. Give specific details on the wax quality, the scent notes, and any other unique characteristics that make your candles stand out. To arouse feelings and provide a sensory experience for your potential customers, use sensory language.
To establish a connection with your audience, include storytelling elements in your product descriptions. Share the meaning or history behind each candle, as well as the feeling it hopes to arouse. You may establish a stronger connection and engage with your customers on a more intimate level by appealing to the emotional side of candle purchasing.
Optimizing your product descriptions for search engines is also crucial. You may increase your website's exposure in search engine results by integrating pertinent keywords that potential customers could use when looking for candles. Make use of keyword research to find common search terms for candles and incorporate them into your descriptions in a natural way.
Strike a balance between conveying vital information and sounding interesting. To improve readability, use bullet points or brief paragraphs, and divide the information into manageable chunks. Emphasizing the distinctive attributes of each candle, encourage customers to experiment with the many scents and designs you offer.
Encourage Customer Reviews
When it comes to establishing your candle brand's legitimacy and gaining confidence, customer reviews are a priceless advantage. Positive customer reviews are a forceful endorsement that can impact prospective purchasers' shopping decisions. It's crucial to aggressively encourage customers to share their experiences and make the review procedure simple and easy to use to maximize the influence of customer reviews.
Make it simple for visitors to your website to leave reviews. Create an easy-to-use review system that enables customers to quickly evaluate and comment on their purchases. Reduce the number of stages needed and give clear directions to streamline the process. To entice clients to take the time to post a review, think about providing rewards like discounts or special access to new products.
Display customer testimonials prominently on your website as soon as you start getting them. Place testimonials thoughtfully on product pages or in a separate area. The objective is to highlight prior customers' satisfaction and let potential consumers witness the happy experiences other people have had with your candles. The presence of sincere and favorable client evaluations increases brand trust and confidence.
To show your dedication to customer satisfaction, it is imperative to reply to both positive and negative evaluations. Show that you value and appreciate your customers' feedback by taking the time to acknowledge and express gratitude for favorable evaluations.
Respond quickly and professionally to bad evaluations, attempting to comprehend and allay any issues or concerns mentioned. This shows your commitment to providing a pleasant client experience and your readiness to address any issues.
Engage clients on social media sites by being active there. This will extend your involvement beyond your website. Share and reshare positive client testimonials on your social media pages along with a sincere word of appreciation. This not only recognizes and appreciates your customers, but it also builds a sense of community and a favorable perception of your brand.
Encourage clients to evaluate and share their experiences on social media by tagging your business or using certain hashtags. This creates user-generated content and increases the viewership for your favorable evaluations.
Check out this article to know the importance of having a marketing plan for your candle business.
Implement Email Marketing Campaigns
For your candle brand, email marketing is a potent tool for cultivating client relationships and encouraging repeat business. It enables you to establish a direct connection with your audience and to present tailored material that speaks to their wants and requirements. There are several crucial techniques to put into practice to enhance the impact of email marketing.
Create an email list first by encouraging clients to subscribe with incentives. Think about offering special deals, first access to candles in limited quantities, or access to insider knowledge and advice. With the help of these rewards, you may entice clients to voluntarily give you their email addresses and consent to receive notifications from your business.
Delivering personalized and pertinent information requires segmenting your email list. Depending on variables like preferences, past purchases, or participation levels, divide your subscriber base into various segments. This gives you the ability to customize your email messages to particular groups, raising the possibility of interaction and conversion.
It's essential for grabbing subscribers' attention to create email campaigns that are interesting to read and visually appealing. Display new product introductions, and sales, or give educational content about candles. Use enticing graphics and intriguing subject lines to persuade recipients to open and interact with your emails. To add value for your subscribers, blend informative, promotional, and inspirational content.
Your email marketing efforts can be made much more productive by using automation solutions. Create email campaigns that are automatically sent when certain events or customer actions occur. Send clients who have abandoned their shopping carts a follow-up email, for instance, giving a special discount or providing further details to entice them to finish their purchase. Send birthday emails, individualized product recommendations, or reorder candle reminders using automation.
Include client testimonials or achievement stories in your email campaigns to increase credibility and confidence. Sharing good testimonials from happy customers helps to promote the caliber and worth of your candles. Include excerpts from client testimonials or showcase instances where your candles have improved people's lives. This social proof promotes engagement with your brand and builds trust with the audience.
Frequently Asked Questions
How might an appealing website help online candle marketing succeed?
An eye-catching website acts as a digital storefront, drawing in potential customers and showcasing the caliber and distinctiveness of your candles. By offering a platform to display product images and descriptions, fostering customer trust through endorsements, and providing a streamlined browsing and purchase experience, it increases the likelihood that visitors will become customers.
What are the advantages of working with influencers for online candle marketing?
Influencers have gained a devoted following and have power over the purchasing decisions of their audience. You can reach out to their engaged audience and acquire exposure to new buyers who fit your target market by working with influencers in the candle or lifestyle sector. Influencers can raise awareness, spark interest, and strengthen the reputation of your candle brand through product reviews, sponsored content, or unboxing videos.
How many email marketing strategies help online candle marketing succeed?
You may foster relationships with your clients with email marketing, keep them interested, and encourage repeat business. You may send targeted content and promotions straight to customers' inboxes by creating an email list and segmenting it depending on their preferences.
You can promote new candle releases, provide special discounts, distribute educational content, and use customer testimonials in targeted email campaigns that are visually beautiful and compelling to build brand loyalty.
To learn more on how to start your own candle-making business check out my Startup Documents here.
The information provided by CandleBusinessBoss.com ("The Site") is for general informational purposes only. All information on the Site is provided in good faith, however, we make no representation or warranty of any kind, express or implied, regarding the accuracy, adequacy, validity, reliability, availability, or completeness of any information on the Site. Under no circumstance shall we have any liability to you for any loss or damage of any kind incurred as a result of the use of the Site or Reliance on any information provided on the Site. Your use of the Site and your reliance on any information on the Site is solely at your own risk. This blog post is for educational purposes only and does not constitute legal advice. Please consult a legal expert to address your specific needs. Terms and Conditions.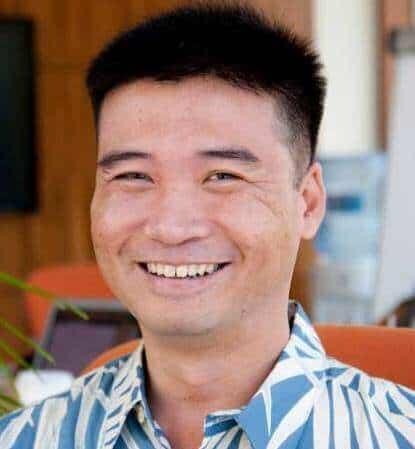 Meet Shawn Chun: Entrepreneur and Candle Business Fan.
I'm a happy individual who happens to be an entrepreneur. I have owned several types of businesses in my life from a coffee shop to an import and export business to an online review business plus a few more and now I create online candle business resources for those interested in starting new ventures. It's demanding work but I love it. I do it for those passionate about their business and their goals. That's why when I meet a candle business owner at a craft fair, farmers market, retail location or anywhere else I see myself. I know how hard the struggle is to obtain and retain clients, finding good employees all while trying to stay competitive. That's why I created Candle Business Boss: I want to help candle business owners like you build a thriving business that brings you endless joy and supports your ideal lifestyle.