It can be fun and satisfying to launch a candle carving business. Mastering the skill of candle carving offers doors to a world of creative possibilities, whether you have a passion for artistic expression or a desire to develop distinctive and alluring items.
The best way to initiate a candle carving business is for you to acquire essential skills through books or classes, practice carving techniques, and develop unique designs. Create a business strategy, and promote your wares through local markets, and social media.
Acquiring Essential Skills
One of the most important first steps in starting a candle carving business is learning fundamental techniques. The good news is that there are several ways to learn this art. The use of books is one of the most established and trustworthy methods.
Books about candle carving offer insightful information on the methods, equipment, and patterns employed by skilled candle carvers. They frequently include extensive images or drawings along with step-by-step instructions, making it simpler for beginners to understand the essentials.
The internet provides a multitude of online resources for studying candle carving in addition to books. The flexibility of learning at your own pace and getting a visual representation of carving skills are both offered via online tutorials and video courses.
These materials frequently cover a broad range of subjects, ranging from simple carving skills to sophisticated sculpting techniques. Utilizing online resources enables you to gain access to a sizable knowledge base and study from knowledgeable candle carvers from all around the world.
Attending seminars or workshops can be a great choice if you want a more practical approach. Look for candle carving classes in nearby art galleries, community colleges, or craft colleges. You will gain from direct instruction and quick responses from knowledgeable instructors in these settings. They can offer useful insights garnered from their own experiences in the industry, assist you in improving your methods, and solve any problems you run into.
Practice Carving Techniques
Consistent practice is necessary if you want to master the craft of candle carving. Creating a space where creativity and attention may flourish requires setting up a dedicated workspace. Make sure your workspace has enough airflow and is well-lit so you can work comfortably.
Another crucial element of developing your candle carving abilities is making the appropriate investments in tools and supplies. Get a set of high-quality carving knives or tools that are suitable for various carving methods and objectives.
Gather the necessary supplies, including wax blocks, candles of different shapes and sizes (pillar, votive, or taper), as well as any other items you might like to use in your designs, including colors or embellishments.
Start by honing the fundamental carving skills, such as shape, etching, and sculpting. Before moving on to more complex designs, concentrate on mastering these fundamental skills. Try out many candle varieties to diversify your knowledge and gain experience with a range of sizes and forms. You will be able to broaden the variety of products you can offer and cater to various customer preferences as a result.
Don't forget to set aside regular practice time. To increase your accuracy, acquire a steady hand, and boost your self-assurance, you must be consistent. Make time in your calendar for dedicated practice sessions and resolve to keep improving your abilities. As you advance, test the limits of your imagination and skill by exposing yourself to more complicated designs and methods.
Learn some of the challenges and opportunities you may face in starting your candle business.
Develop Unique Designs
It's essential to set your candle carving company apart from competitors, and one of the best ways to do this is by coming up with original designs. Your creativity will be fueled and your ability to create uniquely will be helped by finding inspiration from a variety of sources.
Seek out organic forms, patterns, and hues in nature to use in your candle carvings. Investigate the realm of art, whether it be in the form of fabrics, paintings, or sculptures, to find inspiration for cutting-edge design aspects.
Cultural components can be a great source of inspiration as well. Explore various cultures' customs, symbols, and themes, and use them in your creations to give them more depth and meaning. You may make truly unique candles by incorporating your imagination into your designs.
The secret to creating your look is experimentation. Play around with various motifs, textures, and patterns to produce eye-catching creations. To give your candles depth and intricacy, combine several methods including layering, etching, and sculpture. Motivate yourself to think creatively and push the limits of conventional candle carving.
To accommodate certain consumer preferences, think about providing specialized requests or customized designs. This enables you to produce distinctive items that have sentimental worth and connect strongly with your clientele. Create a completely personalized experience by working closely with clients to comprehend their vision and implement their ideas into your designs.
Make an effort to make candles that arouse feelings and convey a narrative. Each design should serve a specific purpose, whether it be to capture the serenity of beautiful countryside or to commemorate a momentous occasion. Your carvings will become artistic expressions that go beyond simple adornment if you give them symbolism and purpose.
Create a Business Strategy
It is essential to have a thorough and well-thought-out business plan in place if you want to ensure the growth of your candle-carving enterprise. Outline your company's aims and objectives in detail to start. Think about your goals for your candle carving business, such as developing a company, a strong brand presence, or a following of devoted clients.
Another important stage in developing your business plan is determining your target market. Do extensive market research to learn about your target clients' tastes and buying patterns. Your designs, marketing messaging, and entire business strategy may all be customized with the use of this expertise to engage your target market.
A key component of your business strategy is pricing. Establish the costs related to your candle carving business, such as inventory, equipment, office space, and promotion charges. Also, take into account the time and work you put into each component.
To make sure your prices generate a profit and cover your costs, take into account these expenses when determining your rates. Conduct market research concurrently to comprehend the demands and pricing patterns of your target market. Balance profitability and competitiveness as best you can.
The creation of a strong brand identity is essential, in addition to corporate objectives, target market, and pricing. Your brand should be relatable to your target market and reflect the distinctive attributes of your candles.
To develop a unified and memorable brand image, take into account your brand's visual components, such as the logo design, color scheme, and packaging. Create a brand narrative that explains the motivation, skill, and principles behind your candle carving company. This story will assist in setting your company apart from rivals and forging an emotional bond with your clients.
Promotion through Local Markets
You have a great chance to demonstrate and sell your candle creations at neighborhood markets. Start by investigating neighborhood markets, craft fairs, and artisanal events. Look for events that appeal to your target demographic and have a history of drawing in a wide-ranging, active audience. Book a booth or table at an event once you've found one that will showcase your goods.
Think about how your booth will look when you set it up. Make a welcoming and attractive display that showcases the artistry and beauty of your candles. To improve the mood and highlight your creations, make sure the booth is well-lit. Organize and display your candles appealingly, exhibiting a choice of patterns, hues, and sizes. This will whet visitors' appetites and give them a taste of the variety of goods you have to offer.
Think about giving out samples or giving demonstrations to make the encounter more participatory. Giving potential buyers the chance to view, touch, and even smell your candles can stimulate their senses and enhance their propensity to buy. Visitors might be captivated and your skills can be displayed by giving demonstrations of carving techniques or showing the process behind your works.
Utilize the chance to get contact information from interested visitors. Provide people with a sign-up sheet or digital device where they can enter their email addresses or other contact information. You may stay in touch with potential clients and notify them about new designs, specials, or future events by creating a customer database. To keep their interest and promote repeat business, consider sending frequent newsletters or special offers.
Learn how to you can turn your passion for candle-making into profit by visiting this article here.
Leveraging Social Media
Utilizing social media effectively is essential for the growth of your candle-carving business in the digital age. A strong online presence on well-known websites like Instagram, Facebook, and Pinterest creates an amazing opportunity to market your distinctive candle designs to a larger audience.
Create specialized accounts on these networks and optimize them to fit your brand's identity to get started. Post consistently and regularly, exhibiting gorgeous photos of your eye-catching candle designs.
Create captivating subtitles that invite audience participation, reveal insights into your creative process, and tell the story behind your creations. Use pertinent hashtags to broaden your reach and draw in new clients who are looking for material about candles.
Your reach can be greatly increased and your brand's credibility increased by working with influencers or candle aficionados in your field. Establish relationships or collaborations with influencers or people with a large following who are similar to your target market.
This may be cooperative social media campaigns, guest blog pieces, or influencer features. You may reach a wider audience of prospective clients who are probably interested in your candle-carving business by using their already-existing audience.
Building a devoted following on social media requires active involvement with your audience. To build trust with your audience, reply to comments and messages as soon as possible and honestly. To boost engagement and inspire followers to become customers, provide your social media followers access to special discounts or specials. Provide behind-the-scenes peeks into your creative process as well to engage your audience and make them feel a part of your adventure.
Building Customer Loyalty
The long-term productivity of your candle carving business depends on developing customer loyalty, which can be done by providing excellent customer service and premium goods.
Focus first on providing your customers with a satisfying shopping experience. Make sure your candles are shipped quickly and securely to ensure that they arrive at their destination in perfect shape. Provide customers with reliable tracking information and frequent updates on the status of their shipments. Show that you are committed to providing first-rate customer service by swiftly responding to questions and messages.
To gain your customers' trust, provide easy returns or exchanges. Any reservations consumers may have about making a purchase can be allayed by having clear and straightforward return policies. You establish credibility and confidence by making the procedure simple and uncomplicated.
To express your gratitude to customers, use individual touches. Include handwritten messages thanking them for their support and including them with the orders. To surprise and please your consumers, think about including complimentary little gifts or samples. These actions go a long way toward developing a good rapport and encouraging loyalty.
Customers should be encouraged to provide reviews and testimonials about their interactions with your goods and services. Positive comments create credibility for your candle-carving company and act as social evidence. Showcase these reviews on multiple channels, such as your website, social media, or independent review sites, and use them to draw in new clients.
Frequently Asked Questions
How long to learn candle carving?
Candle carving takes time depending on your dedication to practice, artistic ability, and design complexity. Beginners can learn fundamental abilities in weeks or months with practice and attention. Mastery and a particular style may take years of practice.
Which candle carving tools and materials are necessary?
Candle carving requires certain tools and materials. These usually include carving knives or tools of various sizes, a heat source (like a heat gun or hairdryer) for shaping and sculpting the wax, a workspace with protective coverings, candles of various sizes, and decorating materials like wax dyes, paints, and embellishments. Using high-quality equipment and materials ensures precise and safe carving.
How can I promote and sell my candle carvings?
To sell your candle carvings, you need a strong online presence and multiple promotion methods. Showcase your ideas on Instagram, Facebook, and Pinterest to attract clients. Display and sell your products on a beautiful website.
Attend local markets, craft fairs, and target audience events. Influencers, email marketing, and promotions can also boost visibility and sales. To establish client loyalty and positive word-of-mouth referrals, always provide high-quality items and excellent service.
To learn more on how to start your own candle-making business check out my Startup Documents here.
The information provided by CandleBusinessBoss.com ("The Site") is for general informational purposes only. All information on the Site is provided in good faith, however, we make no representation or warranty of any kind, express or implied, regarding the accuracy, adequacy, validity, reliability, availability, or completeness of any information on the Site. Under no circumstance shall we have any liability to you for any loss or damage of any kind incurred as a result of the use of the Site or Reliance on any information provided on the Site. Your use of the Site and your reliance on any information on the Site is solely at your own risk. This blog post is for educational purposes only and does not constitute legal advice. Please consult a legal expert to address your specific needs. Terms and Conditions.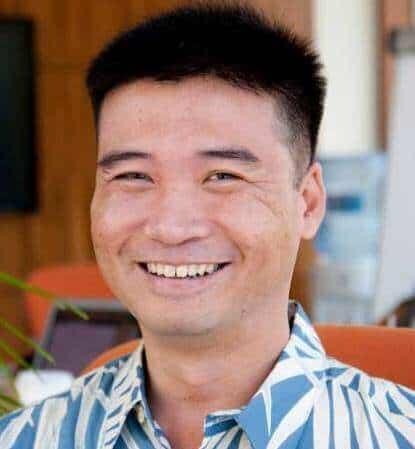 Meet Shawn Chun: Entrepreneur and Candle Business Fan.
I'm a happy individual who happens to be an entrepreneur. I have owned several types of businesses in my life from a coffee shop to an import and export business to an online review business plus a few more and now I create online candle business resources for those interested in starting new ventures. It's demanding work but I love it. I do it for those passionate about their business and their goals. That's why when I meet a candle business owner at a craft fair, farmers market, retail location or anywhere else I see myself. I know how hard the struggle is to obtain and retain clients, finding good employees all while trying to stay competitive. That's why I created Candle Business Boss: I want to help candle business owners like you build a thriving business that brings you endless joy and supports your ideal lifestyle.