Starting a business centered around selling spiritual candles demands meticulous preparation, thoughtful evaluation of available opportunities, and a thorough understanding of the industry's intricacies.
To best embark on a spiritual candle business, you must prioritize market research, craft distinctive products, create an appealing brand, establish an e-commerce presence, utilize social media, advertise strategically, manage suppliers, and deliver outstanding customer service.
Prioritize Market Research
Market research is an essential element that serves as the cornerstone of any thriving business endeavor, including one that sells spiritual candles. It's critical to identify and define your target market—the particular demographic most likely to be interested in your spiritual candles—to jump-start this process. You may design your items to speak to their aspirations and spiritual journeys by understanding their preferences, wants, and desires.
It's crucial to investigate rivals in the market for spiritual candles. To find areas for improvement and potential points of uniqueness, examine competitors' product offerings, pricing policies, and brand positioning. Your creation of a distinctive value proposition that distinguishes your candles from the competition will be guided by this analysis.
It is also crucial to look at market trends and demand patterns. Keep up with new trends, such as materials for candles, scents, or aesthetic choices that appeal to the target market. With the use of this knowledge, you'll be able to modify and innovate your product lineup to keep it current and enticing to consumers.
A crucial part is also played by pricing methods. To find a balance between profitability and customer affordability, examine the pricing strategies of comparable products on the market. You may market your products competitively while keeping a sustainable company plan by understanding the pricing dynamics.
Craft Distinctive Products
It is crucial to develop unique items that deeply resonate with your target market in the cutthroat environment of the spiritual candle business. To do this, you must be willing to experiment and explore different aspects of your candles.
Start by taking into account substitute candle ingredients, which provide sustainable and eco-friendly solutions, including soy wax or beeswax. Discover a variety of scents to suit different tastes, from peaceful lavender to energetic citrus.
Setting the mood and evoking particular emotions are important functions of color. Try with several colors, from calming pastels to brilliant jewel tones, to develop a look that complements your brand and appeals to your target audience.
Designs ought to have both aesthetic appeal and spiritual significance. Include symbolic components in your candle designs, such as dried herbs, inlaid gems, or religious images like lotus flowers or mandalas. These enhancements improve the spiritual experience and give your candles a distinctive identity that distinguishes them from rival candles.
Think about providing customers with customized alternatives that let them select particular scents, colors, or symbolic components for a personalized touch. Customers will have a memorable experience thanks to the additional layer of involvement created by this.
Check out this article to learn how you can start your own small candle shop.
Create an Appealing Brand
In the market for spiritual candles, building a strong and appealing brand is essential to drawing clients and cultivating a devoted following. It's essential to have a brand identity that embodies your company's core values. Create a striking logo that symbolizes your company's beliefs, mission and the distinctive experience your candles offer. Make sure your target audience can quickly recognize it and connect with it.
Choose brand colors and typefaces with care to ensure that they complement the ethereal quality of your candles. Think about colors that inspire harmony, peace, or vitality, and fonts that express grace and spirituality.
Equally crucial is developing a captivating brand narrative. Explain the motivation behind your spiritual candle business and emphasize your love of producing life-changing events. By highlighting the spiritual value of your candles and how they can promote personal growth and well-being, you can engage your target market on a deeper level.
Building a brand requires consistency. Make sure that every touchpoint, including your website, packaging, social media, and marketing materials, accurately reflects your brand identity, including your logo, colors, typefaces, and brand story.
Establish an E-commerce Presence
For your spiritual candle business to reach a wider customer base in the modern digital era, creating an online presence is essential. The first step is to put up an online storefront for your products on an e-commerce website.
Your website should be carefully created to present your spiritual candles in a lovely and visually attractive way. Give thorough product descriptions that highlight their distinctive qualities, including the components utilized, any symbolic components, and the spiritual advantages they bring. Customers will be better able to comprehend what they may expect if they have access to high-quality product photographs taken from various perspectives.
To turn visitors into buyers, a flawless shopping experience is essential. Use sensible product categorization and user-friendly navigation to make discovery simple. Add a search feature to make it easier for buyers to find particular candles. To accommodate the increasing amount of mobile shoppers, make sure your website is mobile-friendly as well.
Implement secure payment channels that safeguard sensitive information during transactions to give your consumers confidence. To increase credibility, display customer testimonials and trust badges.
Utilize Social Media
In the digital environment, social media platforms provide a potent channel for marketing and connecting with potential clients. To properly market your spiritual candle business, you must develop engaging accounts on well-known websites like Instagram, Facebook, and Pinterest.
Utilize these sites' emphasis on visual content by posting eye-catching pictures and videos of your candles. Showcase your company's distinctive styles, hues, and symbolic components in a visually appealing approach to draw interest. Create uplifting material on spirituality, personal development, and building holy spaces to connect with your target audience and position yourself as an industry authority.
Social media engagement is essential. To demonstrate a sincere concern for your followers and possible customers, respond to comments, messages, and inquiries right away. Create interactive content, like polls or quizzes, to promote participation and create a feeling of community around your business. Encourage discussion. Pose challenging questions.
To gain more visibility and connect with a larger audience who is interested in spirituality, holistic living, or candle enthusiasts, use pertinent hashtags. Work together with influencers or micro-influencers in the wellness or spiritual sector to increase your exposure and engage your audience.
To keep your audience interested and informed, post updates frequently regarding new product launches, promotions, or behind-the-scenes looks. Utilize social media analytics to keep tabs on engagement, reach, and conversions so that you may modify your methods as necessary.
Advertise Strategically
To increase brand recognition and raise sales for your spiritual candle business, strategic advertising is essential. Finding the best channels for reaching your target demographic is essential for maximizing the impact of your advertising campaigns.
Pay-per-click (PPC) ads on search engines or social media platforms, for example, can provide specific targeting choices to reach people who are into spirituality, holistic living, or self-care. Working with influencers or micro-influencers in the spiritual or wellness niche might help you promote your candles by taking advantage of their engaged audience and sincere recommendations.
Participating in relevant spiritual or wellness events, whether live or virtually, gives you the chance to directly market your brand to a niche clientele. To boost visibility and attract new customers, think about setting up booths, providing product demos, or sponsoring events.
To grab attention and motivate action, it's imperative to create captivating ad language and images. Create a compelling value proposition that emphasizes the special features and advantages of your spiritual candles. Emphasize the transformative experiences your brand offers and align the marketing with those principles. Use eye-catching images to arouse feelings in viewers and establish a relationship.
Analyze the effectiveness of your advertising efforts regularly. Keep an eye on important metrics like click-through rates, conversions, and return on investment (ROI). To maximize the effectiveness of your advertising efforts, modify your plans in light of the facts.
Check out this article to learn how to launch a candle carving business.
Manage Suppliers
When it comes to preserving the quality and consistency of your spiritual candles, building strong and reliable partnerships with suppliers is crucial. To produce candles that live up to your client's expectations, it is essential to get high-quality candle materials.
Make a list of trustworthy vendors that provide excellent components like soy wax, essential oils, and natural colors. To make sure the materials adhere to your standards and values, conduct in-depth research, read reviews, and ask for samples. Look for vendors who place a high priority on ethical sourcing, sustainability, and compliance with regulations.
The construction of solid supplier relationships depends in large part on communication. Establish open lines of communication to handle any issues, talk about requirements, and keep an open dialogue. This can be done through email, phone calls, or in-person meetings. Provide suppliers with regular updates on your inventory needs, production schedules, and any changes to your specifications.
Negotiate pricing and delivery conditions that are advantageous to your company while upholding mutual fairness. To reach a win-win agreement, take into account elements like bulk purchasing, long-term contracts, and punctual deliveries.
Develop trust and cooperation with suppliers to maintain ongoing partnerships. Comment on the content's quality and make any suggested changes or enhancements known. Fair treatment and prompt payments promote long-term relationships that can lead to cost savings or exclusive opportunities.
Deliver Outstanding Customer Service
Providing outstanding customer service is the cornerstone of a thriving business. Prioritizing timely and cordial communication at all points of contact is where it all starts. Timely responses to consumer questions, messages, and feedback show that you are paying attention and genuinely want to help.
Carefully handle customer complaints and difficulties, working to find quick and satisfactory solutions. Empathize with them, pay attention to what they need, and offer clear, practical solutions. This degree of individualized care promotes long-term consumer loyalty and trust.
Offer specialized advice, individualized messages, or privileged discounts to make the buying experience more customized. Make customers feel important and valued by going above and beyond to meet their expectations. Implement hassle-free return procedures to boost client confidence and show your dedication to their needs.
Incorporate customer input into your decision-making processes by actively seeking it. Their recommendations can influence future product development as well as service and product advancements. Encourage customer participation by asking them questions, writing reviews, or interacting with them on social media.
Always look for ways to make your goods and services better based on consumer feedback and new trends. Maintain your offerings' freshness, relevance, and alignment with client wants and aspirations by embracing a culture of continual improvement and innovation.
Frequently Asked Questions
How crucial is market research to a firm selling spiritual candles?
Market research is essential for a business selling spiritual candles because it offers useful information on consumer preferences, industry trends, and the level of competition. It increases your chances of business growth by assisting you in comprehending your target market, identifying market gaps, and customizing your products and marketing plans accordingly.
What are some important aspects to take into account while designing unique spiritual candle products?
Creating unique spiritual candle products requires taking into account several factors. To create distinctive offers, you should experiment with various candle materials, scents, colors, and patterns. Symbolic additions like crystals, herbs, or religious symbols can further improve the spiritual experience and set your candles apart from rivals.
How can social media be used to effectively market a company that sells spiritual candles?
Social media platforms offer great chances to advertise a business that sells spiritual candles. Create interesting material showing your goods, publish uplifting and instructive blogs about spirituality, and engage your audience in conversation. Potential clients can be drawn to a brand by working with influencers in the spiritual or wellness niche and launching focused advertising efforts.
To learn more on how to start your own candle-making business check out my Startup Documents here.
The information provided by CandleBusinessBoss.com ("The Site") is for general informational purposes only. All information on the Site is provided in good faith, however, we make no representation or warranty of any kind, express or implied, regarding the accuracy, adequacy, validity, reliability, availability, or completeness of any information on the Site. Under no circumstance shall we have any liability to you for any loss or damage of any kind incurred as a result of the use of the Site or Reliance on any information provided on the Site. Your use of the Site and your reliance on any information on the Site is solely at your own risk. This blog post is for educational purposes only and does not constitute legal advice. Please consult a legal expert to address your specific needs. Terms and Conditions.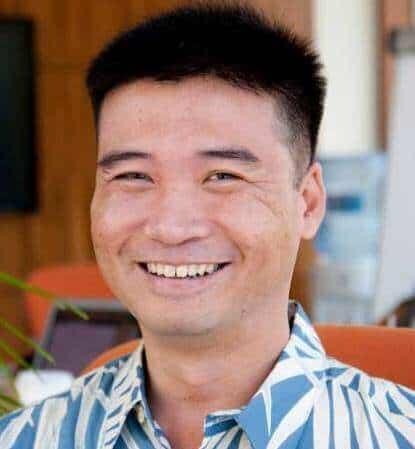 Meet Shawn Chun: Entrepreneur and Candle Business Fan.
I'm a happy individual who happens to be an entrepreneur. I have owned several types of businesses in my life from a coffee shop to an import and export business to an online review business plus a few more and now I create online candle business resources for those interested in starting new ventures. It's demanding work but I love it. I do it for those passionate about their business and their goals. That's why when I meet a candle business owner at a craft fair, farmers market, retail location or anywhere else I see myself. I know how hard the struggle is to obtain and retain clients, finding good employees all while trying to stay competitive. That's why I created Candle Business Boss: I want to help candle business owners like you build a thriving business that brings you endless joy and supports your ideal lifestyle.