Chances are, if you are looking into making your own candle wax, you are either a DIY enthusiast or a business owner starting out. Candle making is now a huge trend that has been a hit in the DIY community. Once you get good at making candle wax and candles, you can start a new business. Candle-making does have a steep learning curve, but this can become a lucrative small business once you understand the basic steps.
There are five basic steps to remember when making your own candle from scratch, but tons of things to remember while doing each step. Here are the steps to create a candle from scratch.
Choose wax flakes
Melt the wax flakes
Measure colors and essential oils
Prepare candle containers,
Pour in the melted wax,
Set aside to cool
This may seem easy, but there are tons of tips and tricks to ensure a candle turns out just right. Before beginning these steps, ensure you have all of the right equipment to take each step.
Once you understand the basic steps to creating a beautifully crafted candle, you can start selling. However, you must take the time to learn and have patience throughout this process. It can take time to get the temperature right for each candle you make. One tip you can use as a small business owner is to create a chart for each mold and write down the temperatures that worked well for that specific mold. This will help the process go faster in the future but can take hours of experimentation.
Choosing Wax Flakes
Believe it or not, you have tons of options when choosing what type of wax you use. You can pick soy wax, beeswax, paraffin wax, and blends of multiple waxes. You may be wondering how you can pick out the best wax? It truly depends on the types of candles you will be making. Before starting your candle business, choose a niche or one kind of candle style you wish to be known for. This will help you pick out what type of wax you want to use, and then you can buy the flakes in bulk. Here are a few candle styles to consider.
Pillar Candles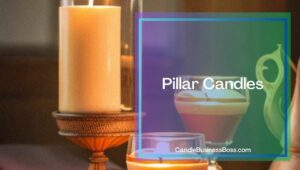 These candles look great in a home because they are thicker and stand independently without any container. Paraffin, beeswax, and palm wax are the finest waxes for pillar candles. If you want something unique, you can combine and mix different waxes together to create pillar candles as well.
Container Candles
Many small business owners love to make this popular choice of candle. The wax sits inside a pretty jar that can be lit. Container candles do not need to be supported; they may be made using a number of waxes, including soy wax, soy/paraffin blends, paraffin, palm wax, and beeswax.
Votive Candles
Votive candles are miniature candles around 2 to 12″ in height and are meant to be placed in small glass vases. Due to their non-freestanding nature, votives may be made using a range of waxes, including soft, natural waxes such as soy and palm and beeswax, wax blends, and paraffin.
Tealight Candles
These are small candles no bigger than 1 ½ inch around and ¾ tall some may be bigger or smaller, but that is the average size. Tealights may be made from various waxes, including soy, palm, and beeswax, as well as paraffin and soy/paraffin mixes.
Taper Candles
These long and thin candles are meant to sit in a candlestick. Paraffin and beeswax are the ideal waxes for manufacturing tapered candles.
Once you start experimenting with different types of candles, you will find a few more like tarts with no wicks or gel candles that can be harder to make. Each type of candle will have a wax that is suitable for the candle's structure.
Next Melt The Wax
Once you choose the wax and have a container or idea ready to go, you will need to melt it. However, you don't want to do a random amount. One of the secrets to good candle making is accurately measuring the wax for a specific mold. This way, you won't have any wasted wax.
To estimate the appropriate quantity of wax, you must first determine the capacity of your containers. Fill the container halfway with water and then pour it into a measuring cup to avoid tedious calculations.
Once you understand the amount of wax you'll need, you can start heating it up. You will need to have a pot of boiling water and a separate pot or glass container to melt the wax. You don't want the water to touch the wax; this is a double boil project. It means one pot with wax will sit on top of the boiling water, which is how you melt it.
Keep in mind for every fluid ounce your mold holds you will need one ounce in weight.
Measure Essential Oils and Color Pigments
Many candle makers love adding essential oils and color pigments to their candles. However, it is highly recommended you start with plain candles to understand the amount of wax you need and which temperature works best. When you know what to expect, that is when you can start using color and fragrances.
For every pound of wax, you will need to add one ounce of fragrance oil. Using fragrance oil can be better than essential oils because they are more potent or smell stronger. However, you can use some essential oils if you are careful.
Prepare Candle Containers
When you choose a container, you can get creative with the look and style. The containers are often how your candle will stand apart from the rest, so choose carefully. Once your wax is melted, the fragrance or color is added, it is time to pour the melted wax into a container or mold to harden.
Every container needs to be cleaned but also thoroughly dried. Once that is complete, you will glue or place the wick inside. Some wicks will already have a sticky piece at the bottom that you can press into the jar. Secure the wicks in place before pouring in the wax.
Pour In The Melted Wax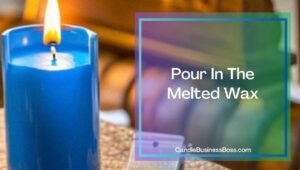 This is one of the easiest steps, but you do need to take care of yourself. The wax will be scorching, so you need to use an apron, gloves, and maybe even a potholder to keep from burning yourself. Pour the wax into the container slowly.
Set It Aside To Cool
Before you can light the wick, you need to let your new candle cool for 24 hours. At this point, you can make another candle or work on a different project.
Tips On Starting a Candle Business
This can be a lucrative business once you understand how to make candles. Start videotaping the progress and use it to post on social media before your candles go up for sale. This shows the process you use and can be used as a marketing tool. Millions of people want to see how you learned to create stunning candles, and it will help your online business grow before you even start selling.
With each candle, you should also consider making a care card. This means you tell your customers how to trim the wick after every use and ensure that your customers know to keep your candles away from kids, animals, and anywhere that could be a fire hazard. This isn't part of how to make a candle from scratch, but it will help you run your new business.
Final Thoughts
Candle-making is complex and simple all at once. The steps are easy to follow as long as you have the right materials to make a candle, but there are tons of things to remember throughout the process. The most important thing you can do as a small business owner is keeping track of measurements and temperatures in a notebook to refer to later on. Have fun and enjoy this new candle-making adventure.
Related Questions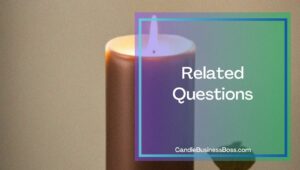 How long does it take to make a candle?
The actual process of boiling the wax and pouring the candle can take anywhere from 30 minutes to two hours. It will depend on how much wax you're boiling and how many molds you are using at one time. Pouring the wax into a mold will take the longest time because you will need to be very careful due to the extreme temperatures.
How long do you need to wait to light the wick?
Most candle makers recommend waiting a minimum of 24 hours. However, some candle makers will warn you to wait a full 48 hours before lighting a paraffin candle. If you choose soy wax flakes, it can take upward of a week.
Is candle-making a profitable business?
Whether you are starting a business or starting a new side hustle, this is a profitable business. There is a low startup fee and unlimited potential to create unique products. You can sell your candles for a decent markup that many customers are willing to pay for.
Looking to start your own candle making business, check out my startup documents here
Please note that the contents of this blog are for informational and entertainment purposes only and should not be construed as legal advice. Any action taken based on the information provided in this blog is solely at your own risk. Additionally, all images used in this blog are generated under the CC0 license of Creative Commons, which means they are free to use for any purpose without attribution.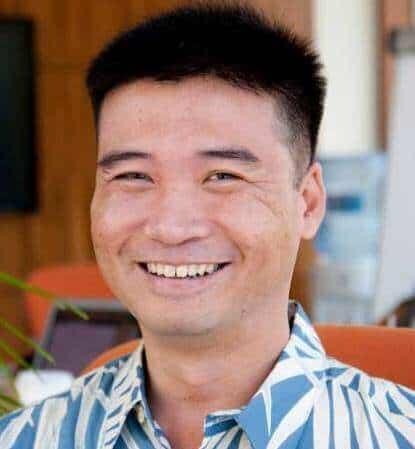 Meet Shawn Chun: Entrepreneur and Candle Business Fan.
I'm a happy individual who happens to be an entrepreneur. I have owned several types of businesses in my life from a coffee shop to an import and export business to an online review business plus a few more and now I create online candle business resources for those interested in starting new ventures. It's demanding work but I love it. I do it for those passionate about their business and their goals. That's why when I meet a candle business owner at a craft fair, farmers market, retail location or anywhere else I see myself. I know how hard the struggle is to obtain and retain clients, finding good employees all while trying to stay competitive. That's why I created Candle Business Boss: I want to help candle business owners like you build a thriving business that brings you endless joy and supports your ideal lifestyle.