Now that you have opened your candle business, created your inventory, and garnered your first few clients. You may be wondering about the potential earnings that could come out of your new small business.
According to Comparably, Candle Makers can make as low as $18,780 to as high as $49,960 in the United States. The average earnings for this career are $34,956.
In this article, you will learn about the following concerning a Candle Maker's salary:
Average earnings for the career.
Best place in the United States to start a candle-making business.
Highest possible earnings you can make.
The top 3 tips for increasing your overall earnings as a Candle Maker.

As a small business owner, you can make an infinite amount of money for yourself and your family depending on the popularity of your product and how well you promote said product to your loyal clients and future ones.
The Average Earnings
According to Comparably, Candle Makers can make from $18,780 to $49,960 on the top end in the United States. The average earnings for a candle maker is $34,956.
The best part is that all the people who have reported their earnings as Candle Makers. (Yes, 100% of them according to the statistics.) Say that they get bonus earnings every year as well. The average bonus Candle Makers receive annually is close to $500: $488 to be exact.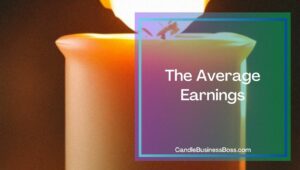 Of course, this is only the average earnings throughout the entire United States. There are specific averages for each state in the United States. You can utilize Comparably or another statistics-based website to discover the current average earnings of a Candle Maker in your state.
These overall statistics are based on employment in the candle-making industry. But the earnings can be different in your business depending on:
Your state of operation.
The target market of your candle-making business.
The location of your business in a specific city in the state in which you are operating.
Any surrounding small businesses just like yours or home goods stores in your area that are your immediate competition.
The promotions you are running.
And more!
The Best Place in the United States to Start a Candle-Making Business
The best place to start your candle business besides promoting it online using Etsy, Shopify, or even SquareSpace is in
New York, NY
.
The average salary of a New York City Candle Maker is $41,148, which is 18% above the United States average salary of $34,956 as reported via Comparably.
According to the
US Census Bureau
, the high median household income of $68,486, over 547,000 establishments that create employment for people in the area, and over 51% of the population being women could be the reasons for the higher average pay and higher bonus.
Women are the main target market of the candle-making business; as they like to use candles for decoration and aromatherapy purposes. Of course, men love candles too, but women usually make up most of the spending at a candle business.
The per capita disposable (or discretionary) income was $64,398 as of 2020 according to
Statista
. The higher the per capita disposable income in the area means that people can spend more on products that are wanted rather than needed.
Because of the higher chances of employment in the city due to the many businesses open in the area, people can maintain a steadier job and have a disposable income to be able to spend on candle products and other wanted items.
Thanks to the higher average salary in the city, there is also a higher bonus of $556 per year, which is $68 above the national average of $488.
Candle Maker's pay is 9% higher in New York than the total salaries in metros such as San Francisco, Chicago, and Los Angeles.
As a candle-making business in New York, you will be taking advantage of peak pay because people will be flocking to your establishment especially during Thanksgiving and Christmas for the best candle deals to decorate their homes for the holidays.
Plus, the people that flock to New York during New Year's Eve to see the ball drop is when you will also see a spike in sales when they want to stock up on holiday candle scents that you have on clearance so that they can save those candles for the next holiday season.
What Does It Take to Reach the Highest Possible Earnings?
As mentioned above, the highest possible yearly salary as a Candle Maker is almost $50,000. How can you reach that threshold?
Reach the highest possible earnings by:
Continually rotating your candle promotions.
Always promote on your online website and social media.
Set up shop on online-selling platforms such as Etsy, Shopify, or Squarespace to expand your client base beyond your brick-and-mortar business or sell from your home directly to the surrounding community.
Talk to your clients for input on their favorite scents and how and why they use your candles.
Implement a loyalty program to encourage your clients to continually come to your business for their candle needs.
Hand out coupons to your loyalty program members.
We go further into detail on how to increase your earnings in the next section. Take these tips into account so that you know within yourself that you are getting the most out of your business.
3 Tips to Increase Your Earnings
Now that you know the average earnings and the highest possible earnings that you can make as a Candle Maker, now it's time to dive into the 5 tips for increasing the earnings in your small business.
Implement a Loyalty Program
Implementing a loyalty program is the key way to increase your earnings. A loyalty program encourages your current clients and future ones to continually shop at your establishment for all of their candle needs.
You can enact different reward milestones based on the number of points that clients earn on purchases. Most rewards programs have a 1 point per $1 spent earnings potential. However, you can go about the points and milestone system however you want.
You can do 2 points per $1 spent and have a reward given when a client reaches the $100 threshold (50 points earned) such as:
$5 to $10 off the client's next purchase of any item.

A coupon is given for 10% to 20% off their next purchase of $50 or more (which the client can stack and earn more points on that purchase, too).

A free item of the client's choice on a product of value up to $10.

Melting wax products.
Tea light candles.
Oil refills for oil plug-in products.
Set Up an Online Store
Most Candle Makers have an online store to increase the success of their business. Set up shop on Shopify, Etsy, Facebook Marketplace, Squarespace, or another online shop of your choice.
Having an online shop will set you apart from other candle makers that only sell from their Facebook pages without setting up a Facebook Marketplace.
Make a section for each type of product you sell such as 4-ounce candles, 8-ounce candles, 16-ounce candles, 24-ounce candles, tea light candles, votive candles, candle wax melts for candle warmers, oil refills for oil plug-ins, and more.
Note: your specialty by titling the section in parentheses as best-selling. For example, if your best-selling products are candle wax melts, you would title the section "Candle Wax Melts (Our Best-Selling Item)" or however you want to word the phrase in the parentheses.
Be mindful of the following when you open your online store:
You will have to pay a listing fee per product that you offer on your online store.

Shipping costs will be incurred when sending products to clients far away to those not in the area to pick up the product themselves or for you to drop it off to them.

The online shop platform may take a portion of your sales for selling on their website. Hence, you will have to mark up your products a little higher to accommodate this fee.
Maintain a Strong Social Media Presence
Create a variety of business social media accounts so that you can reach many types of people as your clients because not everyone uses all the same social media platforms.
The top social media platforms to create a presence as a candle-making business are Facebook, Instagram, and Pinterest.
Facebook and Instagram can be your two main social media spaces where you promote your candle sales regularly, host polls, and interact with clients in different ways to keep them engaged in your business.
You can use Pinterest to write and promote blog posts about the candle-making business. Maybe you can create your content on how people can run their own candle-making business to help other aspiring small business owners to succeed in different parts of the nation and the world.
Pinterest is a great platform to post your products in a professional background so that people feel motivated to visit your website and/or online shopping store to purchase your products.
Frequently Asked Questions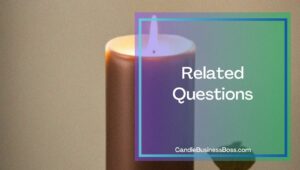 How do I look up the average earnings for Candle Makers in my state online?
Type in "average earnings for candle makers in (insert state)" and you will find the statistics you need to know. You can go the extra mile and find out the average earnings in your city, too.
What promotions can I run for my candle-making business?
Answer: You can run promotions such as;
Buy One, Get One 50% off on holiday candles.
Buy One, Get One Free on 4-ounce candles.
Purchase one 24-ounce candle, get a wax melt or tea light candle for free.
Spend $100 on holiday candles and get a free 8-ounce holiday candle of your choice.
Looking to start your own candle making business, check out my startup documents here
This blog post is for educational purposes only and does not constitute legal advice. Please consult a legal expert to address your specific needs.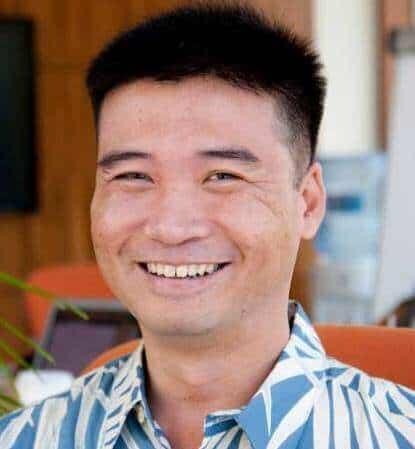 Meet Shawn Chun: Entrepreneur and Candle Business Fan.
I'm a happy individual who happens to be an entrepreneur. I have owned several types of businesses in my life from a coffee shop to an import and export business to an online review business plus a few more and now I create online candle business resources for those interested in starting new ventures. It's demanding work but I love it. I do it for those passionate about their business and their goals. That's why when I meet a candle business owner at a craft fair, farmers market, retail location or anywhere else I see myself. I know how hard the struggle is to obtain and retain clients, finding good employees all while trying to stay competitive. That's why I created Candle Business Boss: I want to help candle business owners like you build a thriving business that brings you endless joy and supports your ideal lifestyle.