Creating a successful at-home candle company requires two main skills. Candle-making skills and business skills. If you have the determination to start your own business, you are already on a path to success. However, this will lead to many other questions that you need to answer before continuing.
How many candles are needed to launch your business? Once you've perfected your candle-making skill, choose four to five fragrances to focus on. For each fragrance, create 10-15 candles to have on hand for the sales.
The more fragrances you add in, the more candles you will have. You can also offer custom-made orders or bulk orders for specific customers that will need time to create and ship. It's important to start small and work your way up as a new business owner. Most of the selling process has to do with marketing, and you don't want to have too little or too much inventory on hand. Ten candles per scent seems to be the sweet spot.
How Much Inventory to Start With?
When you first open your candle-making business, you may not have a big clientele, or you may be using kits. This can make it hard to understand how much inventory you need on hand. Until you have a good clientele that shops frequently, you will need to be careful of your budget.
Spending too much time on the creation of candles means you waste money. You also will not know which scent is the most popular until after you receive a few sales. Creating a bunch of candles with scents that do not sell will take forever to sell. Instead, focus on a few scents and create up to 15 candles for each. 
This allows customers to get a feel for who you are as a business owner and allows you to get a foot in the door. If you are running a home business, this also allows you to save space in your office area. When one scent becomes low, that is when you can keep a record of how many are sold and how many more you will make.
Before You Launch Your Business
If you have not started making candles in bulk and have only ever used candle kits online, it's time to take the next steps. You may have fallen in love with a kit, but this is not the best way to make candles in bulk. If you genuinely want to start with 5-10 scents and create 10-15 candles per scent, you need to upgrade your equipment.
One of the best ways to start out is by making 80-85 candles to give away before launching your business. Why? It will help you even out the process of making out candles in bulk. You will understand what equipment you need to upgrade, and you will start understanding the time you spend on making each candle, which will help you price it out later on.
On top of all of that, it is an excellent way to market your upcoming launch. Starting with 80 candles allows you to show off your future business, promote your launch, and spread the word. It is the perfect start for your business.
Tips On Creating a Candle Business
Before starting a launch, you must consider a few legal steps first. Yes, it's totally fun to start making candles, but before you launch a business or can think about what inventory to carry, you need to ensure that you have taken the necessary steps to open, run, and operate your business legally.
Choose a Legal Entity
If you're having difficulty deciding on a company structure, visiting a business attorney or tax specialist might be beneficial. The additional expenditure may save you much worry in the long run since the company structure you pick will impact your taxes, risk tolerance, and other critical variables. After deciding on a company structure, you must register your candle business with the appropriate federal and state authorities. This happens before you launch a candle line.
Get the Proper Licensing
Even a home business needs proper licensing and even permits and insurance. If you do not have this set up yet, it can be a mistake to start selling your candles for legal reasons. This is not the most enjoyable phase in beginning a candle company, but it is critical. When you begin a company, you must ensure that you receive the necessary licenses, permits, and insurance from the local and federal governments.
These criteria will vary according to your geographic area, company type, and business structure. You will certainly be required to get various business licenses at the state, federal, and municipal levels. If you need assistance getting started, the SBA and your local chamber of commerce are excellent resources.
Decide Where to Launch Your Candles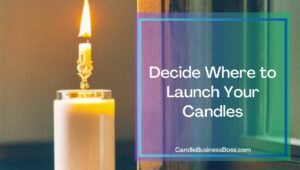 Where are your candles going to be sold? How about ordering online, visiting a boutique, or visiting your neighborhood farmers market? Consider all of your possibilities, and don't be scared to start small while establishing brand loyalty and gathering client feedback. There are even ways for small business owners to sell through Amazon and Etsy while building up a clientele which can be a great option for new candle-makers.
Tips for a Successful Product Launch
So, you've finally set up your business. You have five scents picked out and a few candles for each scent; now what? Good question! This is the most exciting part of your business journey, but the truth is your product launch needs to be planned early on. This starts when you're building your clientele, and one of the reasons creating a big batch before your launch to hand out can be a necessary step. Here are some tips you can use to successfully launch your business.
Start on Social Media Platforms
Do your best to reach out to those interested in what you have to offer and share "coming soon" information or even leaked images and videos with them. Interest and sizzle will be generated by this and get people excited about your products before you even launch them. The best way to do this is by using social media platforms connected to your business name.
Keep Asking Customers to Post Details
Customers can be just as good as influencers. You can hand out free samples and ask friends and family to post pictures and reviews to help your business website grow and boom before launching. Once you launch, ask each customer to post what they bought on their own social media platforms and tag your business in the post.
Get Creative with Your Launch 
You must keep in mind that your goal is to capture their interest. If you want to make a difference, what will you do? Don't forget to put your thinking hat on. Some kind of viral video, meme or public service message may be all that is needed to get the word out. Press kits with a catchy or informative phrase may be enough to pique their attention.
Focus on Product Photos
Your candles' success depends on the quality of your product photographs. Make certain that the form and label of your candles are easily discernible. Pose the candle in your living space so that customers may imagine it on their own. With a smartphone or a professional photographer, you can get high-quality images of yourself. Taking great photos is one of the most important things you can focus on during the launch of your candle-making business.
Final Thoughts
You should start marketing and promoting before your actual product launch when you start a candle-making business. This will help increase a following for the best start and allow you to perfect your skill beforehand.
You can take polls on Instagram to find out what scents and smells get your followers excited and see what products they are more willing to buy. Once you decide on a few scents to carry, you can make 10-15 candles per scent to launch. The bigger your company gets, the more inventory you will have, but it's okay to start small.
Related Questions
How can I make my candle business stand out?
No matter what niche you are in, there will always be competitors that your business must compete with. To ensure your candle business stands out from the rest, work on classy, easy-to-read labels, photographs that catch customer attention, and promote your candles every day to a target audience. You will need to narrow down your niche and target customers to stand out to one specific group of people.
Can I make a living selling candles?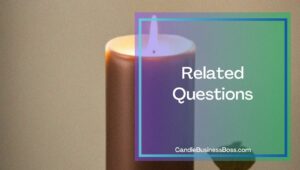 Making candles may seem like a fun hobby or something to do in your free time, but this can become a profitable business. Once you've launched your business and gained a loyal clientele, you can easily make a profitable business with an income you can live off of.
Do all candles need a warning label for my business?
Each time you sell a candle, a warning label should be on the bottom of the candle. This protects your business and your customers.
Looking to start your own candle making business, check out my startup documents here
Please note that the contents of this blog are for informational and entertainment purposes only and should not be construed as legal advice. Any action taken based on the information provided in this blog is solely at your own risk. Additionally, all images used in this blog are generated under the CC0 license of Creative Commons, which means they are free to use for any purpose without attribution.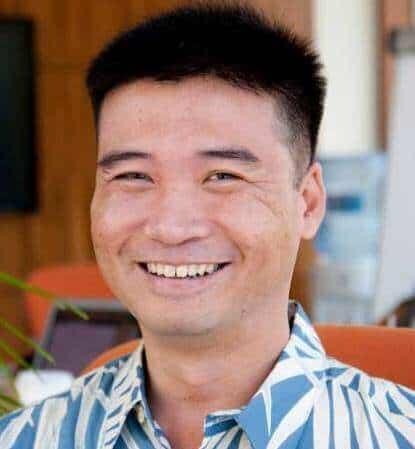 Meet Shawn Chun: Entrepreneur and Candle Business Fan.
I'm a happy individual who happens to be an entrepreneur. I have owned several types of businesses in my life from a coffee shop to an import and export business to an online review business plus a few more and now I create online candle business resources for those interested in starting new ventures. It's demanding work but I love it. I do it for those passionate about their business and their goals. That's why when I meet a candle business owner at a craft fair, farmers market, retail location or anywhere else I see myself. I know how hard the struggle is to obtain and retain clients, finding good employees all while trying to stay competitive. That's why I created Candle Business Boss: I want to help candle business owners like you build a thriving business that brings you endless joy and supports your ideal lifestyle.