The opportunity to sell goods from the comfort of your home has never been simpler than it is in the modern digital world. Maximizing your sales potential is essential because candles are a popular choice for ambiance, relaxation, and gifting.
To boost candle sales from home, you should create an appealing online presence (website/social media), use high-quality product images, offer discounts/promotions, engage with customers through social media interactions, leverage email marketing campaigns, collaborate with influencers/reviewers, and provide exceptional customer service.
Create an Appealing Online Presence
Building a solid web presence is essential for the growth of your candle business in the digital world. Making a quality website that serves as the online showroom for your brand is one of the crucial tasks.
Make sure your website has an excellent design that complements your business image and is aesthetically engaging. It should be simple to use, with clear navigation and accessible product details. To improve its exposure in search results, your website must be search engine optimized.
Be sure to highlight the distinctive selling characteristics of your candles while developing your website. Emphasize the products' distinctive scent, high quality, and any environmentally friendly features like sustainable ingredients or packaging. Potential buyers should be made aware of the value and advantages that your candles provide.
Utilize the strength of social media platforms in addition to a website to increase your reach and establish connections with more people. Establish separate accounts well-suited for visual content platforms like Instagram, Facebook, and Pinterest.
Use these platforms to publish interesting and educational content about candle maintenance, decorating ideas, and lifestyle inspirations while showcasing your candles through eye-catching photographs.
Post pictures of your candles on social media regularly, along with captions that explain their scent, composition, and distinguishing characteristics. Use pertinent hashtags to make your posts more visible and draw in potential customers who are looking for material specifically about candles.
On social media, it's essential to interact with your audience. Prospective clients' remarks, direct messages, and questions should be answered as soon as possible. By holding contests or giveaways where customers can share their experiences with your candles, you may promote user-generated content. Create a sense of community and brand loyalty by engaging with your followers by liking and commenting on their posts.
Use High-Quality Product Images
Visual appeal is a critical factor that can have a big impact on drawing customers and increasing sales when selling candles online. To precisely capture the essence of your candles and display them in the most alluring way possible, investing in professional product photography is a sensible decision.
Make sure your product photographs reflect the various varieties, sizes, and packaging choices available to properly present your candles. This gives buyers a thorough understanding of the offers and enables them to make wise purchasing selections. Offering a wide variety of choices helps accommodate various preferences and increases the pool of potential customers.
Prioritize natural lighting when taking product photos to bring off the actual hues and nuances of your candles. Do not expose them to intense artificial lights that can alter their look. Think about presenting your candles in inviting environments that go with their goal or concept.
For instance, showing scented candles in images with cozier home accents or in serene spa-like settings might arouse feelings and inspire people to recreate similar ambiance in their own homes.
Consider composition and framing as well to produce balanced and appealing product photos. Try out several close-ups, angles, and compositions to determine which ones are the most enticing. Highlight special qualities or minute nuances that distinguish your candles from the competition.
Recall that consistency is essential. To ensure that your product photography reflects your brand's image, keep your aesthetic and style consistent. This makes it easier for clients to associate your candles with a recognizable and expert visual brand.
Offer Discounts and Promotions
Offering tempting discounts and promos can alter the game when it comes to generating immediate sales and developing customer loyalty in the cutthroat world of home candle sales. You may encourage clients to purchase by offering them value-added incentives that arouse enthusiasm and urgency.
Offering limited-time discounts or flash deals is an effective tactic. Customers will feel pressured to act quickly if you give them a limited window of time in which to take advantage of discounted prices. Customers may be inspired to buy before the chance passes, which may lead to an increase in sales.
Another tempting marketing that can increase sales is bundle offers. You can provide clients with a stronger value proposition and persuade them to buy more than they had initially planned to buy by grouping complementing candle smells or mixing candles with other connected products.
Moreover, think about providing free shipping options for large sales. Customers are encouraged to purchase more candles as a result, and they also benefit from increased convenience and cost savings.
Creating a perception of scarcity can encourage customers to take action even more. On your website or social media channels, use countdown timers or limited stock notifications to let users know that particular discounts or promotions are only valid for a certain number of consumers or a limited amount of time. As a result, clients experience FOMO and are inspired to act right away.
Implement a loyalty program to promote consumer loyalty and repeat business. As a method to express gratitude for their ongoing patronage, give gifts or special discounts to recurring clients. This builds the relationship between your brand and your devoted consumer base and encourages them to make repeat purchases.
Check out this article to learn more about the proper spacing of your homemade candles.
Engage with Customers through Social Media Interactions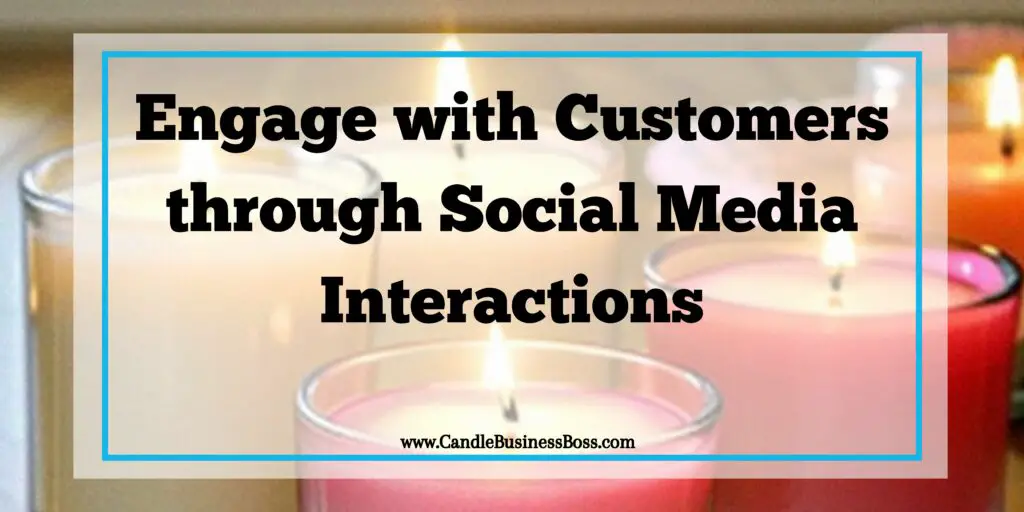 Social media platforms are becoming essential resources for communicating with your target market and building a strong client base in the digital age. Active and timely connection with your audience is essential for maximizing the potential of these platforms.
Getting back to comments, messages, and inquiries from prospective customers quickly establishes your dedication to their happiness and fosters trust. You create a favorable image and encourage a sense of dependability by promptly responding to their inquiries or worries. In addition to encouraging potential consumers to buy something, this improves the general customer experience.
Another effective strategy for connecting with your audience is to promote user-generated content. By holding contests or giveaways where customers may share their impressions of your candles, you can encourage them to support your business.
The use of your candles and certain hashtags in participants' posts will help spread the word about your company and its products. Not only does user-generated material offer social proof, but it also acts as real customer reviews that can sway other potential clients.
Engaging with your audience on social media encourages brand loyalty and creates favorable word-of-mouth advertising. Customers are more inclined to refer your company to their friends, family, and followers when they feel heard and respected. Your reach and reputation are increased when your great experiences are shared through comments, shares, or mentions.
Interacting with your audience fosters a sense of belonging to your brand. You create a two-way communication channel between your brand and your customers by starting conversations, posing questions, and answering comments. A strong client base that not only supports your company going forward but also acts as a brand advocate by gushing good things about your candles is fostered by this sense of community.
Leverage Email Marketing Campaigns
Email marketing has demonstrated its efficiency in fostering client relationships and generating repeat business for home-based candle enterprises in the always-changing world of digital marketing. A potent tactic to keep clients interested and informed is to build a subscriber list and use it to send frequent emails.
Building your subscriber list begins with gathering email addresses from website visitors and social media followers. Use opt-in forms on your website, and in exchange for email sign-ups, provide rewards like special discounts or access to educational content. In your profiles and posts, include clear call-to-action buttons or links to encourage your social media followers to subscribe.
Use email newsletters or automated email campaigns once you have a subscriber list to stay in touch with your clients. To keep customers informed about new candle releases, future sales, and special offers, newsletters can be distributed regularly, such as once a week or once a month. Delivering customized content and specialized recommendations can be done using automated emails that are sparked by particular client actions or milestones.
Effective email marketing requires personalization. In the subject line or greeting, using the clients' names provides a personal touch and demonstrates your appreciation for their uniqueness. Based on their past purchases or interests, adjust the emails' content to suit their preferences. By segmenting your subscriber list, you may send customized emails to different client segments while making sure that each recipient will find the material interesting and relevant.
To boost click-throughs and conversions, include engaging pictures, succinct but helpful language, and obvious call-to-action buttons in your emails. Include direct links to your website or particular product pages to make it simple for clients to browse your newest candle offerings, make a purchase, or benefit from special deals.
Collaborate with Influencers and Reviewers
Influencer partnerships and product reviews have become potent techniques to expand the reputation and reach of your home-based candle brand in the fast-paced world of digital marketing. Your company may benefit greatly from collaborations with lifestyle or home décor bloggers or influencers who share your company's ideals.
Finding influencers or bloggers whose audience and content match your target market is the first step in starting influencer cooperation. Look for those who genuinely care about interior design, ambiance, or fostering a warm environment. Think about elements like their audience demographics, engagement rate, and general brand perception.
Initiate contact with these people and offer to send them some of your candles for reviews or partnership proposals. Express why you think their partnership would be a fantastic fit for your brand to add some personality to your approach. To capture their interest, highlight the distinctive selling characteristics of your candles, such as their aroma, quality, or eco-friendly features.
Depending on the interests and skills of the influencer and the characteristics of your brand, collaborations with influencers can take many different shapes. These might consist of sponsored content on their websites or social media pages, unboxing videos in which they feature your candles and offer their sincere impressions, or social media takeovers in which they interact with their followers while using your products.
Genuine recommendations and glowing testimonials from reliable influencers have the power to drastically increase brand recognition and increase traffic to your online business. Their audience becomes more interested in your candles when they see trusted influencers using and recommending them. This increases credibility. This enhanced visibility may bring in a flood of new clients and possibly ardent brand supporters.
Working with influencers requires maintaining a collaborative and genuine attitude. Encourage them to share their sincere feelings and viewpoints regarding your candles. By being transparent, they build audience trust and make sure the connection doesn't feel forced but rather natural.
Provide Exceptional Customer Service
Excellent customer service is essential for fostering customer loyalty and obtaining great ratings when selling candles online. You can make a lasting impression on your consumers and establish a solid brand reputation by putting a high priority on timely and responsive customer care.
Make sure to reply to client questions and issues as soon as possible through all available lines of communication, including website contact forms and direct messaging on social media sites. You may show that you care about your client's requirements and are dedicated to their pleasure by responding promptly and with helpful information. This degree of response can significantly improve client satisfaction and encourage favorable word-of-mouth advertising.
Adding live chat help to your website can improve the quality of the customer service you offer. You make it simple for clients to get support or fix any problems they might run into during the purchasing process by providing real-time assistance. Building trust and loyalty with your consumers can be significantly impacted by this rapid and individualized support.
Consider adding personalized thank-you letters or small freebies with every order to go above and beyond in pleasing your consumers. These unanticipated acts of thankfulness can make an impression that lasts and inspire joy and gratitude. Such considerate additions enhance the client experience and promote repeat business.
If a customer has a problem or a concern, deal with it quickly and proactively. Pay close attention, understand their predicament, and provide a prompt answer. You may show your devotion to client satisfaction and your dedication to upholding your brand's reputation by handling issues quickly and effectively.
Learn the most effective strategies that can help boost your candle and soap business.
Frequently Asked Questions
How can I build a welcoming internet presence for my at-home candle sales?
To establish a compelling online presence, start by developing a professional website that highlights your company's name and line of goods. Make use of compelling content and high-quality product photographs, and make sure your website is search engine optimized. Utilize social media sites to interact with potential customers, connect with your audience, and share visually appealing content.
How can I use social media to effectively interact with clients for my candle sales?
Interacting with clients on social media is crucial for fostering bonds and boosting revenue. Answer questions, emails, and comments as soon as possible. By holding contests or prizes, promote user-generated content.
Use pertinent hashtags and share posts that are both educational and aesthetically pleasing to gain more awareness. You can encourage brand loyalty and create positive word-of-mouth marketing by actively engaging your audience.
How can I use email marketing to increase home-based candle sales?
Email marketing is an effective strategy for building customer loyalty and encouraging repeat business. Gather email addresses from website visitors and social media followers to create a subscriber list.
Send automated emails or periodic newsletters to customers to alert them of new candle launches, sales, and special deals. Personalize your emails, use their names when addressing them, and adjust the content to suit their preferences. You may maintain contact with your audience and entice them to make additional purchases by utilizing email marketing.
To learn more on how to start your own candle-making business check out my Startup Documents here.
The information provided by CandleBusinessBoss.com ("The Site") is for general informational purposes only. All information on the Site is provided in good faith, however, we make no representation or warranty of any kind, express or implied, regarding the accuracy, adequacy, validity, reliability, availability, or completeness of any information on the Site. Under no circumstance shall we have any liability to you for any loss or damage of any kind incurred as a result of the use of the Site or Reliance on any information provided on the Site. Your use of the Site and your reliance on any information on the Site is solely at your own risk. This blog post is for educational purposes only and does not constitute legal advice. Please consult a legal expert to address your specific needs. Terms and Conditions.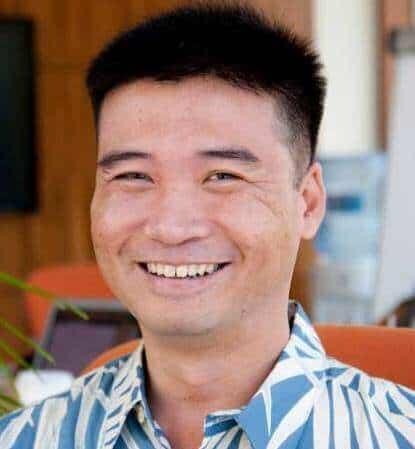 Meet Shawn Chun: Entrepreneur and Candle Business Fan.
I'm a happy individual who happens to be an entrepreneur. I have owned several types of businesses in my life from a coffee shop to an import and export business to an online review business plus a few more and now I create online candle business resources for those interested in starting new ventures. It's demanding work but I love it. I do it for those passionate about their business and their goals. That's why when I meet a candle business owner at a craft fair, farmers market, retail location or anywhere else I see myself. I know how hard the struggle is to obtain and retain clients, finding good employees all while trying to stay competitive. That's why I created Candle Business Boss: I want to help candle business owners like you build a thriving business that brings you endless joy and supports your ideal lifestyle.