Starting a candle company can be an interesting and gratifying endeavor. Candles are not only functional but also attractive, adding atmosphere to any place. However, with increasing competition in the sector, it's critical to have a well-defined strategy in place to stand out and expand your candle business.

The best way to grow your candle business is to define your target market, create high-quality candles, build an online presence, explore online marketplaces, attend local markets, offer personalized options, implement effective branding, collaborate with other businesses, gather customer feedback, and seek media coverage.
Establish Your Target Market
Understanding your target market in depth is essential before starting any company venture. It is crucial to identify your ideal clients, their tastes, and their purchasing patterns. Do you market to people who enjoy fine candles or do you go after environmentally aware clients looking for sustainable options? You may tailor your product offers, create powerful marketing messages, and create a compelling brand that appeals to and draws your ideal clients by carefully defining your target market.
By using a focused strategy, you may develop goods that satisfy their unique requirements and preferences and win their loyalty. It allows you to invest your funds wisely, concentrating your efforts on the most promising market sectors and raising your chances of growth in the cutthroat candle industry.
Create High-Quality Candles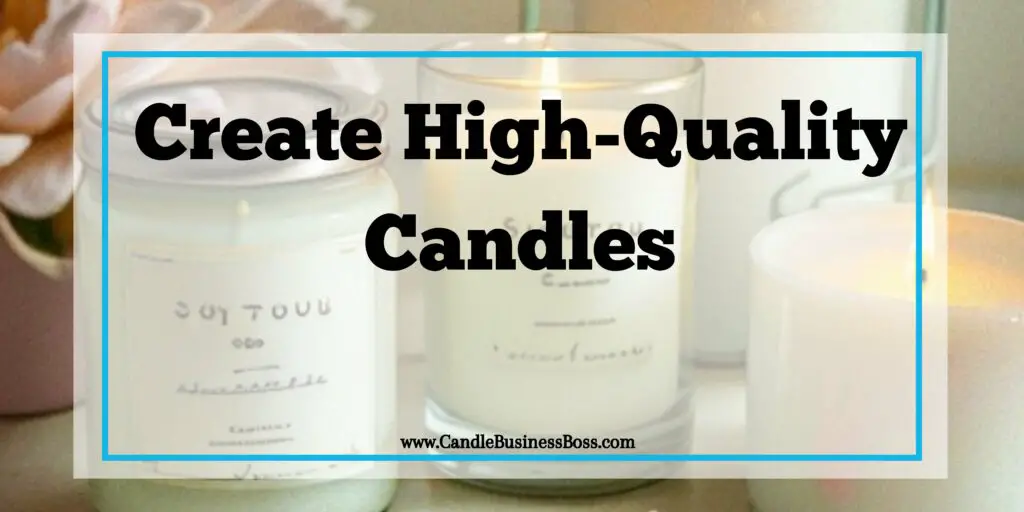 It is impossible to stress the importance of quality in the candle industry. To make candles that are the epitome of excellence, it is essential to spend money on premium materials. Choose natural waxes like soy or beeswax, as they not only burn evenly but also encourage a hygienic and sustainable experience. Use top-notch essential oils or fragrance oils to fill your candles with enticing odors that fill rooms with lovely aromas.
Prioritize the use of lead-free wicks as well to guarantee a clean and safe burn. Pay close attention to every aspect when making your candles, from the choice of components to the pouring and finishing procedures.
You may produce a superior product that people will appreciate and find alluring by emphasizing craftsmanship and meticulousness. Such dedication to quality will encourage client loyalty, good word-of-mouth, and repeat business, all of which will ultimately support the steady growth and growth of your candle business.
Check out our article here to learn the factors that determine the growth of a candle business.
Build an Online Presence
In today's digitally driven world, having a strong online presence has become crucial for companies of all sizes. It is essential to build a quality website that serves as a virtual showroom to expand your candle business. Create a beautiful website that features your amazing candle items with alluring images and thorough explanations.
Implement user-friendly features that make it easy for people to browse and buy products. Spend money on SEO strategies to improve how visible your website is on search engine results pages. You may boost the odds that potential buyers will find your candles online by optimizing your website with pertinent keywords, meta tags, and interesting content.
Utilize the strength of social media platforms in addition to your website to strengthen your online presence. Use networks with strong visual components, including Instagram, Facebook, and Pinterest, to present your candles in all their splendor. Share eye-catching pictures and interesting information with your target market that embodies the spirit of your company.
Engage in active communication with your followers, be timely in your responses to questions and comments, and use social media advertising to broaden your audience and draw in new clients. You may build brand recognition, encourage client loyalty, and improve website traffic for more sales and company expansion by keeping an active and interesting online presence.
Explore Online Marketplaces
While creating a dedicated website for your candle business is unquestionably important, it's as important to recognize the enormous potential provided by online marketplaces. Marketplaces like Etsy, Amazon Handmade, and eBay tout enormous user bases and a history of consumer trust.
You may reach a huge audience and give your business vital exposure by adding your candles to these well-known marketplaces. Optimizing your product listings is essential if you want to make the biggest impression possible and stand out from the crowd.
Write enticing and thorough descriptions that highlight the special qualities and advantages of your candles. Combine these descriptions with eye-catching visuals that demonstrate the quality of your products' construction and aesthetic appeal.
You boost your chances of drawing attention, luring potential consumers, and ultimately generating sales by devoting time and effort to optimizing your listings. Using the strength of online markets to your advantage can give your candle business a significant boost, enabling you to access a larger market and achieve long-term productivity.
Attend Local Markets
It's crucial to remember the benefits of participating in regional markets and craft fairs despite the convenience and accessibility of online purchases. These occasions offer a special chance to display your candles face-to-face and give customers a chance to smell, see, and feel them in person.
Face-to-face interaction with customers builds a personal connection that allows you to respond to inquiries, explain the history of your candles, and make tailored suggestions. By participating in local marketplaces, you can get quick client feedback and obtain insightful knowledge of their preferences and responses.
Local markets give you the option to network with other small companies in your neighborhood in addition to client interactions. Working together with other craftsmen or businesses that complement your own can lead to combined marketing initiatives, cross-selling agreements, or even cooperative product development. These collaborations help you reach a wider audience and build a network of allies within the regional business sector.
Offer Personalized Options
Individual preferences are becoming an increasingly sought-after characteristic among customers in the age of personalization. Think about introducing customizable alternatives into your candle business to profit from this expanding trend.
Offer individualized labels, fragrances, or packaging so that buyers may personalize candles to suit their distinct preferences and needs or make one-of-a-kind, meaningful gifts. Giving customers a tailored experience helps you stand out from the competition and improve customer satisfaction.
Giving clients the option to personalize their candles provides a unique touch that the recipients value greatly. These customized alternatives foster a sense of exclusivity and consideration, whether it's a particular statement on the label, a smell combination designed to bring back fond memories, or packaging embellished with individual accents. Customers are more likely to return and refer your candle company to others when you provide them with this level of personalization because it creates a deep emotional connection with them.
Along with that, adopting personalization shows that you care about your customers and are committed to satisfying their requirements and preferences. You develop a unique selling proposition that distinguishes your candle company from competitors in the market by going above and beyond conventional products and offering customizable choices.
The customer experience is improved when customization is embraced as a core component of your candle business. It also serves as a significant point of differentiation. By offering personalized alternatives, you may build a stronger relationship with clients, reward loyalty, and establish your company as a go-to source for unique and significant candles.
Implement Effective Branding
Building a solid brand is a crucial tenet for long-term productivity in the fiercely competitive candle industry. It's essential to create a distinctive brand identity that connects strongly with your target market if you want to build a strong brand. Make sure your brand's name, logo, color scheme, and general style all fit with your desired brand image and appeal to your target audience.
When it comes to branding, consistency is essential. To establish a unified and memorable brand experience, use your brand consistently across all touchpoints, from packaging to marketing materials. Customers are more likely to trust your business because of this consistent approach because they can quickly identify your brand. You can build a sense of professionalism and dependability that encourages consumer loyalty and advocacy by regularly presenting your brand in a visually appealing and coherent manner.
You may distinguish your candles from the market's generic options by using effective branding. A powerful brand effectively conveys your distinctive value proposition, the high caliber and meticulous craftsmanship of your goods, and the history of your company. By clearly communicating these elements through your branding, you help your candles stand out from the competition and leave a positive impression on customers.
It pays off, in the long run, to put time and effort into creating and sustaining an efficient brand. It aids in the development of your reputation, fosters client loyalty, and eventually promotes business expansion. Making a strong brand identity and continuing to use it throughout your candle business can help you stand out from the competition and lay the groundwork for growth.
Check out this article to know how you can achieve a long-term growth in the candle industry.
Collaborate with Other Businesses
Collaborations have the potential to yield enormous benefits for both parties, especially in the creative sector. You can establish a gainful partnership with complementary companies like gift shops, spas, or stores that provide home decor.
Cross-promotion enables both companies to reach new markets and grow their clientele. Consider working together to create unique packages or providing clients who buy from both companies with exceptional discounts to entice them to discover and value both brands' offerings.
Collaborations increase brand credibility by connecting it to other well-known companies. Your candle company can benefit from the great reputation and client trust of other well-known, reputable companies in adjacent industries by working together. This will help your brand image. Collaborations bring about synergy that not only increases client involvement but also improves your company's standing in the market.
Accepting collaborations creates new growth prospects, raises brand awareness, and strengthens the sense of community within the creative sector. You may access a larger customer base and establish a win-win situation where both parties gain from increased exposure and possible sales by partnering with like-minded companies.
Gather Customer Feedback
To achieve continual improvement, it is crucial to listen to your customers. Encourage customers to actively share their opinions about their experiences using your products through a variety of methods, including online reviews, questionnaires, and social media interactions. You can learn a lot about your customers' preferences, issues, and general contentment by giving them the chance to share their ideas.
By examining consumer feedback, you may spot areas that could want improvement and swiftly take care of any problems. To identify areas that need improvement or attention, pay attention to reoccurring themes or feedback. Customer feedback acts as a compass directing your efforts towards fulfilling their requirements and expectations, whether it's expanding the perfume range, packaging, or customer service.
Engaging with clients and taking their input into account shows that you care about their satisfaction. It encourages loyalty, advocacy, and trust among customers. By actively hearing what your customers have to say and implementing any required changes in response, you not only improve your goods and services but also build enduring relationships and foster a customer-focused culture inside your candle company.
Seek Media Coverage
By increasing its exposure and legitimacy, using the power of publicity can have a dramatic effect on your candle business. Contact local publications, magazines, blogs, and influencers who focus on topics like wellness, lifestyle, or home décor proactively if you want to do this. Give them samples of your candles and a story that showcases your company's unique selling points.
Positive media attention acts as a catalyst for creating buzz and drawing in prospective clients. It not only raises brand recognition but also establishes your company as a leader in the candle sector. Your brand gains credibility and confidence when well-known periodicals or other influential figures recommend your candles, which encourages potential customers to learn more and make purchases.
Gaining media attention gives you the chance to engage with a larger audience, enter new markets, and grow your clientele. Media exposure can result in beneficial word-of-mouth recommendations and organic development.
Accept the influence of publicity as a tactical instrument to advance your candle company. Develop connections with influential people and media sources, tell your narrative, and let the allure of your candles shine. You may put your business in a position for long-term productivity in the cutthroat candle industry through media outreach and favorable coverage.
Frequently Asked Questions
How can I determine my candle company's target market?
Research and analysis are needed to determine your target market. Start by thinking about the special qualities and advantages of your candles. Who would be most drawn to them? Are they high-end luxury candles or environmentally beneficial solutions for people who care about the environment?
Surveys, customer feedback, and market trend analysis can all be used to learn more about the demographics, tastes, and purchase patterns of your potential customers. You may use this information to more accurately define your target market and then adjust your marketing strategies as necessary.
What should be taken into account when producing high-quality candles?
High-quality candles require meticulous attention to detail and premium ingredients. Start by choosing high-quality wax choices, such as soy wax or beeswax, which are renowned for their clean and durable burn. Create alluring aromas that entice clients by using premium fragrances or essential oils.
Spend money on lead-free wicks as well, as these encourage a clean, even burn. The entire perception of your candles is also influenced by the appealing labels and high-quality packaging. To help you improve your candle-making process over time, keep in mind that delivering consistent quality and paying attention to client feedback is important.
How can I create a presence online for my candle company?
Developing an internet presence calls for a multifaceted strategy. Create an expertly designed website that is simple to use, displays your candle items, and offers simple purchasing alternatives. By utilizing pertinent keywords and meta tags, you may improve the search engine optimization of your website. Use social networking sites like Facebook, Pinterest, and Instagram to visually present your candles, interact with your followers, and create a community.
Post high-quality information regularly, such as images of candles in use, behind-the-scenes peeks, and educational suggestions. To increase your reach, interact with your followers, reply to messages and comments right away, and work with influencers or micro-influencers in the lifestyle or home décor sector. To further enhance visibility and draw potential buyers to your website or online marketplace listings, think about placing targeted online advertisements.
To learn more on how to start your own candle-making business check out my Startup Documents here.
The information provided by CandleBusinessBoss.com ("The Site") is for general informational purposes only. All information on the Site is provided in good faith, however, we make no representation or warranty of any kind, express or implied, regarding the accuracy, adequacy, validity, reliability, availability, or completeness of any information on the Site. Under no circumstance shall we have any liability to you for any loss or damage of any kind incurred as a result of the use of the Site or Reliance on any information provided on the Site. Your use of the Site and your reliance on any information on the Site is solely at your own risk. This blog post is for educational purposes only and does not constitute legal advice. Please consult a legal expert to address your specific needs. Terms and Conditions.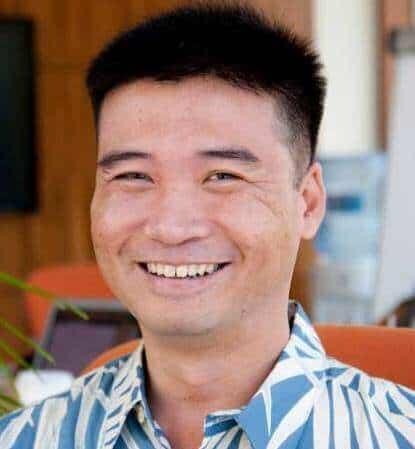 Meet Shawn Chun: Entrepreneur and Candle Business Fan.
I'm a happy individual who happens to be an entrepreneur. I have owned several types of businesses in my life from a coffee shop to an import and export business to an online review business plus a few more and now I create online candle business resources for those interested in starting new ventures. It's demanding work but I love it. I do it for those passionate about their business and their goals. That's why when I meet a candle business owner at a craft fair, farmers market, retail location or anywhere else I see myself. I know how hard the struggle is to obtain and retain clients, finding good employees all while trying to stay competitive. That's why I created Candle Business Boss: I want to help candle business owners like you build a thriving business that brings you endless joy and supports your ideal lifestyle.