Starting a candle enterprise need not be financially burdensome. By employing the proper strategies and methods, you can effectively promote your candle business without incurring any initial costs. With ingenuity and resourcefulness, you can establish a prosperous candle business with minimal financial resources.
The best way to promote your candle business without requiring any startup fees is to leverage social media for free advertising, develop an online store using e-commerce platforms, work with local businesses for promotion, use word-of-mouth marketing, and offer personalized and unique candle designs to attract customers.
This article discusses numerous helpful strategies. You can increase your brand's visibility, reach a larger audience, and establish a strong presence in the competitive candle market by implementing these strategies.
Leverage Social Media for Free Advertising
Social media platforms have completely changed how companies market their goods and services in the current digital era. Utilizing social media can be a formidable and economical technique for the candle industry to reach a large audience of potential buyers.
Social media websites like Facebook, Instagram, Twitter, and Pinterest offer a special chance to advertise your candles and build relationships with candle lovers. Your target audience might be drawn in by generating engaging material that emphasizes the distinctive qualities and ambiance your candles provide. Storytelling, compelling descriptions, and excellent images can all help you connect emotionally with your audience.
Social media engagement is essential. As soon as your audience members comment or send you a message, reply right away and honestly. This contact strengthens relationships and creates a sense of belonging for your brand. Contests and freebies can increase interest and user-generated content, which is a fantastic source of organic promotion.
Your reach can be increased by working with influencers in the candle niche. Look for influencers who share your brand's values and have a sizable fan base. Collaborations can involve writing sponsored pieces or reviews or organizing giveaways together. Influencers can increase the awareness of your business by introducing your candles to their devoted following and providing social proof.
The growth of social media marketing depends on consistency. To keep your brand top-of-mind, post content frequently that highlights your candles and the lifestyle they fit into. Use pertinent hashtags that are consistent with the interests and search habits of your target audience.
With the help of hashtags, anyone searching for candles, home decor, or self-care can find your material. Sharing user-generated content, such as client endorsements or images of your candles, not only helps to market your brand but also fosters a sense of participation and community.
Check out this article to learn some tactics on how to launch your candle store effectively.
Develop an Online Store Using E-commerce Platforms
Setting up an online store for your candle business in today's digital era opens up a world of chances to reach customers beyond the bounds of a physical storefront. The process has been expedited by e-commerce platforms like Shopify, WooCommerce, and Etsy, which offer user-friendly interfaces and adaptable templates that let you build a polished and aesthetically pleasing online business.
It's crucial to improve your product listings if you want your online business to have the most possible impact. Write thorough descriptions that highlight the special qualities, aromas, and advantages of your candles. Include stunning pictures that demonstrate the design and craftsmanship of your products. Potential customers' trust and confidence can be increased by incorporating customer feedback and ratings.
To increase the visibility of your store in search engine results, it is essential to implement efficient search engine optimization (SEO) tactics. To find relevant keywords that your target audience is looking for, conduct keyword research.
Make strategic use of these keywords in the metadata, titles, and descriptions of your products. By doing this, your online store will have a better chance of ranking higher in search results, which will increase natural traffic to your website.
Utilize online marketplaces' strength to increase the scope of your reach. You can reach a larger customer base by advertising your candles on websites like Amazon Handmade or eBay. Participate in relevant online forums, communities, and groups where candle aficionados congregate.
Talk to others, share your knowledge, and, when appropriate, subtly advertise your online store. Creating connections and establishing yourself as an expert and reliable supplier will help you draw in clients.
To attract clients to choose your online store over rivals, think about providing incentives. Customers may be encouraged to buy by receiving free shipping or receiving discounts on large buys. To further engender a sense of urgency and boost sales, use social media and email marketing to advertise exclusive promos or limited-time offers.
Work with Local Businesses for Promotion
To market your candle business and build mutually beneficial relationships, partnering with local businesses can be a potent and affordable option. Start by locating companies that sell comparable goods to yours and serve the same target market.
Excellent choices include wellness centers, spas, and boutiques. By partnering with these businesses, you can contact new customers who have a passion for their products and tap into their existing client base.
Send business proposals to these organizations outlining the possible synergies for both sides. To create a win-win situation where they may enrich their offers with your high-quality candles and you gain publicity and access to their clientele, offer to display and sell your candles in their venues.
If you want to encourage the business you're collaborating with to actively advertise your items to their clients, think about providing profit-sharing agreements where you and the collaborating business divide the revenue from candle sales.
Cross-promotion is yet another powerful tactic for maximizing alliances with nearby companies. Work together to create marketing initiatives, social media mentions, or promotional activities that emphasize the connections between your candles and their goods or services. Through this cross-promotion, both companies can broaden their consumer bases and draw in new clients who might be interested in the combined product offerings.
Participating in neighborhood events, pop-up markets, and fairs is a great opportunity to introduce your candles to new people and make important connections in your neighborhood. These gatherings provide you a chance to interact with potential clients face-to-face and give them a chance to smell and see your candles in person. It provides chances for networking with other local business owners and forging strategic alliances for future partnerships.
Collaborating with neighborhood companies can offer useful insights and direction in addition to sales and exposure. You can access their information, suggestions, and resources by developing connections with seasoned businesspeople in your neighborhood. As you handle the difficulties of operating a candle business and look for expansion prospects, these relationships can be extremely helpful.
Utilize Word-of-Mouth Marketing
Word-of-mouth advertising is still a very efficient and economical way to sell your candle company. Utilizing the influence of pleased consumers and their recommendations can dramatically improve the reputation of your company and draw in new clients.
Prioritize providing great customer service to encourage favorable word-of-mouth. Make sure that each time you interact with a consumer, you go above and beyond. Customers are more likely to suggest your business to others if you go above and above to meet their needs and offer individualized advice.
Positive word of mouth is also greatly influenced by the caliber of the product. Make sure your candles are expertly produced from premium materials. Customers will be more satisfied and likely to refer your candles to others if they find your candles to be consistent in terms of aroma, burn time, and appearance.
Putting in place a referral scheme can further encourage your clients to tell others about your candle company. Give consumers who suggest friends and family prizes or discounts. This draws new clients who are more likely to believe suggestions from people they know, in addition to motivating existing customers to promote your company.
To foster long-term connections and promote repeat business, you must interact with your consumers after they have made their initial purchase. Use email newsletters to announce new product releases, special specials, and updates. Implement loyalty programs that acknowledge and thank customers for their ongoing patronage, building their bond with your company.
Think about working with regional bloggers or influencers who share your ideals in the wellness or home design industries. These influencers can organically spread the word about your candles among their audience. Look for people whose followers trust their suggestions and relate to your candle business.
Encourage customers to share their stories via testimonials on your website, review sites, or social media. User-generated content can sway others' purchasing decisions and is an effective kind of social proof.
Check out this article to learn how you can start your home-based candle-making business.
Offer Personalized and Unique Candle Designs
Offering bespoke and distinctive candle designs that enthrall your target audience will help your company stand out in the crowded candle industry. You may develop a distinctive brand identity that appeals to customers by utilizing creativity and customization.
Think about providing personalized candles for milestone events like weddings, birthdays, or anniversaries. Allow customers to pick their favorite colors, and smells, and even create bespoke labels or packaging. With this personalization, your candles take on a nostalgic quality that makes them the ideal gift or memento for special occasions in people's lives.
You may differentiate your candle business by developing signature scents. Create distinctive scent combinations that are specific to your brand. Create smells that bring back particular feelings, occasions, or memories. Customers looking for something unique will find this strategy appealing, and it also helps build brand recognition and loyalty.
Your company can become more distinctive by including sustainable and eco-friendly aspects in your candle designs. Use beeswax or soy wax instead of those that are based on petroleum. To reduce waste, choose eco-friendly packing materials and think about providing refill choices. By integrating eco-friendly principles into your business, you may draw in clients that respect sustainability.
Use social media networks to communicate with your target audience and promote your distinctive candle designs. Share eye-catching images and movies that showcase the expert craftsmanship, fine details, and beauty of your candles. Encourage clients to blog about their experiences and mention your company to develop user-generated material that displays your distinctive designs in actual environments.
Understanding your consumers' tastes and wants requires interaction with them. Actively reply to messages, reviews, and comments. Create polls or surveys to elicit opinions and insights. You may improve your designs and hone your offers to better match your client's needs by paying attention to their feedback.
By providing limited-edition collections or seasonal releases, you can evoke a feeling of exclusivity. With this strategy, you can increase sales and strengthen client loyalty by creating a sense of urgency and expectation. Think of working with nearby designers or artists to produce limited-edition candles that mix your distinctive candle designs with their creative flair.
Frequently Asked Questions
Without paying any beginning costs, how can I efficiently promote my candle business on social media?
Use relevant hashtags, communicate with followers, work with influencers, and create compelling content showcasing your candles on social media to advertise your candle business without paying any beginning costs. Your brand's visibility will grow and potential customers will be drawn in thanks to consistency, inventiveness, and sincere interaction.
Without spending any beginning money, how can I create an online store for my candle business?
By utilizing e-commerce platforms like Shopify, WooCommerce, or Etsy, you may create an online store for your candle business without having to pay any startup charges. These systems provide easy-to-use user interfaces, editable templates, and safe payment options. Utilize online marketplaces, SEO tactics, and product listing optimization to increase traffic and boost revenue.
What are some low-cost strategies for collaborating with nearby businesses to promote my candle business?
You may advertise your candle business efficiently and economically by working with nearby companies. Choose complementary companies and suggest joint ventures so that you can sell and showcase candles in their stores.
Participating in neighborhood fairs, pop-up markets, and festivals can also help you promote your products and build relationships with local clients. As a way to encourage nearby businesses to advertise your candles, think about providing cross-promotional opportunities or profit-sharing arrangements.
To learn more on how to start your own candle-making business check out my Startup Documents here.
The information provided by CandleBusinessBoss.com ("The Site") is for general informational purposes only. All information on the Site is provided in good faith, however, we make no representation or warranty of any kind, express or implied, regarding the accuracy, adequacy, validity, reliability, availability, or completeness of any information on the Site. Under no circumstance shall we have any liability to you for any loss or damage of any kind incurred as a result of the use of the Site or Reliance on any information provided on the Site. Your use of the Site and your reliance on any information on the Site is solely at your own risk. This blog post is for educational purposes only and does not constitute legal advice. Please consult a legal expert to address your specific needs. Terms and Conditions.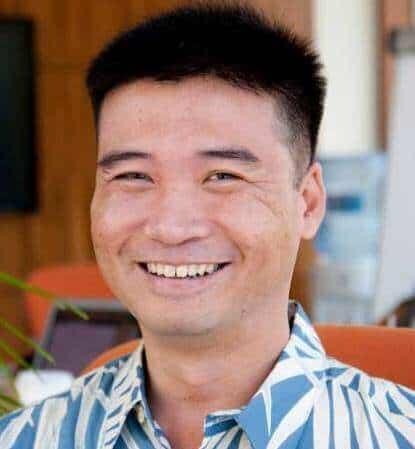 Meet Shawn Chun: Entrepreneur and Candle Business Fan.
I'm a happy individual who happens to be an entrepreneur. I have owned several types of businesses in my life from a coffee shop to an import and export business to an online review business plus a few more and now I create online candle business resources for those interested in starting new ventures. It's demanding work but I love it. I do it for those passionate about their business and their goals. That's why when I meet a candle business owner at a craft fair, farmers market, retail location or anywhere else I see myself. I know how hard the struggle is to obtain and retain clients, finding good employees all while trying to stay competitive. That's why I created Candle Business Boss: I want to help candle business owners like you build a thriving business that brings you endless joy and supports your ideal lifestyle.