The candle industry is experiencing significant growth, providing ambitious entrepreneurs with a multitude of opportunities to launch their businesses. With a variety of candle types, fragrances, designs, and target markets, aspiring entrepreneurs have numerous options for establishing businesses in this booming industry.
The most useful candle business ideas include personalized candles, eco-friendly and sustainable candles, themed candles, aromatherapy candles, and luxury or premium candles. These ideas cater to different customer needs, promote sustainability, and offer unique experiences.
In this article, we will discuss these most effective candle business ideas that have gained popularity in recent years, as well as how these concepts cater to diverse customer needs, promote sustainability, and offer unique experiences, ultimately assisting you in establishing a prosperous candle business.
Personalized Candles: Adding a Touch of Individuality
Unique candles have become a widely sought-after commodity on the market today, appealing to consumers looking for thoughtful and unique gifts or a distinctive touch to their homes. Candle businesses can take advantage of this expanding market niche and develop a distinctive selling proposition by providing personalized smells, designs, and personalization possibilities.
It's essential to comprehend customer tastes and expectations to produce customized candles that connect with customers. Market research and feedback from prospective clients can yield insightful information about their preferred smells, designs, and customization possibilities. This data forms the basis for creating customized candles that suit their likes and preferences.
Offer a wide variety of small alternatives that cater to different customer tastes. Some people could favor sweet or floral odors, while others might favor musky or earthy ones. You may accommodate varied smell preferences and specific consumer preferences by providing a large assortment.
Design is crucial when making customized candles. To produce visually appealing labels or packaging that represent the customer's personality or the occasion the candle is designed for, think about working with regional artists or designers. Monograms, personalized inscriptions, or even photo labels can be added to further the personalization and produce a truly one-of-a-kind item.
Offering customization choices enables customers to participate in the design process for their candles. This may entail picking the container, the wax, or the label's color, or even including individualized text such as names or messages. Customers experience a sense of ownership over the product when these options are provided, which increases its significance to them.
Make use of customization as a key selling element to promote customized candles. Emphasize the option for buyers to design a one-of-a-kind candle that expresses their sense of style or feelings. Engage with potential consumers by showcasing samples of customized candles on social media sites like Instagram and Facebook. To foster a sense of authenticity and trust, encourage customers to share their unique candle experiences through user-generated content and testimonials.
Check out this article to learn some strategies you can use in marketing your candle business.
Eco-Friendly and Sustainable Candles: Promoting Environmental Consciousness
Consumers are becoming more aware of the environmental impact of the things they buy in today's society. As a result, candles that are sustainable and eco-friendly have seen tremendous market growth. These candles, which are composed of natural and renewable materials, are more environmentally friendly than traditional options and are in line with consumer ideals.
Using eco-friendly components in candles has several advantages, one of which is a decrease in the amount of dangerous chemicals emitted as they burn. You may provide clients with a cleaner and healthier burning experience by choosing natural waxes like soy or beeswax rather than paraffin, which is made from petroleum. Natural waxes are also environmentally friendly because they degrade naturally.
For eco-friendly candles, the wick material selection is crucial in addition to the wax. Wicks made of lead-free cotton or wood are excellent choices because they burn cleanly and are devoid of dangerous chemicals. These wicks aid in the candle's overall durability.
When developing a candle brand that is environmentally aware, packaging is another factor to take into account. Choose environmentally friendly packing materials like recycled or biodegradable ones. Reduce the usage of extra packaging and plastic parts to lessen waste production and environmental effects. The eco-friendly reputation of your brand can also be improved by using simple and eco-friendly packaging designs.
Highlight the advantages and qualities of your candles' eco-friendliness to effectively advertise your brand of candles. Inform consumers of the benefits of lead-free wicks and natural waxes for sustainability and improved air quality.
Utilize social media sites and the website for your brand to spread the word about your sustainability efforts, brand story, and material source transparency. By sharing information on the effects of candle manufacturing and its use on the environment, you may engage your target audience.
Expanding your reach and amplifying the message of your brand can also be accomplished through partnering with like-minded companies, such as neighborhood craftsmen or eco-friendly retailers. Taking part in eco-focused events or collaborating with eco-aware influencers can increase awareness of your company and its products.
By incorporating eco-friendly and sustainable procedures into your candle business, you not only satisfy the growing market need for goods that are concerned with the environment but also help to create a more ecologically friendly future. The advantages of utilizing natural and renewable resources, along with thoughtful packaging and effective marketing techniques, can position your brand as a market leader in the eco-friendly candle industry.
Themed Candles: Capturing Special Occasions and Holidays
The chance to capitalize on the market for particular occasions and holidays is tremendously enhanced by themed candles, which allow customers to enhance their celebrations and create a distinctive atmosphere. Customers looking for a unique and personalized touch can choose from festive holiday candles, candles with wedding themes, or candles made for baby showers.
Understanding the particular event or holiday you are aiming for is the first step in the creative process involved in designing themed candles. Consider using the theme's colors, symbols, and aesthetics as inspiration for your candle designs. For instance, you might utilize ocean-inspired hues and use seashell or starfish shapes in the design of a candle with a beach theme.
To enhance the theme and create an immersive experience, fragrance is also very important. Choose scents that capture the spirit of the occasion. While floral or fruity aromas work well for wedding-themed candles, warm and spicy scents like cinnamon or pine can evoke a pleasant holiday environment for a candle with a Christmas theme.
It's crucial to communicate the distinctive atmosphere and emotional connection themed candles provide for special events while marketing them. By showing top-notch product photographs on your website and social media sites, you can use visual marketing strategies. Create interesting content that emphasizes the advantages of using themed candles during celebrations, such as fostering a celebratory environment or giving occasions a unique touch.
Working together with wedding venues, party supply shops, or event planners can be a fruitful marketing move. Present your themed candles in their displays or include them in their event packages. By doing this, you may be able to reach a larger audience and improve awareness of your related products.
Your reach can be extended through influencer partnerships and social media advertising. Join forces with influencers who share your target market's interests and are well-liked by people who attend events and celebrations. They can demonstrate to their audience how your candles with specific themes can improve their special events.
Think about producing limited edition or holiday-themed candle collections to excite and motivate shoppers. These collections can coincide with well-liked occasions or hot topics, giving them an air of exclusivity and desirability.
Aromatherapy Candles: Promoting Relaxation and Well-being
As more individuals look for ways to foster serenity, relaxation, and well-being in their homes, aromatherapy candles have seen a rise in popularity. These meticulously created candles, made with certain aromas and essential oils, provide more than simply a nice fragrance; they may also have a favorable effect on mood and emotions.
It's crucial to take into account fragrances that are recognized for their therapeutic benefits while choosing aromatherapy candle scents. A popular and adaptable perfume known for its calming and stress-relieving properties is lavender. Citrus aromas like orange and lemon can improve mood and foster a sense of vitality and optimism.
For its energizing and revitalizing properties, which are ideal for respiratory advantages and rejuvenation, eucalyptus is frequently chosen. There are a variety of additional essential oils and fragrances to discover, each with special medicinal advantages.
When making aromatherapy candles, it's necessary to comprehend the advantages of various essential oils. For instance, lavender essential oil helps to promote peaceful sleep in addition to mind relaxation. Focus and mental clarity can be aided by the cooling and energizing effects of peppermint essential oil.
Bergamot essential oil is well known for improving mood and lowering anxiety and depressive symptoms. Understanding the various essential oils' qualities will enable you to make aromatherapy candles that are tailored to your requirements and objectives.
There are several methods to include aromatherapy in your candle business. To optimize the medicinal effects of the essential oils you use in your candles, first, check their quality and purity. Your candles' intended aromatherapy advantages should be made abundantly clear on their labels, in their descriptions, and in any supporting literature. Inform customers of the individual essential oils being utilized and the effects that go along with them.
Think about providing a range of aromatherapy candle mixtures to accommodate various demands and tastes. Make collections that focus on particular themes, like focus, stress reduction, or relaxation, and draw attention to the distinctive advantages of each combination. Encourage clients to experiment with various fragrances and combinations to identify their preferences and customize their aromatherapy experience.
You can advertise your aromatherapy candles through a variety of platforms. Use social media to promote your candles in soothing environments and to spread the word about the advantages of aromatherapy. To raise brand awareness, work with nearby spas and wellness facilities or wellness influencers. Offer candle sets or gift baskets that include essential oil diffusers or bath salts as well as aromatherapy candles.
Check out this article to learn how you can sell your soy candles effectively.
Luxury or Premium Candles: Elevating the Candle Experience
Customers who respect finer things in life and excellent craftsmanship are drawn to luxury or premium candles because they offer a distinctive and enjoyable experience. These candles offer a combination of premium ingredients, distinctive aroma blends, and attractive designs that evoke a sense of elegance and sophistication. They go beyond basic scents and straightforward packaging.
Premium ingredients that enhance the whole product experience must be used while making luxury candles. Instead of using regular paraffin wax, choose high-quality waxes like soy wax or beeswax, which provide cleaner and more durable burns.
Add rare or exotic fragrance oils that produce distinctive scent profiles to your products to entice buyers with a sensory experience they won't get anywhere else. Think about working with renowned perfumers or scent specialists to create distinctive aroma combinations that are unique to your company.
Along with the candle's quality, the packaging is an important factor in developing a luxury brand identity. Use opulent and sophisticated packing materials, such as handcrafted boxes, marble or metal covers, or frosted glass containers. The packaging's attention to detail, such as embossed logos, ribbon embellishments, or opulent finishes, boosts the product's perceived value and further improves the aesthetics as a whole.
A precise balance between exclusivity and accessibility is needed when pricing luxury candles. When choosing a pricing point, take into account the expense of premium ingredients, distinctive fragrance combinations, and premium packaging materials.
Focus on the great quality and meticulous attention to detail that goes into each candle to position your company as providing a premium experience that deserves a higher price. Collaborations or limited edition releases can also convey a sense of exclusivity and support higher costs for specialty collections.
Choose means of distribution that are compatible with the luxury market niche. Think of collaborating with upmarket boutiques, upscale department shops, or upscale home décor businesses that serve affluent customers. Reaching your target demographic through online sites that specialize in luxury goods and provide a curated shopping experience is also effective.
It takes a polished and sophisticated approach to market luxury candles. To showcase expertise and attention to detail, use excellent product photographs. Use social media sites and the website for your company to showcase the superior components, distinctive fragrance combinations, and tasteful packaging that go into making your luxury candles. Work together with luxury periodicals or lifestyle influencers to generate discussion about your business and increase brand recognition among your target market.
Frequently Asked Questions
Are customized candles cost-effective?
Personalized candles can be gainful. You may tailor the consumer experience by letting them customize smells, designs, and personalization. Differentiation can boost sales and consumer loyalty. To maximize profits, market research, targeting the correct audience, and high-quality items are necessary.
How can I sustain my candle business?
Several methods can make your candle business viable. Choose ecological waxes, lead-free wicks, and organic essential oils. Reduce production waste by using recyclable or biodegradable packaging. Consider local sourcing and fair trading. Sustainability messaging can boost brand loyalty and attract eco-conscious customers.
What themed candle marketing methods work?
Targeting thematic candles is essential. Promote your themed candles on Instagram and Pinterest. Increase brand visibility by working with relevant influencers or blogs. Attend nearby craft fairs and sell your themed candles. Marketing your ideas with appealing images and narratives can evoke emotions and connect with your target demographic.
To learn more on how to start your own candle-making business check out my Startup Documents here.
The information provided by CandleBusinessBoss.com ("The Site") is for general informational purposes only. All information on the Site is provided in good faith, however, we make no representation or warranty of any kind, express or implied, regarding the accuracy, adequacy, validity, reliability, availability, or completeness of any information on the Site. Under no circumstance shall we have any liability to you for any loss or damage of any kind incurred as a result of the use of the Site or Reliance on any information provided on the Site. Your use of the Site and your reliance on any information on the Site is solely at your own risk. This blog post is for educational purposes only and does not constitute legal advice. Please consult a legal expert to address your specific needs. Terms and Conditions.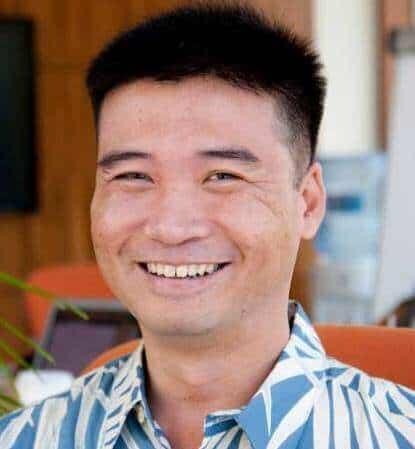 Meet Shawn Chun: Entrepreneur and Candle Business Fan.
I'm a happy individual who happens to be an entrepreneur. I have owned several types of businesses in my life from a coffee shop to an import and export business to an online review business plus a few more and now I create online candle business resources for those interested in starting new ventures. It's demanding work but I love it. I do it for those passionate about their business and their goals. That's why when I meet a candle business owner at a craft fair, farmers market, retail location or anywhere else I see myself. I know how hard the struggle is to obtain and retain clients, finding good employees all while trying to stay competitive. That's why I created Candle Business Boss: I want to help candle business owners like you build a thriving business that brings you endless joy and supports your ideal lifestyle.