The establishment of a candle enterprise can be an exciting endeavor. Candles have a universal allure due to their flickering flames, enticing aromas, and cozy atmosphere. In today's competitive market, however, a passion for candles is not enough to create a booming business.
The most useful strategies for expanding a candle business through side hustles include offering personalized candle-making workshops or hosting candle parties, developing a subscription box service for monthly candle deliveries, collaborating with local businesses for custom-branded candles, and designing and selling candle accessories.
This article will discuss some of the most effective strategies for expanding a candle business through side gigs. Using side jobs to accomplish these objectives is an efficient strategy.
Personalized Candle-Making Workshops
A great method to strengthen your relationships with consumers and make more money is to provide customized candle-making courses. These workshops offer a special chance for people to learn the trade of candlemaking while getting a direct experience of your brand. They can be held in your candle studio or at other locations like community centers or neighborhood craft shops.
By holding customized candle-making classes, you can not only demonstrate your knowledge but also give attendees a fun and engaging experience. They have the opportunity to interact with your products and learn the trade from an expert, which promotes trust and brand loyalty. Because of the intimate setting of the workshop, you can get to know the participants and become known as a knowledgeable source in the candle-making community.
Use a variety of marketing techniques to draw attendees to your workshops. Utilize social media's influence to your advantage by promoting your classes on sites like Instagram, Facebook, and Twitter. Show participants intriguing images of candles being created while emphasizing the hands-on experience they will have.
To reach a wider audience in your neighborhood, you should also post information about your workshops on websites or bulletin boards for nearby events. Collaboration with other companies, like spas or shops selling home furnishings, might also be advantageous. They can aid in promoting your classes to their current clientele, increasing your reach and drawing in new attendees.
Think about providing thematic workshops to accommodate various interests and cyclical fashions. For instance, during the winter, you may hold seminars on how to make candles or perfumes with holiday themes that convey a comfortable ambiance. For those seeking a more specialized experience, classes on advanced methods or custom candle designs may be appealing. Your seminars will be more appealing and draw a wider variety of participants if you customize them to address particular themes.
When planning your workshops, make sure to include all the required tools and materials. Various candle waxes, aroma oils, wicks, containers, and any other ornamental components you might wish to sell are included in this. Everything the participants require to make their distinctive candles should be available. You give participants a satisfying and powerful experience by offering top-notch resources and direction throughout the procedure.
Invite workshop attendees to post about their experiences on social media. Provide rewards for customers who mention your company or use a particular hashtag in their postings, such as special discounts on future purchases or the opportunity to win a candle-making kit. As participants share their projects and fulfilling experiences with their friends, family, and followers, word-of-mouth marketing can greatly increase your reach.
Check out this article and explore the aromatic world of homemade candles.
Candle Parties
Organizing candle parties is a gainful side business to grow your candle company. These events foster a lively, sociable atmosphere where attendees can interact with your items firsthand and take pleasure in the company of friends and family. Candle parties can be held in a variety of settings, such as your candle studio, a client's house, or even online using video conferencing tools.
Create a welcoming environment that highlights your candle collection to guarantee a candle party. Set the ambiance with subdued lighting, relaxing background music, and alluring candle scents. Put your candles in eye-catching arrangements that highlight their various flavors, hues, and patterns. This attractive design will catch visitors' attention and encourage them to learn more about your product offers.
Offer participants of candle parties exclusive discounts or incentives. These rewards may encourage attendees to make purchases at the event, boosting your revenue. Create a sense of urgency and exclusivity by offering limited-time specials or packages of offerings. You may encourage visitors to try and buy your candles by providing specials and discounts.
As party treats for guests, think about offering samples or miniature candles. This enables visitors to discover their preferred scents by actually smelling them. It acts as a physical reminder of your candles, helping customers remember your company when it's time to buy.
Offering rewards to visitors who arrange their candle parties might also help you grow your clientele. For throwing a party and bringing in new customers, provide them with exclusive discounts or incentives.
For people who are unable to attend physical meetings, virtual candle parties can be a wonderful substitute. Use video conferencing tools to communicate with visitors from a distance. Send them a variety of specially picked candles in advance so they can sample your goods at the virtual event.
Offer engrossing demonstrations and hands-on games that highlight the distinctive qualities of your candles. Virtual candle parties provide flexibility and convenience, enabling participants from many locations to take part and engage with your company.
Make use of a variety of marketing channels to advertise your candlelight dinners. Utilize your social media channels to raise awareness and spark interest. Make visually appealing posts that emphasize the celebration's atmosphere and its advantages. Encourage attendees to post the event on social media and invite their friends. The reach of your candle parties can be greatly increased through word-of-mouth recommendations, which can also draw in new clients.
Subscription Box Service
Subscription boxes have gained enormous traction in the industry today, offering attractive opportunities for candle businesses to grow. You may capitalize on the thrill of discovering fresh scents and designs by providing a monthly candle delivery service. This builds anticipation and encourages repeat business.
Curating a varied selection of candles to suit various tastes is crucial to the launch of a subscription box service. To enhance a sense of exclusivity and keep members interested, think about including limited-edition or seasonal candles. You improve the entire subscription experience by providing a wonderful surprise each month by providing a range of smells, sizes, and styles.
You must create a tiered pricing system for your subscription box business. This enables you to accommodate various customer preferences and spending levels. Make different subscription tiers with various advantages.
One candle each month, for instance, can be included in the basic tier, whereas the premium tier might include numerous candles, extra candle accessories, or special access to future releases. To increase the value of each subscription level, think about including extras like free shipping, discounts on additional purchases, or personalized remarks.
Utilize your online presence to promote your subscription box service. Make a special area on your website where clients can sign up, view past box contents, and learn more about the subscription specifics. Showcase on social media the range and caliber of candles subscribers may anticipate from your subscription boxes.
Collaborate with bloggers or influencers in the lifestyle or home décor area who can spread the word about your subscription service to their audience. To generate hype and draw subscribers, think about providing them with sample boxes to evaluate or hold exclusive giveaways.
The growth of your subscription box service also depends on how well you interact with your current clientele. To reward their loyalty and entice them to sign up, provide early access to subscriptions or exclusive deals. Utilize email marketing to reach out to customers directly and let them know about forthcoming boxes, new smells, or any subscriber-only discounts. You may encourage long-term subscriptions and increase customer retention by taking care of these relationships.
Don't undervalue the influence of consumer feedback as your subscription box business expands. Subscribers should be encouraged to rate and review the candles they get. With their input, you can better understand their preferences, make adjustments, and further personalize upcoming boxes to satisfy their needs. To obtain information and ideas for ongoing improvement, additionally think about including surveys or questionnaires.
Collaboration with Local Businesses
A wise tactic for growing your candle business while creating gainful alliances is to collaborate with nearby companies. Look for businesses that align with your brand's values and cater to a similar clientele when looking for cooperation opportunities, such as boutique shops, spas, or wellness facilities. You may take advantage of these companies' already-existing consumer base while providing them with a distinctive product to sell or give as gifts by making specially branded candles only for them.
Your partnership must place a strong emphasis on personalization if you want it to be effective. Understanding the tastes and goals of the company owner requires close collaboration. This entails creating flavors, packaging, and branding that match their brand and enhance their goods or services. You establish a collaboration that feels seamless and strengthens their brand identification by taking into account their ideas and aesthetics.
Place your custom-branded candles conspicuously on display inside the premises of the partner business. This can take the form of designated shelf space or eye-catching displays that highlight your candles. Make sure your branding is clear and incorporates the logo or name of the collaborating company to further the relationship. Take into account providing unique discounts or promotions just for their clients. This encourages their clients to buy your candles, hence growing your clientele.
The partnership not only widens your audience but also boosts your local presence and promotes goodwill in the neighborhood. You may utilize their established customer ties and reach a new audience by collaborating with neighborhood companies. Because they trust the company they already support, customers who frequently visit the partnering establishment may be more likely to try your candles. Increased visibility, sales, and brand awareness may arise from this.
Collaborations with neighborhood companies can strengthen the sense of belonging and support in your neighborhood. By cooperating, you foster contacts with other businesspeople and show your dedication to regional trade. This builds trust between clients and other business owners, increasing your reputation and creating opportunities for future partnerships or referrals.
Reach out to regional companies who share your brand's values and target market to start cooperation. Begin by introducing yourself and your candle company and outlining the potential advantages of working together. Stress the distinctive selling aspects of your candles with your company's logo, such as their exclusivity and possibilities for customization. To demonstrate the quality and craftsmanship of your items and packaging, be prepared to offer samples or images.
Candle Accessories
Adding a line of candle accessories to your candle business is a wise move for broadening your product range and boosting profits. Candle holders, snuffers, wick trimmers, and decorative accents are just a few of the many things that fall under the category of candle accessories. These products go well with your candles and provide clients with more choices to improve their candle experience.
It's crucial to develop and find premium things that complement your brand's image when adding candle accessories to your product range. Think about collaborating with regional artists or craftspeople who can produce one-of-a-kind, handmade items that represent the principles and aesthetic of your company. This not only gives your products a handmade touch but also helps local artists and promotes a sense of community.
Both in-person and online, place your candle accessories next to your candles. Make eye-catching product displays that demonstrate how the accessories go with your candles. Show how they can be used together, for instance, by placing candle holders next to the relevant candle smells. On your website and social media channels, use appealing product photos to draw attention to the elegance and usefulness of your items.
Offer packaged packages that include candles and accessories to further tempt customers. This offers clients a quick and value-added purchasing experience, enabling them to experiment with various product combinations.
For instance, you may package a candle, a coordinating candle holder, and a wick trimmer and sell them as a set at a reduced cost. Bundles encourage clients to buy numerous items from your product range while also raising the average transaction value.
Examine possibilities for working with other firms to sell accessories to clients in addition to selling them straight to them. Think about collaborating with gift shops, home decor shops, or interior designers who can provide your candles and accessories. Your product exposure and distribution options are increased as a result.
Spend money on marketing initiatives to advertise your candle accessories. Include them prominently in all of your marketing materials, including your website and social media accounts. To portray the benefit and allure of your accessories, use eye-catching images and interesting product descriptions. Think about working with bloggers or influencers who focus on lifestyle or home decor to show off your items to their audience.
To continually develop your offers, gather customer comments and insights on your candle accessory lines. Consider market trends, pay attention to customer preferences, and adjust your designs and sourcing accordingly. You can improve your product line and make sure that your candle accessories satisfy the wants and demands of your target market thanks to this feedback loop.
Check out this article for more ideas for your next candle business.
Frequently Asked Questions
How do I begin organizing specialized candle-making workshops?
You will need to gather the required materials and identify suitable locations before you can begin with customized candle-making classes. Start by stocking up on supplies for manufacturing candles, such as wax, wicks, fragrances, and jars. These can be purchased online or from nearby retailers. The next step is to reserve a location for your classes.
This location could be your candle studio, a community center, or a partnership with a nearby craft business. Social media, local event listings, and collaborations with other companies can all be used to advertise your seminars. Make sure to supply all the supplies and equipment required so that workshop attendees can make their candles.
How would creating a subscription box service for my candle business benefit me?
There are many advantages to starting a subscription box service for your candle business. As customers agree to monthly candle deliveries, it first establishes a dependable stream of recurring income. This stabilizes your cash flow and gives you a steady stream of clients.
A subscription box service also enables you to periodically exhibit fresh scents, limited editions, and seasonal designs to keep your clients interested in and enthusiastic about your goods. It promotes repeat business and increases client loyalty. You may upsell and increase the value of each customer by providing several membership tiers and advantages, like free shipping or special discounts.
How can I approach nearby companies to collaborate on making branded candles?
It's crucial to concentrate on partnerships that will benefit both parties when approaching neighborhood companies to collaborate on the production of custom-branded candles. Start by locating companies that have the same values as your brand and target market. Introduce yourself and let the managers or business owners know that you are interested in working together. Emphasize the benefits of branded candles, such as their exclusivity and distinctive branding.
Talk about the potential for developing flavors, packaging, and branding that represent the company's image. Insist on the opportunity for greater visibility and access to new clientele. As an additional incentive, think about providing special discounts or promotions to their clients. These kinds of partnerships can benefit both parties because they increase your market reach while giving the partnering company a distinctive product to offer their clients.
To learn more on how to start your own candle-making business check out my Startup Documents here.
The information provided by CandleBusinessBoss.com ("The Site") is for general informational purposes only. All information on the Site is provided in good faith, however, we make no representation or warranty of any kind, express or implied, regarding the accuracy, adequacy, validity, reliability, availability, or completeness of any information on the Site. Under no circumstance shall we have any liability to you for any loss or damage of any kind incurred as a result of the use of the Site or Reliance on any information provided on the Site. Your use of the Site and your reliance on any information on the Site is solely at your own risk. This blog post is for educational purposes only and does not constitute legal advice. Please consult a legal expert to address your specific needs. Terms and Conditions.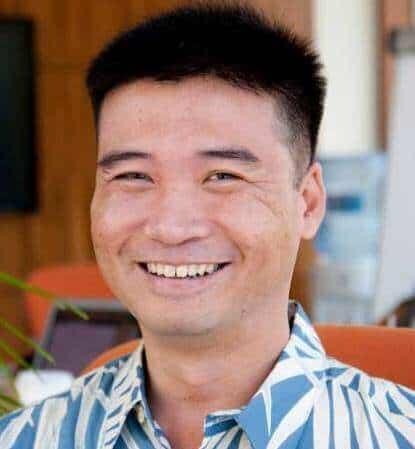 Meet Shawn Chun: Entrepreneur and Candle Business Fan.
I'm a happy individual who happens to be an entrepreneur. I have owned several types of businesses in my life from a coffee shop to an import and export business to an online review business plus a few more and now I create online candle business resources for those interested in starting new ventures. It's demanding work but I love it. I do it for those passionate about their business and their goals. That's why when I meet a candle business owner at a craft fair, farmers market, retail location or anywhere else I see myself. I know how hard the struggle is to obtain and retain clients, finding good employees all while trying to stay competitive. That's why I created Candle Business Boss: I want to help candle business owners like you build a thriving business that brings you endless joy and supports your ideal lifestyle.