Businesses need to build a distinctive and memorable identity now more than ever in the fiercely competitive marketplace of today. Even home-based candle businesses can benefit from this. To recruit and keep a devoted customer base in the face of competition from other candle businesses, you must distinguish yourself differently.
The best way to set your home-based candle business apart is by prioritizing distinctive fragrances, captivating packaging, and personalized interactions with customers. Utilize social media, engage with local craftspeople, offer exclusive candles, and provide excellent customer service to build loyalty.
This article explores the significance of each of these key strategies and provides practical advice to help you take your home-based candle business to new heights.
The Power of Distinctive Fragrances
Fragrances are a significant instrument for distinctiveness in the candle industry, not merely a basic component. Because the sense of smell is so strongly related to feelings and memories, it is crucial for developing an engaging consumer experience.
You can learn about upcoming scent trends and consumer preferences by doing market research. You can create distinctive smell combinations using this expertise to differentiate your home-based candle business from the competition.
Working with experienced perfumers will help you produce new fragrances with more knowledge and imagination. Complex smell profiles that convey particular emotions or experiences can be created by perfumers using their knowledge and expertise. Their knowledge can assist you in developing distinctive scents that become associated with your brand.
Another method to stand out in the candle industry is to emphasize the medicinal qualities of your fragrances. In addition to their aesthetic appeal, candles are popular among customers for the calming, soothing, or energizing effects they can produce. Promoting the particular advantages of certain smell combinations, such as stress alleviation, relaxation, or focus improvement, might draw clients seeking more than just a pleasing aroma.
When it comes to smell profiles, consistency is essential. Keeping your candle items' smell experiences consistent aids in brand recognition and fosters patron loyalty. Customers will develop a liking for it and keep returning for more when they link a specific aroma or fragrance profile with your brand. Your brand identity is strengthened by this consistency, which helps you stand out from rivals with less well-defined fragrance offerings.
Captivating Packaging: Making a Lasting Impression
Being the first point of contact between your clients and your home-based candle business, the packaging is essential to differentiating yourself from the competition. To make a good and lasting first impression, you must invest in packing materials that are both aesthetically pleasing and environmentally friendly. The packaging that clients receive from you should convey the character and excellence of your candles.
You may link your packaging with your brand identity and produce a seamless visual experience by customizing it. Your packaging can become aesthetically appealing and readily recognizable by incorporating innovative design features, such as distinctive patterns, embossing, or attractive typography. The objective is to produce packaging that not only appeals to your target market but also communicates the distinctive attributes and style of your candle brand.
Another strategy to leave a lasting impression is to improve the unboxing experience. To surprise and excite your consumers, think about including additional touches like customized thank-you notes, token gifts, or samples. By going above and above and making the unpacking experience memorable, you leave a favorable impression that clients are likely to spread to others, promoting word-of-mouth advertising.
Focusing on eco-friendly packaging materials might help your company stand out because consumers are becoming more and more concerned about sustainability. Choose environmentally friendly materials and packaging options like biodegradable or recyclable ones. By clearly marking or stating your dedication to sustainability on your packaging, you may show your customers that you share their values.
Check out this article to learn some ways how to market your candle business.
Personalized Interactions: Connecting with Your Customers
The foundation of any thriving business is solid customer relationships, and in the digital age we live in, social media platforms provide a potent tool for doing just that. You may interact with your target audience, share behind-the-scenes material, and create a feeling of community among your customers by using social media platforms efficiently.
A direct conduit for immediate communication with your audience is offered by social media. Responding quickly to comments, messages, and mentions demonstrates your appreciation for the participation of your customers.
Sharing behind-the-scenes content also fosters openness and authenticity, helping buyers to engage with your business on a more personal level. Examples of this kind of content include the process of producing candles or peeks into your workspace.
Building strong client relationships through personalized interactions is another powerful strategy. Customers are appreciated and vital to your company when you address them by name, respect their preferences, and take the time to learn about their needs. Offering individualized candle alternatives, such as bespoke labels or scent combinations, elevates the personalized experience and distinguishes your home-based candle business from the competition.
To cultivate a sense of connection and loyalty among customers, excellent customer service is necessary. A great and memorable experience is created by immediately and professionally responding to questions or complaints, providing hassle-free returns or exchanges, and going above and beyond to meet customer expectations. Customers' positive word-of-mouth recommendations can considerably boost your company's growth and set your brand apart from rivals.
Leveraging the Power of Social Media
Social media channels become essential tools for marketing and developing home-based candle businesses in the contemporary business scene. Social media platforms provide a singular opportunity to connect with potential customers and increase the visibility of your business because of their broad reach and varied user bases.
For your target audience to be reached efficiently, selecting the appropriate social media platforms is essential. Find out which platforms are most compatible with the demographics and tastes of your desired consumer group by researching each one. For instance, Instagram's emphasis on visual content may be perfect for exhibiting your candles' aesthetic appeal, while Facebook might serve as a venue for user engagement and community connection.
For your social media followers to pay attention to you, you must provide intriguing material. Share eye-catching pictures and movies that highlight the beauty and distinctiveness of your candles. Describe your inspiration for your works of art and the workmanship that went into them. You can develop a committed following and position your business as an authority in the candle market by continuously producing informative and interesting content.
Your social media posts' reach can be considerably increased by using hashtags. Look up relevant and well-liked hashtags in the candle and home décor areas, then thoughtfully incorporate them into your postings. This makes it possible for individuals who are actively looking up related topics or perusing hashtag feeds to find your material.
Collaborations and partnerships with influencers can also be effective methods for extending your reach. Collaborate with influencers or micro-influencers in your niche who share the same values as your company to market your candles. Through endorsements, this can make your items more widely known and produce crucial social evidence.
Getting involved with your followers is crucial for increasing brand recognition and encouraging client loyalty. Be prompt and sincere when answering questions, comments, and messages. Run challenges or contests involving your candles to promote user-generated content. By providing exclusive discounts or promotions, you can express your gratitude to your followers while fostering a sense of exclusivity and repeat business.
Collaborating with Local Craftspeople
A great method to give your home-based candle business an authentic and distinctive touch is to work with local artisans and craftspeople. You may make products that stand out and appeal to clients looking for something unique by combining handcrafted components into your offers and displaying the work of regional artisans.
Your candles can become more appealing and distinguish themselves from mass-produced competitors by using handmade components. On your candle vessels, think about including hand-poured wax, hand-carved patterns, or hand-painted decorations. These artistic additions not only give your products a distinctive personal touch but also emphasize the craftsmanship used, building a stronger bond with customers who value artisanal work.
Limited edition partnerships with regional craftspeople are a fascinating new direction to pursue. Working together with skilled artisans, such as potters, glassblowers, or woodworkers, enables you to produce limited-edition candles that incorporate their knowledge with your scents. This partnership not only results in one-of-a-kind products but also gives you the chance to cross-promote each other's enterprises and increase your exposure to each other's clientele.
Participating in neighborhood markets and events helps you build stronger relationships with the area and promotes other small businesses. You can display your candles, speak with potential consumers face-to-face, and explain the history of your company by setting up a booth at neighborhood craft fairs or farmers' markets. This interaction strengthens the sense of place and motivates clients to patronize nearby companies.
Check out this article to get some strategies in expanding your candle business.
Offering Exclusive Candles
A great method to spark interest and draw clients to your home-based candle business is to create exclusive candle collections. You provide customers with a sense of exclusivity and the chance to buy something truly exceptional by offering limited-edition sets or collections with distinctive themes or tailored smell combinations.
By introducing candles with a seasonal or holiday theme, you can appeal to your clients' seasonal preferences while also adding a festive touch. These limited-time products build excitement and entice customers to explore and sample new scents at particular seasons of the year, whether it's a comfortable autumn-inspired scent collection or a selection of festive candles for the holidays.
Creating distinctive candle patterns and shapes can enhance the appeal of your business. To make visually striking candles, think about experimenting with various molds, containers, or artistic techniques. These distinctive features, which might be geometric shapes, sculptural designs, or detailed patterns, provide a touch of artistry and give customers a memorable experience.
Implementing a subscription service can increase your brand's exclusivity and promote repeat business. Give customers the choice to sign up for a monthly or yearly candle subscription, in which case they will receive a carefully picked assortment of candles, special scents, or other things. Customers may use this to conveniently receive their preferred candles regularly, and it also builds excitement and surprise into each delivery.
Another tactic to promote a sense of exclusivity is to offer unique gifts or discounts to devoted consumers. Consider establishing a loyalty program where clients may accumulate points through purchases and exchange them for unique offers. This encourages repeat business and thanks devoted clients for their consistent support.
The Importance of Excellent Customer Service
It's not only good to have; providing top-notch customer service is essential to differentiating your home-based candle business from the competition. Customers are more likely to become devoted supporters and brand ambassadors when they have a positive and memorable experience with your business.
A crucial element of providing outstanding customer service is going above and beyond to surpass customers' expectations. This can be achieved by promptly and helpfully responding to questions or concerns, being proactive in resolving any problems that may emerge, and providing tailored solutions to suit specific client requirements. You establish trust and leave a memorable, favorable impression on customers by displaying a sincere dedication to their needs.
Another crucial component of providing outstanding customer service is promptness. By promptly answering client questions or messages, you may demonstrate that you respect their time and are committed to giving them a positive experience. You may improve the general customer experience and support a favorable view of your business by being approachable and responsive.
Another technique to provide excellent customer service is to permit hassle-free returns or exchanges. Offering a simple and effective procedure for handling any problems with your products demonstrates that you stand behind your candles and place a high priority on customer pleasure. This increases consumer trust in your company and your brand.
Creating a sense of value and appreciation for customers by personalizing interactions is an effective strategy. Customers feel connected and loyal when they are spoken to by name, have their preferences remembered, and receive personalized recommendations or deals. Positive word-of-mouth recommendations can be produced by taking the time to comprehend each customer's specific needs and going above and beyond to meet them.
Frequently Asked Questions
How significant are unique scents in differentiating my home-based candle business?
Unique scents are essential for differentiating your home-based candle business from rivals. Customers will remember your brand more after experiencing one of your distinctive smell combinations, which helps set it apart from competitors. You can create a distinctive aroma profile for your candles by funding market research, working with perfumers, and highlighting the therapeutic benefits of your fragrances.
How might social media make my candle-making business stand out?
Social media networks present priceless chances to market and set apart your home-based candle business. You may promote your items, interact with your target market, and develop a devoted following by using sites like Instagram, Facebook, and Pinterest. Create engaging content, make the most of hashtags, work with influencers, and run promotions to increase your reach and draw in new clients.
What distinguishes my candle-making firm from the competition is excellent customer service?
Your home-based candle business must stand out from the competition by providing exceptional customer service. Customers will have a great and memorable experience with you if you go above and beyond to surpass their expectations, answer questions right away, and provide individualized interactions. Outstanding customer service fosters loyalty and distinguishes your company from rivals by generating word-of-mouth referrals and repeat business.
To learn more on how to start your own candle-making business check out my Startup Documents here.
The information provided by CandleBusinessBoss.com ("The Site") is for general informational purposes only. All information on the Site is provided in good faith, however, we make no representation or warranty of any kind, express or implied, regarding the accuracy, adequacy, validity, reliability, availability, or completeness of any information on the Site. Under no circumstance shall we have any liability to you for any loss or damage of any kind incurred as a result of the use of the Site or Reliance on any information provided on the Site. Your use of the Site and your reliance on any information on the Site is solely at your own risk. This blog post is for educational purposes only and does not constitute legal advice. Please consult a legal expert to address your specific needs. Terms and Conditions.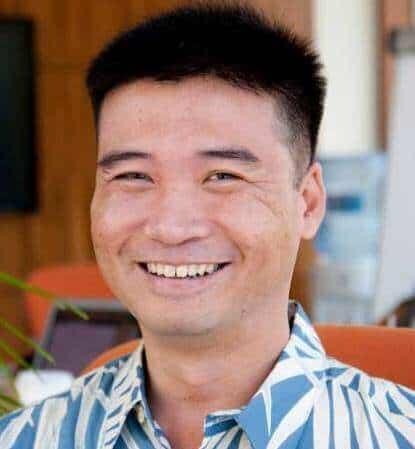 Meet Shawn Chun: Entrepreneur and Candle Business Fan.
I'm a happy individual who happens to be an entrepreneur. I have owned several types of businesses in my life from a coffee shop to an import and export business to an online review business plus a few more and now I create online candle business resources for those interested in starting new ventures. It's demanding work but I love it. I do it for those passionate about their business and their goals. That's why when I meet a candle business owner at a craft fair, farmers market, retail location or anywhere else I see myself. I know how hard the struggle is to obtain and retain clients, finding good employees all while trying to stay competitive. That's why I created Candle Business Boss: I want to help candle business owners like you build a thriving business that brings you endless joy and supports your ideal lifestyle.