Whether you're just starting out in your newest hobby or are looking to create your own thriving business, you need to learn the proper process of creating your next masterpiece—your candles! To make sure you get the best product for your work and money, what is the step-by-step process of making that candle?
How to make a candle:
Gather your ingredients and supplies, including wax, fragrance, wicks, and your container.
Protect your workspace.
Decide on the type of candle you're going to make.
Place your wick in the container.
Heat up your wax.
Add colorant and fragrance.
Transfer the wax into the final container.
After wax is cooled completely, remove the wick clips and cut down the wick.
What ingredients do you need to make a homemade candle? What types of wicks match best with types of waxes? Read on to find out not just how to make a candle, but some of the tricks of the trade.
Gather your ingredients and supplies, including wax, fragrance, wicks, and your container
Before you even start your candle making journey, you're going to need some supplies. For the most basic of creators, you're going to need some sort of wax, a wick, a container, fragrance, and if you're coloring your wax, some sort of colorant.
When deciding on the types of ingredients to use, you'll have many different options. Because candle wax types vary greatly between best practices and best usage, you'll want to consider what type you would like to work with before you even make your first candle.
Beeswax is one of the most popular types of wax to use for candles, especially homemade. Because it is a natural wax, it is good for the environment as it burns. It comes in many different forms, like a slab or even flakes or a pre-rolled sheet. Note that this type of wax has a very light natural scent, which could change the fragrance of your candle. One downside to beeswax is that it can be expensive.
On the other side of the spectrum is paraffin wax. It is one of the other most popular types of wax and much less expensive compared to beeswax. One downside is it is not environmentally friendly or conscious, as it is made from the crude oil refinement process. 
There are other types of wax like soy, palm, or gel wax, but as a beginner, beeswax and paraffin wax are going to be your two best options when picking your wax type.
Going off beeswax and paraffin wax, the best type of wick you should use for either is braided wicking. Avoid wooden wicks in beeswax, as they usually do not burn hot enough to melt beeswax. If you're making container candles, you should go with a larger wick. Smaller wicks are better for votives.
With your wick, you should also have wick clips
—
metal clips that can adhere to the bottom of your container to keep your candle wick in place.
You should also have your container ready. When you're just starting out, it's not advisable to try to use molds or something complicated—have some sort of glass or metal jar ready for your candle. A great way to recycle old candles is cleaning out a previously used candle container—if you're having trouble getting the old remnants of wax from the bottom, put your candle in the freezer for a few hours and chisel it out with a paring knife.
Your fragrances and dyes come next, as they are what makes your candle unique. Fragrances can either be made for non-toxic makeup and candles, or you could use essential oils. Dyes can come in blocks or liquid form. While dye is not required to make your candle, we'll include it in this tutorial.
In terms of supplies, it's advisable to use a stove to melt your candle wax. You should also have a thermometer just in case you need to test the heat of your wax, but it is not necessary. A secondary container in which to add your fragrance and dye can help eliminate some cross-contamination in your wax melting pot, and you need a wooden or silicone stirring spoon to make sure everything gets worked through evenly. Clothespins are helpful when you are finished and need to keep your wick straight in your cooling candle, and a scissors is useful to cut the wick when you're finished.
Protect your workspace
Because wax, colorant, and fragrances can become very messy, make sure to protect your workspace with paper or newspaper. For extra protection, wax paper underneath your newspaper can help make cleaning up much easier if you have a spill.
Decide on the type of candle you're going to make
It is much easier to make your candle if you already know what you plan to do before you start. Wax can be hard to work with, so knowing what you're doing going in will help you stay on task.
Pick your container. In this tutorial, we'll be using an old glass container from a previously burned candle, but you can use any sort of jar for your candle.
Next, pick out your fragrances. What do you intend to use for this candle? If you're going to experiment, make sure you narrow it down to several for your mixture before you begin.
Find your colorants. If you're using dye, set out the colors you intend to use now.
Place your wick in the container
Remember those wick clips mentioned before? Place your wick in the clip and place the clip on the bottom of the glass jar. You can use something like a glue dot to make sure it adheres properly.
Heat up your wax
If you're using an electric stove or hot plate, make sure to use proper safety when you place your wax inside your pot to heat up. Before you begin, remember that wax will get everywhere—whatever tools you're using can easily become your candle making tools as soon as you start melting wax. Bowls, spoons, and even surfaces can get a coating of wax film that is impossible to remove long after the process is over.
You can also set up a makeshift double boiler for your wax. All you have to do is use a heat safe pot and heat safe bowl—fill the pot with water and bring it to boil, then set your bowl on top to place your wax inside to melt.
Depending on the type of wax you're using, you could even melt it in a microwave safe bowl in your microwave. If you go this route, make sure to do it in several minute increments at medium heat while you watch to make sure the wax melts evenly.
Make sure you measure out your wax properly for your container. If you're using pellets or flakes, you can use your container as the measuring cup before you heat up your wax—wax can be deceptive as it melts and as it dries, so measuring out your wax is the best way you can make sure you have just enough to fill your container.
Add colorant and fragrance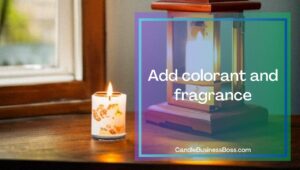 If you're making a large batch of different colors and fragrances for your candles, consider placing your hot wax into a secondary container to mix up your first candle. Your colorant and fragrances can easily contaminate any future batches if you mix those up in the container you melted your wax in, so note that as you make your candles.
Depending on your type of wax, you may need to add more or less colorant to your candle wax. Beeswax colors differently than paraffin, and the amount of color that you want may vary from batch to batch. Some wax producers also provide information on the maximum amount of colorant you should add to your wax as you melt it.
Wax producers also may tell you the limit on the amount of fragrance you add to your candles. While adding fragrance is up to personal preference, do not exceed the limit as listed. It may affect the burn of your candle. It most cases, the suggested usage is 1 ounce of fragrance per a pound of wax.
When you add both, make sure you are mixing thoroughly throughout the process to get an even scent and color in your finished product.
Transfer the wax into the final container
Once it is colored and the scent has been added, pour the candle wax into your container. Be careful not to spill the hot wax; as mentioned before, it can be extremely messy and ruin countertops and tools if not used properly!
Candle wax can expand as it hardens. Make sure you keep enough space in your candle container for the candle to harden properly and have enough room inside the container.
To make sure the wick stays straight, you can use wick clips or clothespins and balance it on the top of the container. If your container has too wide of a mouth for that, you can take two pencils or pens and two rubber bands and wrap them together, placing the wick between the two, and balance that on top of the wide mouth of your container.
As your wax cools, sometimes—especially when using more natural waxes—you'll notice it not hardening evenly. An easy fix for that is simply topping off your candle with more hot wax. It'll create a more even look at the top and fill in any holes as it sets.
After wax is cooled completely, remove the wick clips and cut down the wick
Once the candle is cooled, you can clip your wick down to size. It's best to wait until the candle is completely cooled so you can be sure that the wick won't move around. Usually, it is very easy to tell, as the colorant will look much lighter than the melted wax.
Candle making isn't an exact science, but success doesn't mean you have to have a perfect looking candle—your colors may not mix correctly, you may have an uneven surface, or your fragrances may not mix the way you want—but that just means you can continue to perfect your craft. There's a learning curve, so don't get discouraged as you start your new hobby—or business—making candles.
Is The Candle Business a Good Business for You?
Frequently Asked Questions
Can I use any fragrance oil in candle making?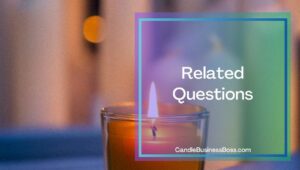 You should always use fragrances designed for candle making or essential oils for your fragrances. Using something like perfume for your fragrance will not work, as it is not designed to burn.
Can you make your own candle wicks?
It is possible to make your own candle wicks using thick cotton cord. It will not burn your candle alone, so it must be treated with borax first, dried, then dipped into wax and dried again before use. You can also use balsa wood sticks soaked in olive oil as candle wicks.
Looking to start your own candle making business, check out my startup documents here
Please note that the contents of this blog are for informational and entertainment purposes only and should not be construed as legal advice. Any action taken based on the information provided in this blog is solely at your own risk. Additionally, all images used in this blog are generated under the CC0 license of Creative Commons, which means they are free to use for any purpose without attribution.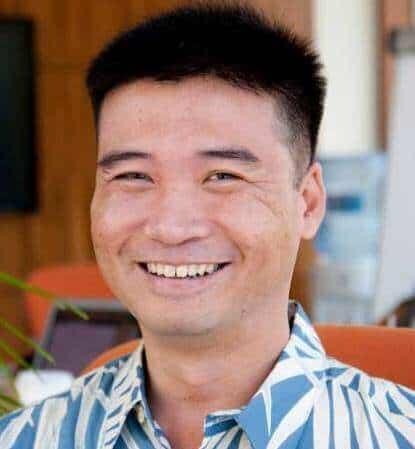 Meet Shawn Chun: Entrepreneur and Candle Business Fan.
I'm a happy individual who happens to be an entrepreneur. I have owned several types of businesses in my life from a coffee shop to an import and export business to an online review business plus a few more and now I create online candle business resources for those interested in starting new ventures. It's demanding work but I love it. I do it for those passionate about their business and their goals. That's why when I meet a candle business owner at a craft fair, farmers market, retail location or anywhere else I see myself. I know how hard the struggle is to obtain and retain clients, finding good employees all while trying to stay competitive. That's why I created Candle Business Boss: I want to help candle business owners like you build a thriving business that brings you endless joy and supports your ideal lifestyle.